Crocus nudiflorus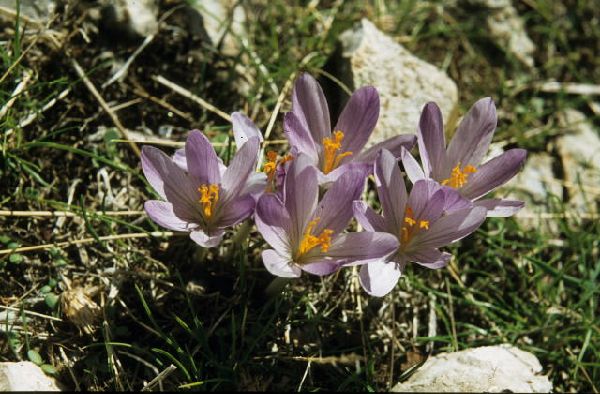 The majority of autumn flowering Crocus species, particularly those from the Mediterranean area and Turkey, are usually recommended for planting on sunny, well drained borders or sheltered coves in the rock garden. There are however a few exceptions, one of the most notable being C. nudiflorus from The Pyrenees and other nearby upland areas in S. France and N. Spain.. This species frequents moist pastures, alpine meadows or clearings in mixed woodlands. Such habitat preferences provide us with a useful and reliable guide as to where this species is most likely to thrive in our gardens. The long established alpine meadow at Wisley is a good example of an ideal habitat. Here in October fine drifts of C. nudiflorus may be seen flourishing among the grasses and sedges.
The species obviously requires a fairly moist situation well endowed with humus and whilst it may not be easy to replicate a Pyrenean meadow in the garden, most of us have semi-shady areas under small trees, shrubs or hedges which, with a little bit of enrichment with leaf mould etc, can be adapted to suit their requirements. Such a site under an old apple tree is where I grow C.C. nudiflorus and banaticus. Several years ago I acquired a large load of venerable cow manure which time, worms and weather had transformed into lovely black humus. To this base material I added leaf mould and, dare I mention it, peat with peat blocks as an edging. The blocks have now largely disintegrated and have been replaced with local Sandstone. Whilst this bed was constructed principally to provide a congenial home for such items as Ramondas, Haberleas, Trilliums, Erythroniums, Corydalis and various Narcissi, it has also proved to be an ideal habitat for the Crocuses. From initial plantings of a few groups of corms, each species has colonised parts of the bed to the extent that it is now well nigh impossible to stick in a trowel during the dormant season without disturbing clusters of corms. In the case of C. nudiflorus this was also the experience of E A Bowles when botanising near Bayonne and Luchon in The Pyrenees.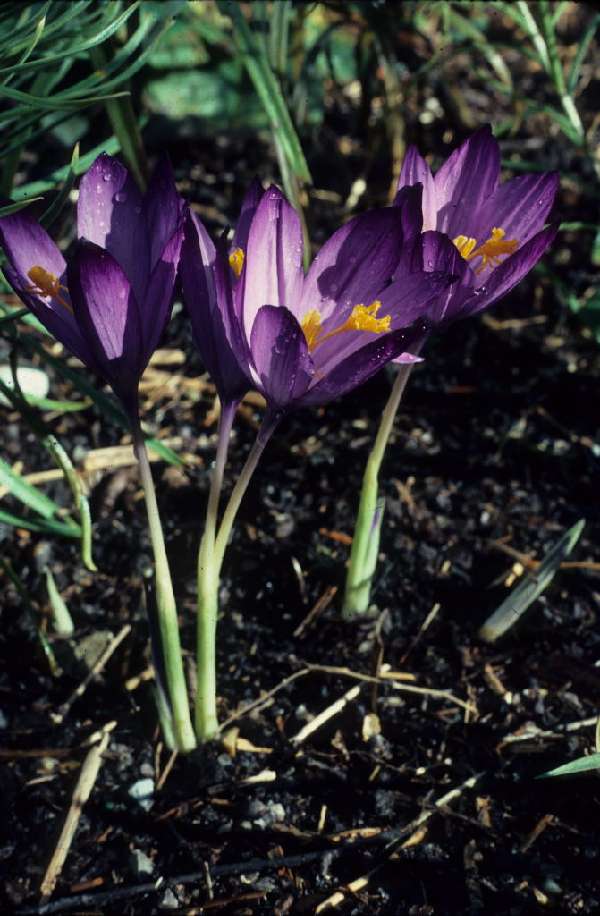 As well as being a prolific seed producer, C. nudiflorus has the additional ability to increase rapidly through the agency of subterranean stolons that are produced freely by established corms.
In an average autumn (do we ever have such a thing these days!) C. nudiflorus starts producing its elegant imperial purple flowers, without foliage (hence the epithet) in mid-September, but its appearance may be delayed if dry conditions prevail. A succession of flowers then keep the show going for several weeks. The species can produce some variability in the brilliance of its purple colouring. I find the very dark purple forms are particularly dramatic, especially when the blooms have well developed vibrant orange or sometimes white styles. There is also a fine albino form called 'Orla' which was introduced into cultivation by the late Joy Hulme and received an Award of Merit in 1995. C. nudiflorus has become naturalised in several localities in the UK. Such sites invariably having a historical connection with the Order of the Knights of St. John or Jerusalem. The corms were probably introduced as an alternative source of saffron.
Alan Edwards