After the last winter with lots of snow in the Alps the alpine garden is surely still partly covered. A friend who was on the Schachen in the middle of March reported that the lower half of the garden was buried under approximately 2 metres of snow with the fence posts only just visible. Spring has been wetter and, on the whole, cooler than last year so the snow cover still extends down below the garden. With the opening scheduled for the 14th of June, just over 3 weeks away I'm hoping that most, if not all, of the snow will have melted by then.
Most of the seeds sown last autumn and in January and February for the alpine garden have germinated and have been pricked out and / or potted on.
This was taken in early February. The seeds were sown into plastic pots, watered and put in the alpine house. If it snows before the seeds germinate then snow is shovelled onto the pots.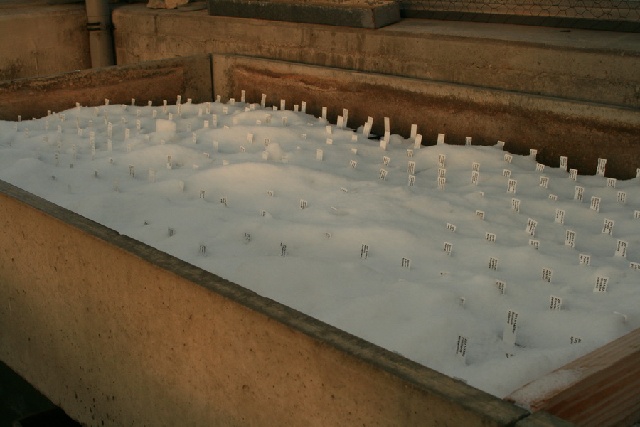 Six weeks later as the days are warming up the pots fill with seedlings.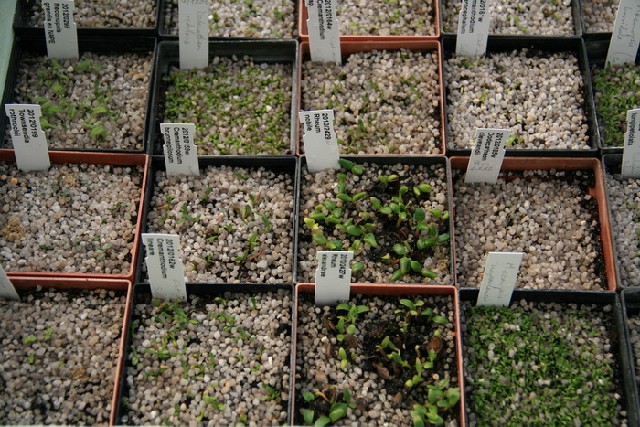 The cool spells we've had this spring have brought a surplus of young plants from more tricky plants for Munich, such as Meconopsis, Cremanthodiums and some Himalaya Primulas. I always prick out far more than I need as in some years the heat kills off ¾ 's before I can take them up to the Schachen.
A new self-guided tour is in preparation for the visitors to the Schachen. Out of a selection of photographs from 1901, when the garden was first opened, and the early 1930's showing views of the garden a 'Historical Walk' consisting of a folder containing 10 photographs will be available for visitors to take with them as they walk around the garden. The photos will be numbered and correlating numbers on a map in the folder and on paving stones set in the paths will show where one should stand to see the same view as it is now.
This view, looking south to the Hunting Lodge of Ludwig II through the garden entrance gate, is now obscured by trees and the trees on either side of the entrance are over 15 metres tall