The Garden opened for the summer just over 3 weeks ago and after a rough start in the middle of a heatwave followed by snow and rain the weather has settled. The first few days were spent with a camera team from regional television who were filming a short portrait of the garden and gardener. It's always very time consuminf to work with television but anything aired locally brings us a welcome increase in visitors. My botanist went on a seed collecting expedition to Georgia (Caucasus) last year and some of the resulting plants have been planted in the Alpine Garden. Most of the plants brought back are taller forbs so an area in the 'wilderness' near the Caucasus plant groups was roughly cleared to accomadate them. A few plants of Campanula bellidifolia from a previous collecting trip in the Caucasuses flowered last week. Very pretty large pale bells on small plants. The weather has been terrible for photographing as we've had almost a week of mist rising from the valleys every morning and enveloping us until nightfall.
Last week we cleared a small area in one of the Himalaya groups, reducing Aster farreri to make space for Meconopsis tibetica, this may be wishful thinking, and Meconopsis paniculata.
Meconopsis delavayi flowered for the first time. This is not a very good example of what is a beautiful small Meconopsis and it has been a struggle to get it to grow on the Schachen.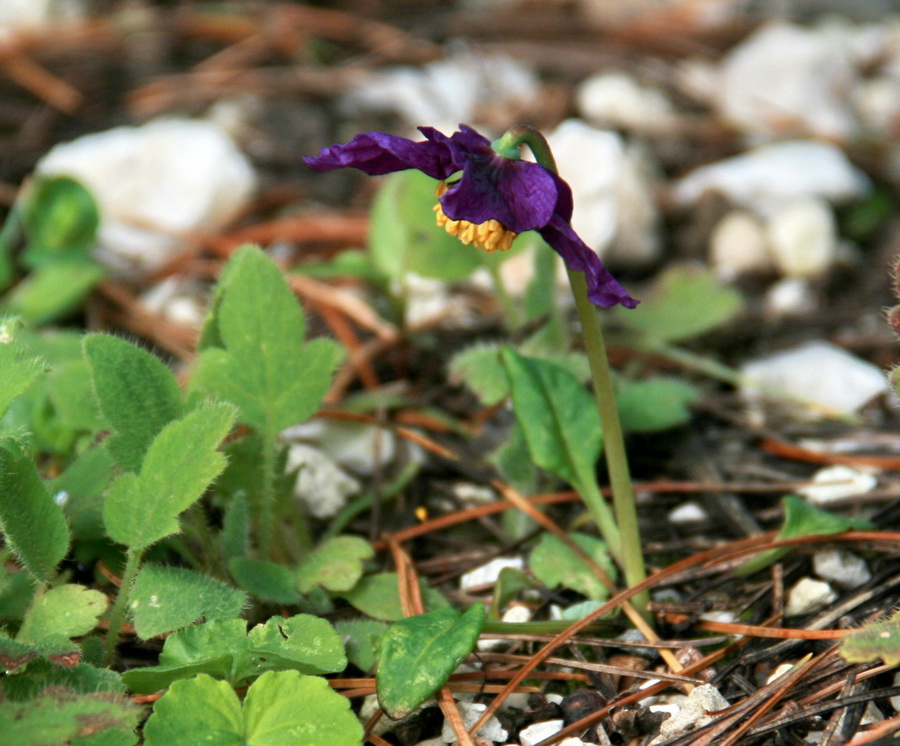 Having just managed to delete a long paragraph instead of uploading it I'll post a few more photos of scenes from the garden.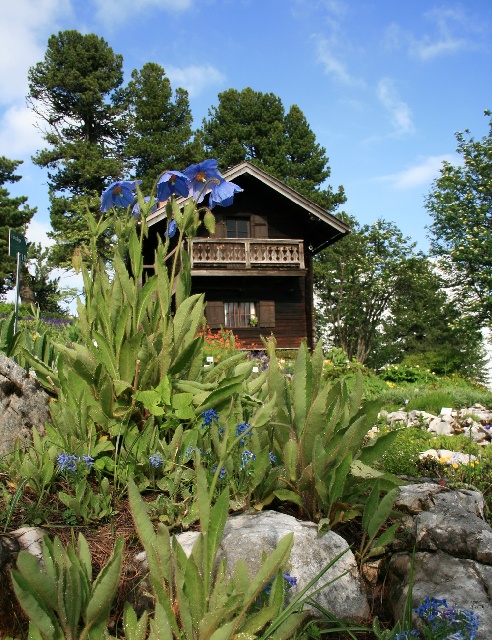 Meconopsis x sheldonii
Meconopsis simplicifolia, a monocarpic plant which is resown every year to ensure flowers every year. So far it has stayed pure,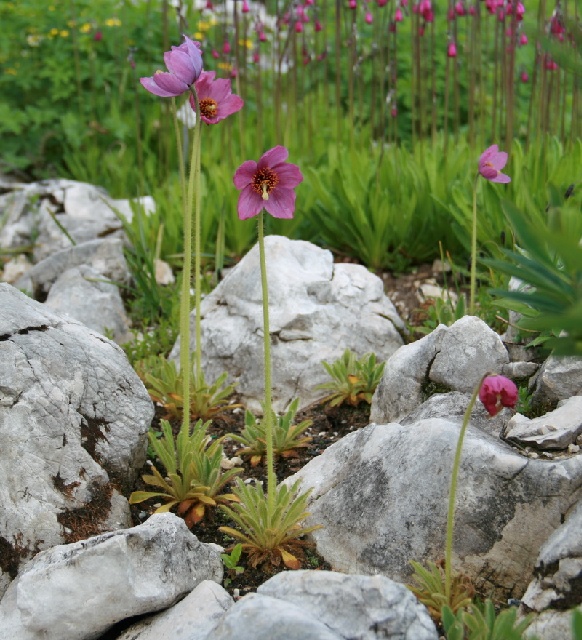 but now that Meconopsis cf. lancifolia is growing nearby and flowering at the same time I think I'll have to resort to hand pollination to keep the two pure. This Mec. lancifolia has not been verified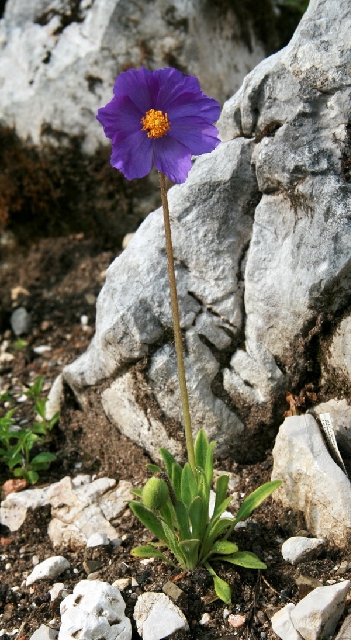 and it looks very similar to our Mec. henrici.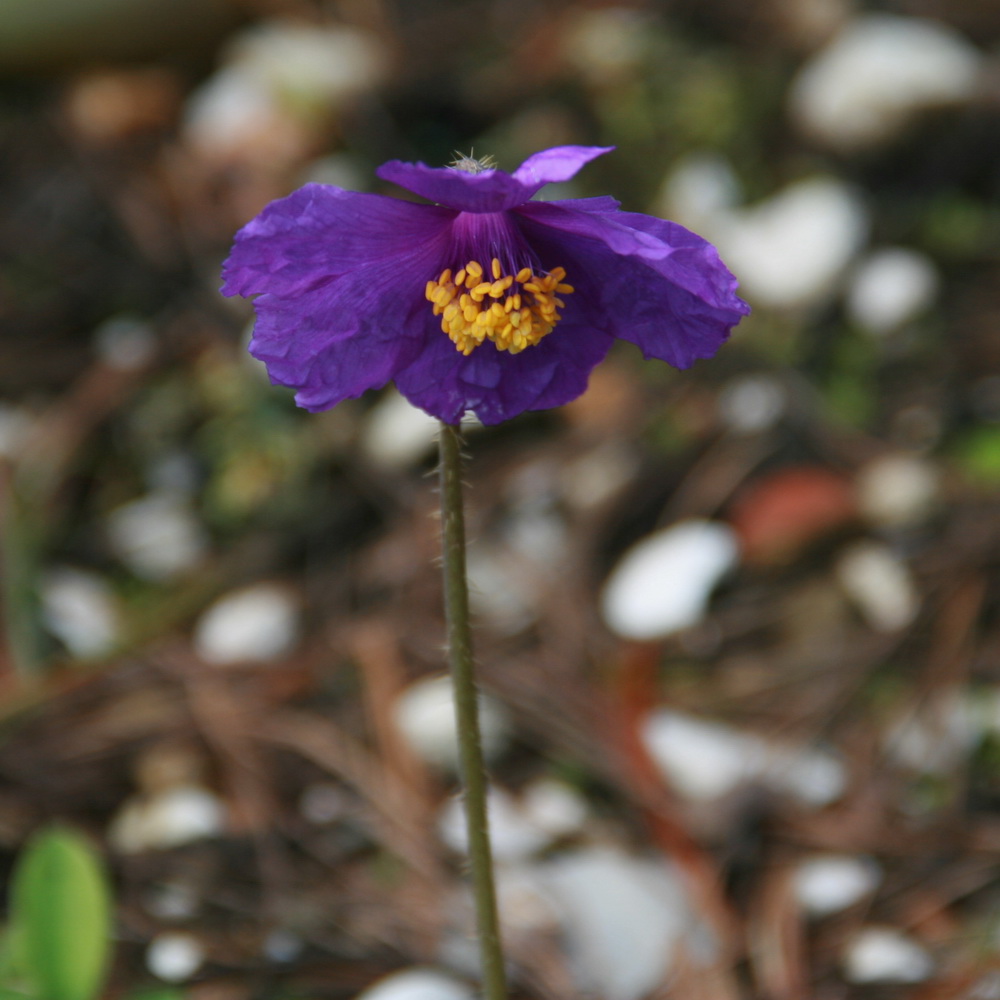 Megacarpaea polyandra is flowering again this year. The rosette dies after flowering but more rosettes develop from the roots every year so we've had flowers from this plant 3 times now. With warmer weather we should get a good harvest of seed in late summer.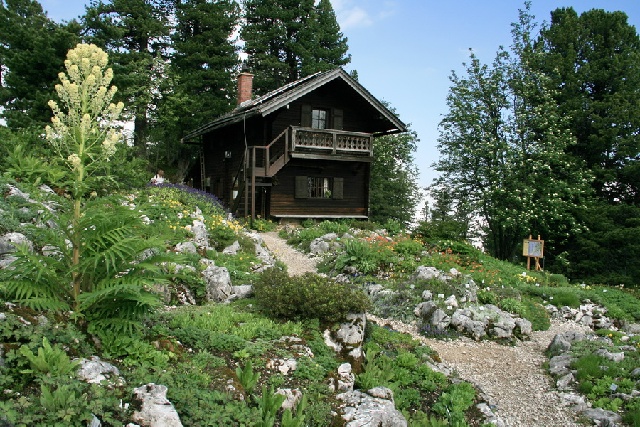 To move away from the Himalayas, Aquilegia aurea from the Balkans is a very pretty plant which I will be increasing in the future. The original stock has been in the Alpine Garden for over 20 years and breeds true.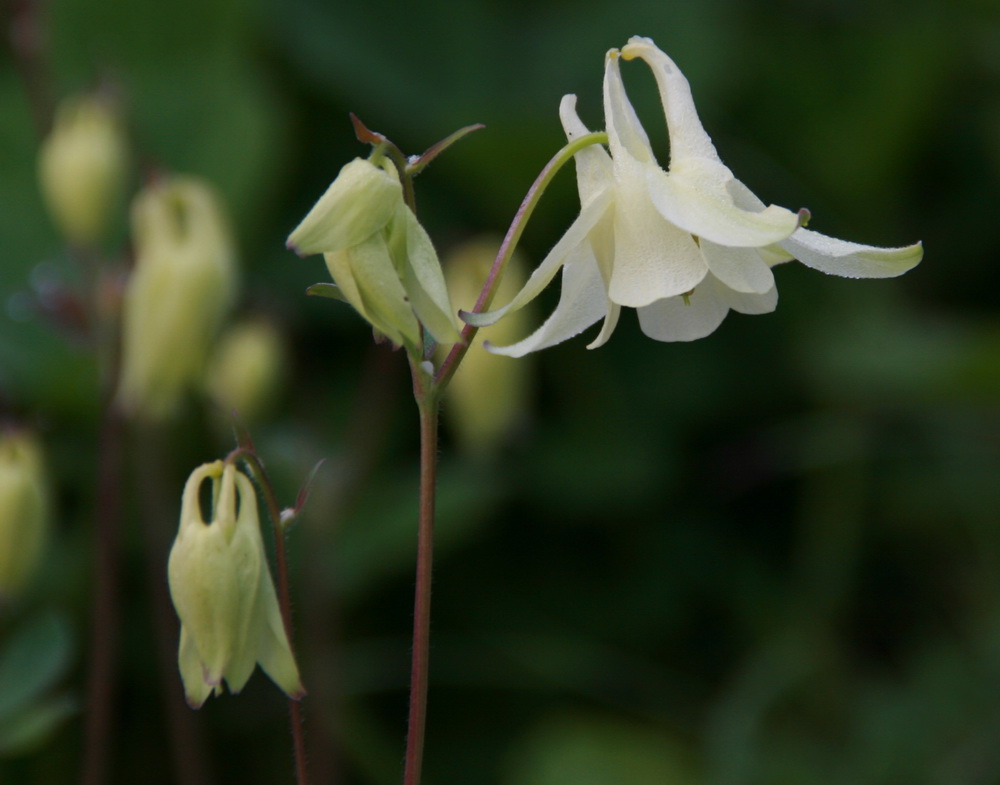 This week we'll start replanting the Rocky Mountain bed which was cleared last year and re-landscaped at the start of the season. The rocks at the moment form the backbone or foundation and as we plant finer detail will be worked in. It has been a challenge to find sources for seed which grow in similar wet mountain habitats in the Rockies so the majority of the new plants are various species of Dodecatheon, Aquilegia and Heuchera. Swertia fastigiata will be replanted as well as Gentiana affinis. I'm going to try Ceanothus prostatus although I think it might not do very well with our long snow cover.
On my walk down last Thursday I was struck by the masses of Dactylorhiza maculata and Gymnadenia conopsea in flower along the forestry road. Many visitors during the past week have commented on the many orchids flowering in the forest along the Kälbersteig. Mainly Platanthera chlorantha and Cephalanthera damasonium with scattered flower spikes of the saprophitic Neottia nidus-avis. I was lucky that there was so much to admire on the side of the road as my lift had fallen through and I ended up walking 20 km to the train station at Klais to get back to Munich. At least now I know that it can be done!
A herd of 50 sheep were driven up to the higher alpine meadows, about 400m above the Schachen, last Sunday. The mist in the valleys rose and enveloped us soon after.