Autumn has started

I feel this week that autumn has truly started. It has turned distinctly cooler and the evenings are going darker noticeably sooner. 21 September is the equinox so in terms of day length, it is now downhill for 3 months (unless, of course, you live in the southern hemisphere).
Many alpines have already set seed that may have been dispersed or collected and dried. Some garden plants continue to set seed and, depending on the plant, it is sometimes advisable to collect these before they land, in order to avoid unwanted seedlings next year.
Arum italicum 'Marmoratum'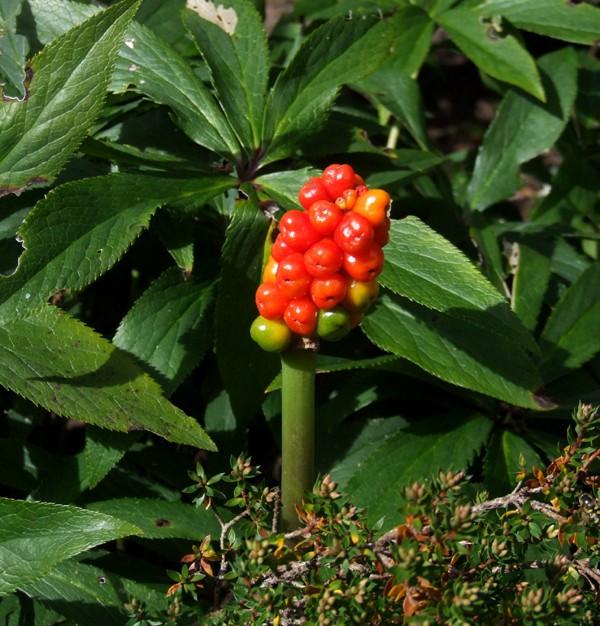 Arum italicum 'Marmoratum' (sometimes incorrectly labelled Arum pictum) is a relative of our native Lords and Ladies and easy to grow in the garden, enjoying a shady site with sufficient moisture. It is an attractive plant in flower, in leaf and in fruit. Unfortunately it seeds around and the seedlings can be a nuisance and difficult to remove as the tuber sits deep underground and a spade or fork will often sever the tuber, leaving it to survive another season. Best policy is to remove the seeds before they are dispersed.
Another plant with some weedy habits in common is Phytolacca acinosa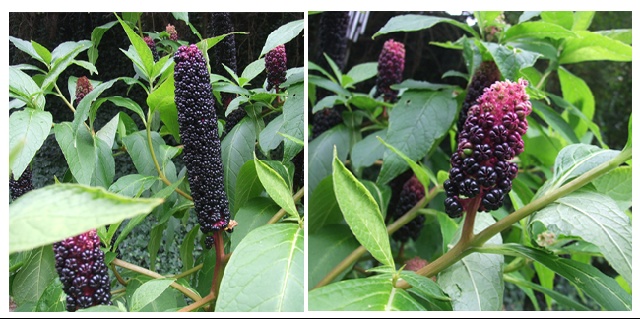 When fellow diarist John Richards recently stayed with me, he was surprised I was growing this plant.  Its relative from North America is Phytolacca americana or Pokeweed which is an invasive weed in areas of California.  Pokeweed contains toxins which are poisonous to mammals, but the leaves can be eaten if boiled three times to remove the poison.  I don't think I will try it!  
Phytolacca acinosa from China is less commonly grown and I find it quite attractive.  It dies back completely in the winter, then has large panicles of white flowers and later these unusual blackberry-like fruits.  It does seed around, but unlike Arum italicum, the seedlings are easy to remove by hoe or hand.  My plant was grown from wild collected seed from a Chris Chadwell collection.
September flowers in the garden

A couple more plants caught my eye this week in the garden, firstly a common but very attractive plant giving late interest to my crevice garden is Achillea x lewisii 'King Edward'.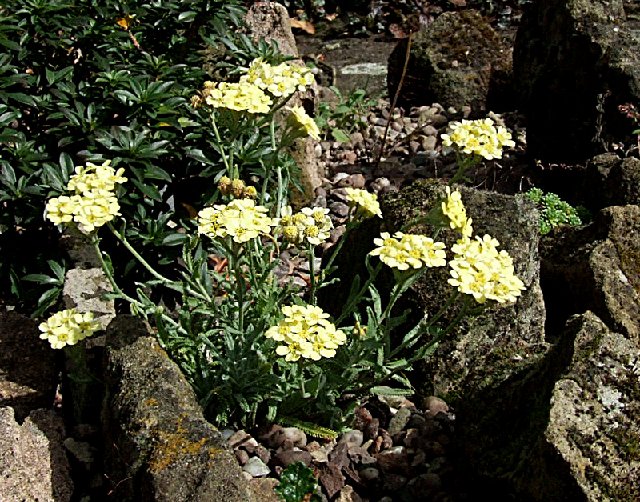 The AGS Encyclopaedia says that the parentage of this hybrid is usually given as A clavennae x A tomentosa but some authorities have said that the seed parent is A x argentae (itself a hybrid between A clavennae and A nana). A tomentosa is obviously responsible for the attractive creamy yellow colouring of 'King Edward' tempered by the white influence of A clavennae.
The next plant is a far less commonly grown plant.
Peltoboykinia watanabei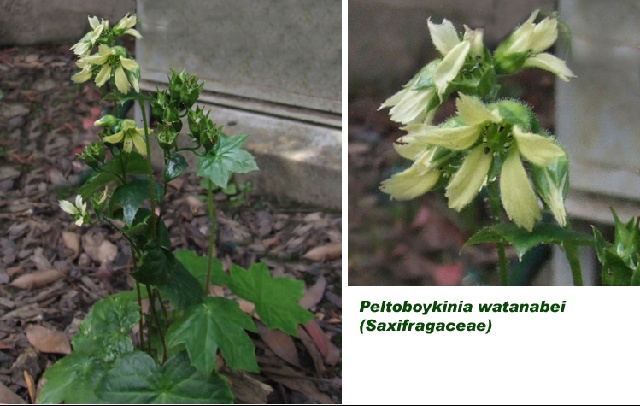 Peltoboykinia watanabei (in the family Saxifragaceae) is a Japanese woodlander growing in mountain woods in Shikoku and Kyushu.  It has attractive palmate leaves earlier in the summer and flowers that last for many weeks.  It enjoys a shady site and has survived outside without protection for several years. The plant in the picture arose as a spontaneous seedling from the parent plant, this is the first year the seedling plant has flowered.
More thoughts on cyclamen and a warning

Last diary entry, I proposed my methods of cultivation of Cyclamen graecum and C persicum, and of course there is not only one method. The good thing about cyclamen is that several of the species are vey easy to grow from seed, and so it is possible to experiment with different methods
Denise mentioned in the on-line discussion that she transformed her non-flowering C. graecum by keeping the plants in saucers during the summer, and watering them at the base. She also reported on much variation in flowering time, and questioned this, along with the issues of some of her plants flowering with or without leaf. I think this is mainly variation within the species. However, in general, leaf production is encouraged by watering, so in order to get good flowers without leaves on C graecum and C rohlfsianum some growers will water once when they see the buds at the surface of the tuber, and then withhold water until the flowers are through.
It's difficult to decide when to repot Cyclamen purpurascens as it is constantly in growth, so I often don't get round to it at all. However, when recently tipping out a pot with the label 'sown 2004' I was reminded that repotting can sometimes save lives. Here were the contents of the pot:
Two healthy looking tubers, with 'floral trunk' extensions, a common feature of C purpurascens.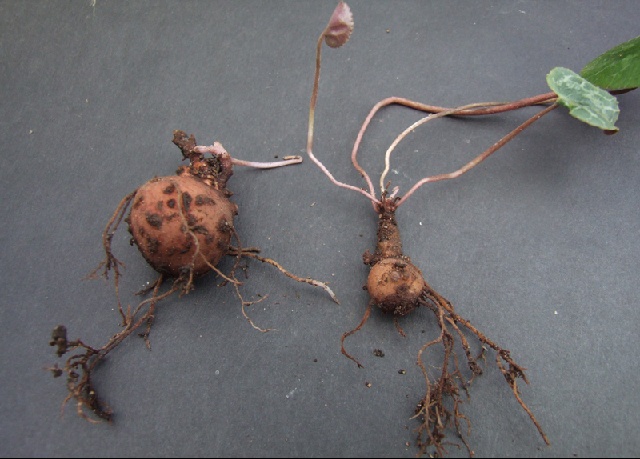 Four healthy looking seedlings, clearly second generation from the original seeds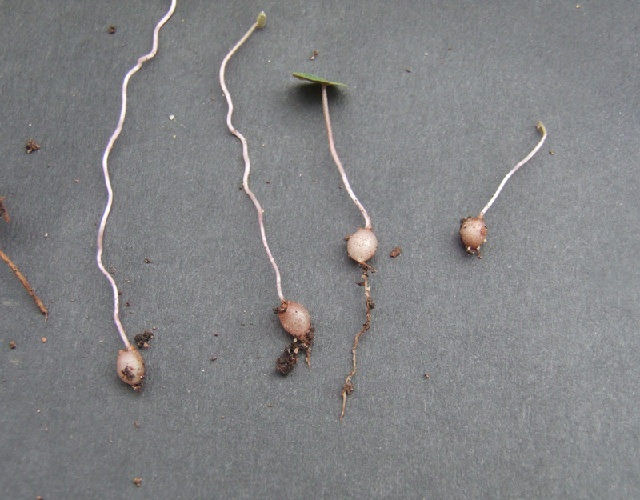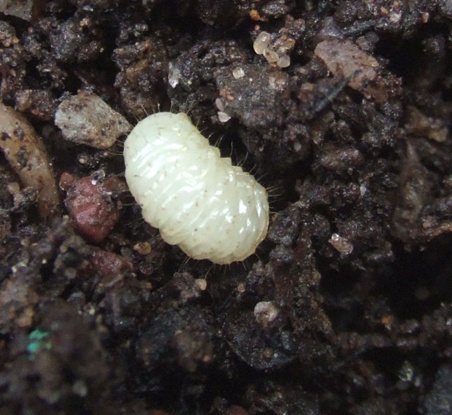 There was no obvious damage, I had just got there in time, so subsequently all cyclamen in pots (several hundred!) were treated with Provado which is effective against vine weevil for several months.  A rather tedious job, as the Provado has to be measured out and diluted to the recommended dose, then applied by volume to each pot, but a necessary undertaking.
Colchicums in the garden

There are many cultivars of Colchicum, but in my garden the earliest to flower tend to be the smaller flowered forms of C autumnale and the last are the rather stouter, larger flowered forms of C speciosum  
The picture shows, on the left Colchicum autumnale 'Album' and on the right: Colchicum speciosum 'Album' - the latter with larger flowers and a green stem (strictly speaking, the flower tube)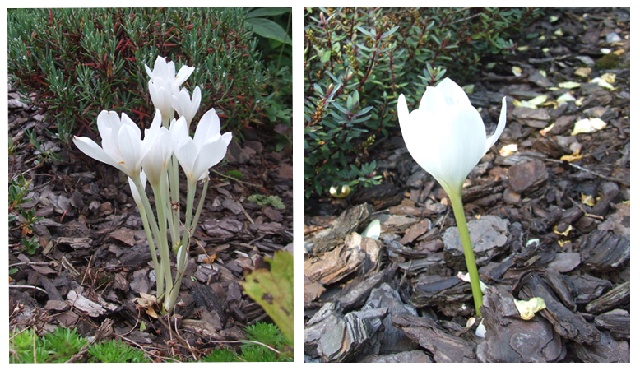 The next picture shows on the left, Colchicum autumnale 'Nancy Lindsay' which is the earliest variety in my garden, starting in August and lasting as long as the weather is kind to it. This year it has been in flower for at least six weeks. Two years ago I divided a clump and now I have three good clumps.
The picture on the right is Colchicum 'William Dykes' a good coloured form with whitish centre to the flowers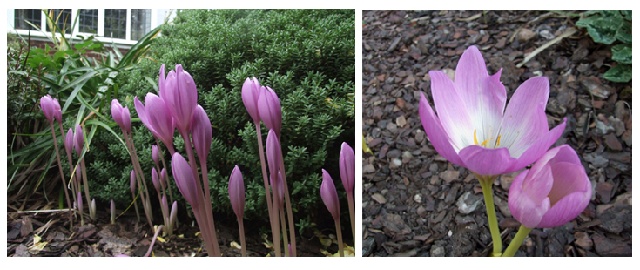 And to finish, Colchicum byzantinum 'Innocence' with one rogue pink in the clump.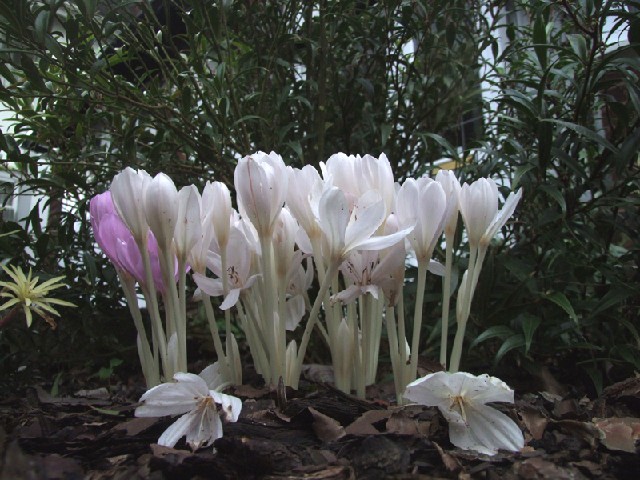 Please contribute your thoughts and ideas on this Diary entry in the Discussion forum here: http://www.alpinegardensociety.net/discussion/midland/Midland+Diary+No+The+nights+draw+in/295/
Thanks for reading!