Comparing Seasons

The end of May is always a very busy time for me in the garden, as the previous 11 Saturdays are taken up with attending AGS shows (with the exception of two missed when I was in Turkey and my delayed return due to volcanic ash).
Someone asked me recently whether the season was late and the easiest way to check is to look back on last year's photos and compare what was in flower last year at various times, compared with this year. Earlier this year, in February and March there was definitely a delay as the ground was taking a long time to warm up after the long cold winter, causing later than usual flowering of the early spring flowers. In the garden, hellebores and hepaticas were late this year, and I did not find they flowered so well here. In the greenhouse, Primula allionii and its relatives were about three weeks later than usual, still in flower by early April this year, and flowering exceptionally well this year. Now, by late May, even after a cold start to the month, the garden has caught up, and is looking very green and floriferous. In terms of timing, most plants in the garden are in an almost identical state to this time last year.
Taking stock

I expect many of us have suffered some losses after the worst winter for 25 years. Under glass, sadly my main loses have been cyclamen - quite a few pots of seedling C hederifolium turned to mush. I think they actually got too dry under the snow and couldn't take up any moisture. I also lost several pots of C africanum which were frozen solid in a frame such that I couldn't get them out until it was too late. However, some pots of reputedly less hardy cyclamen have survived, in spite of their pots freezing solid in the frame. Some pots of C persicum survived, as did C cyprium, C balearicum and C graecum (and strangely, a couple of pots of the latter have already got latent flower buds on them now, rather prematurely in late May, clearly the shock has confused them). I have had no losses of Cc coum, purpurascens, intaminatum, mirabile and cilicium, but the other losses have made a sizeable dent in my large collection. I will look forward to sowing more seed later this year and I shall review my strategies for over wintering, as I had clearly become less cautious about protection in the last few mild winters. In the same frame as the cyclamen, many pots of fritillaria were also frozen solid for more than a month, and just about all have survived.
In the garden it is a different situation, and I think most plants have been fine in garden beds, including most cyclamen, alpine and woodland plants. My least hardy plants in the garden are those which push the boundaries - Salvia microphylla, Lobelia cardinalis and Olea europaea. These are the plants, which to me indicate the severity of the winter, so what has happened to them?
Salvia microphylla dropped all its leaves (some mild winters it keeps them) but has survived, and is now shooting vigorously from the base. Lobelia cardinalis I have lost every time in the past when it has been planted it in a border, but I now have a pot in the pond and this winter it was frozen solid for about 2 months but surprisingly it has survived and looking fine (I am sure it would not have survived in the border). The olive?? - we have waited and hoped for signs of life, but I think that sadly, it is as dead as a dodo. We won't be pressing our own olive oil for some time yet.
Ephemeral seed

The season really seems to change in mid May. Many of the early spring plants in the garden are finished or going over. Trilliums and Erythroniums are setting seed and it will be a while before these are ripe. Seeds from some woodland plants are ephemeral and need to be sown fresh. With Eranthis hyemalis I let nature take its course and seed is sown where it drops, and quite a colony is building up.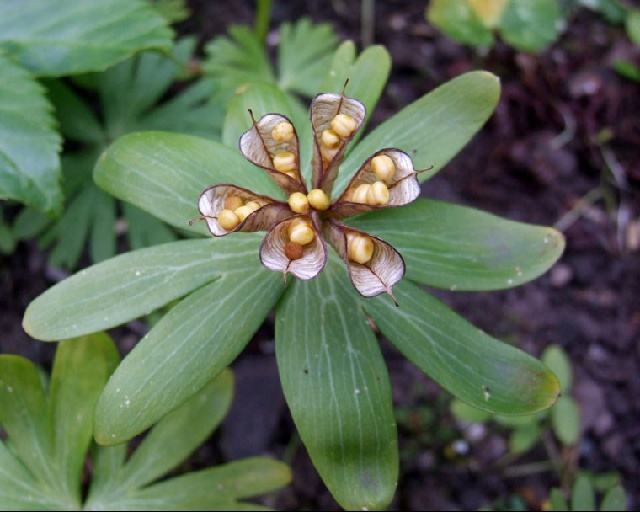 Ephemeral in this context means that the seed has short viability, and it is often difficult to collect on the day or two it is ripe, but before it drops. With hepaticas, I fasten teabags round the fruits of hepatica after flowering in April, to hold the seed from dropping into the next pot, then after about a month, I remove the bags, and the plump green seed is ready to sow immediately and will germinate next February or March.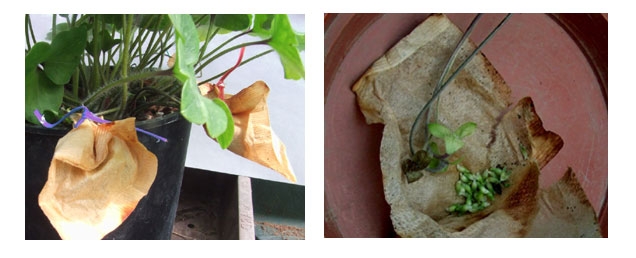 The woodland area of the garden is getting very dense at this time of year. Anemone sylvestris has seeded around and will need some of the seedlings thinning out, but it's not a difficult plant to keep under control.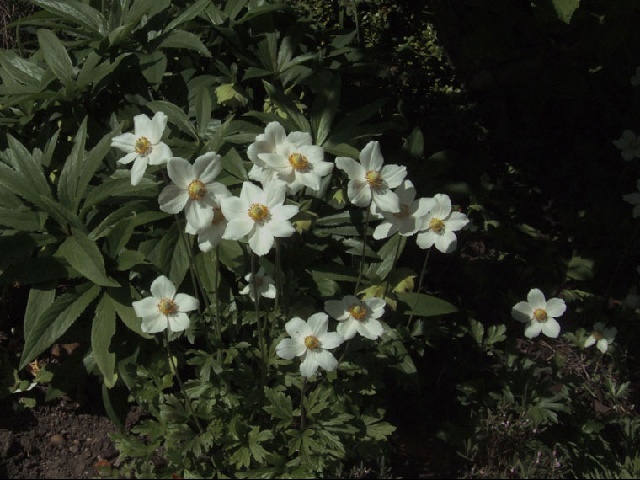 The later Rhododendrons are looking well.
Rhododendron campylogynum 'Myrtilloides' is a large flowered selection of this species with bell shaped flowers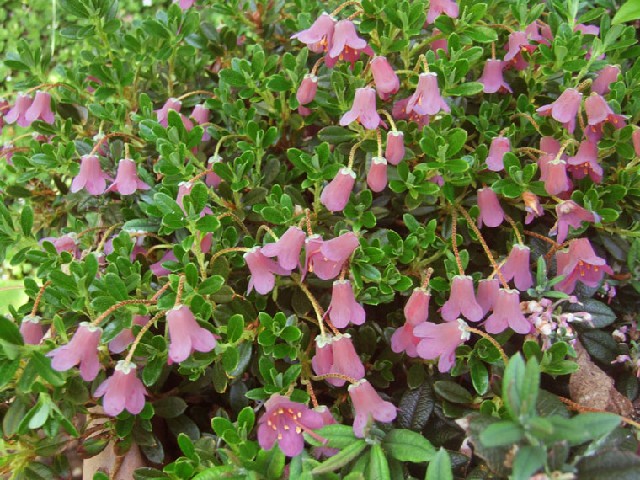 Rhododendron camtschaticum is a deciduous species - this is a good red-flowered form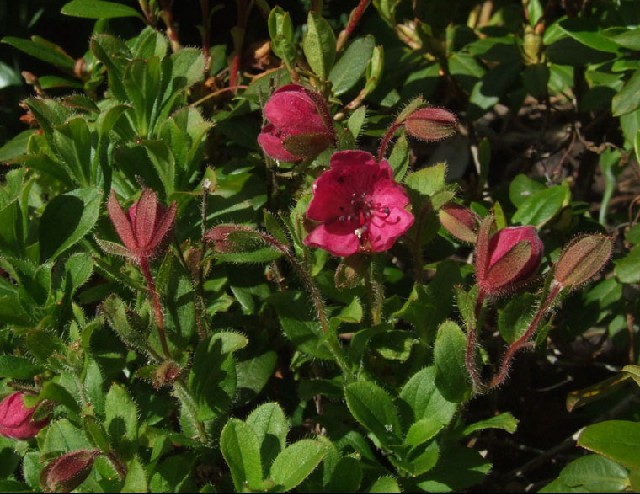 The hot dry bank

A lot of plants are flowering exceptionally well at the moment, so here are a few highlights. These two plants of Lewisia cotyledon grow on a steep west facing bank, under a Hawthorn tree (and here is the hawthorn, a delight in its namesake month of May)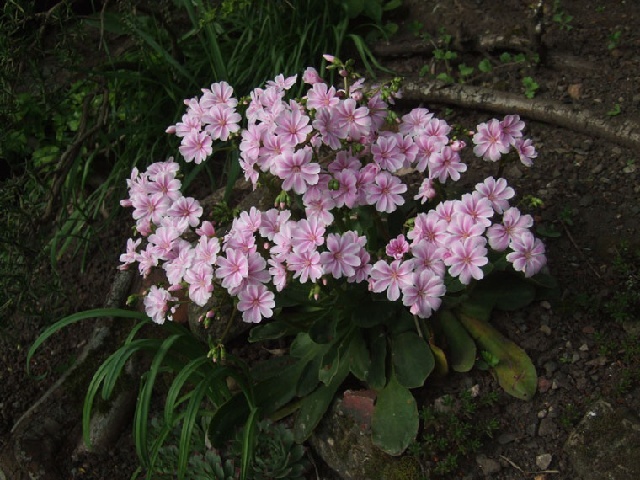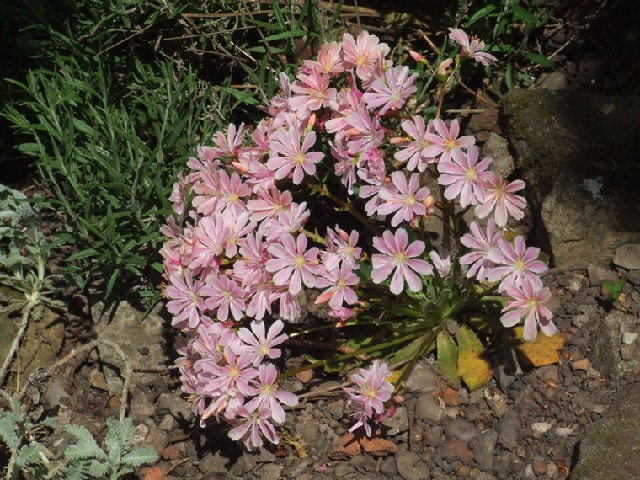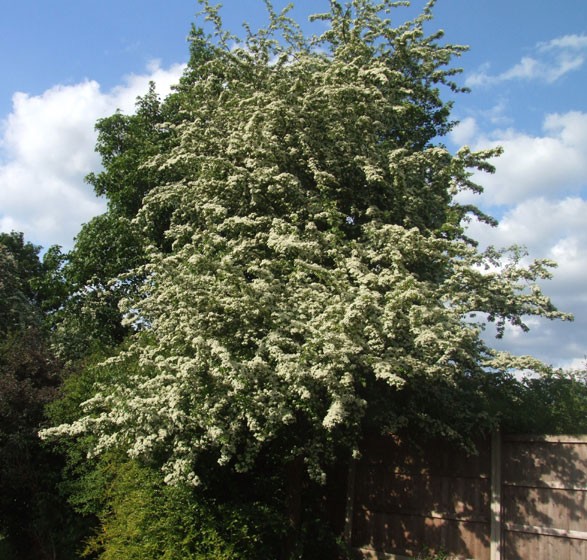 Also under the hawthorn, on the same sunny bank, a couple of small geraniums
Geranium cinereum 'Ballerina'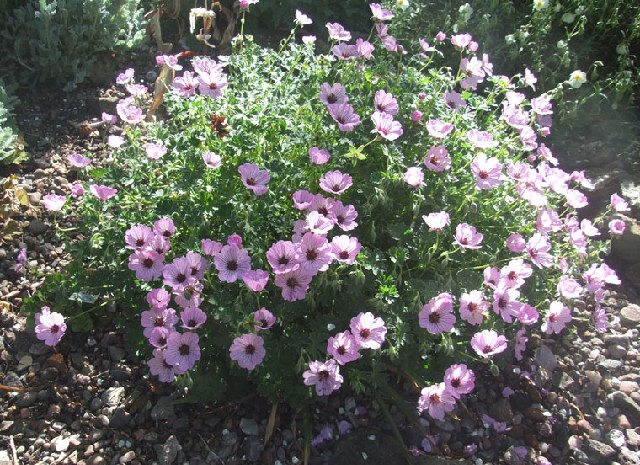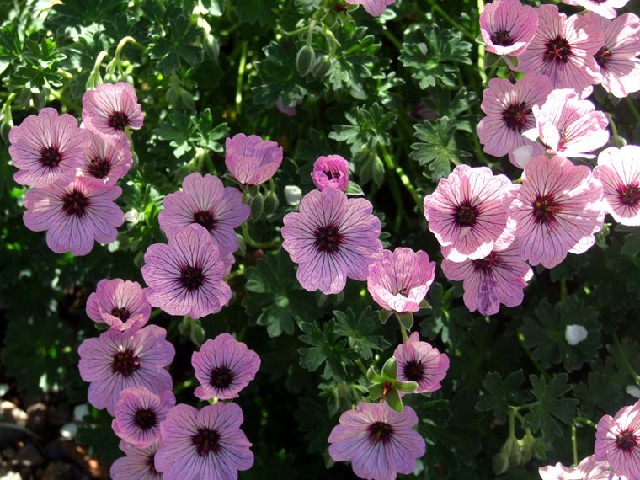 Geranium subcaulescens 'Guiseppe'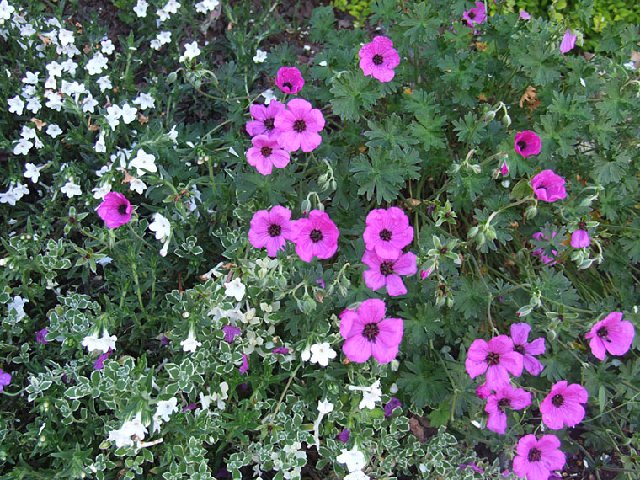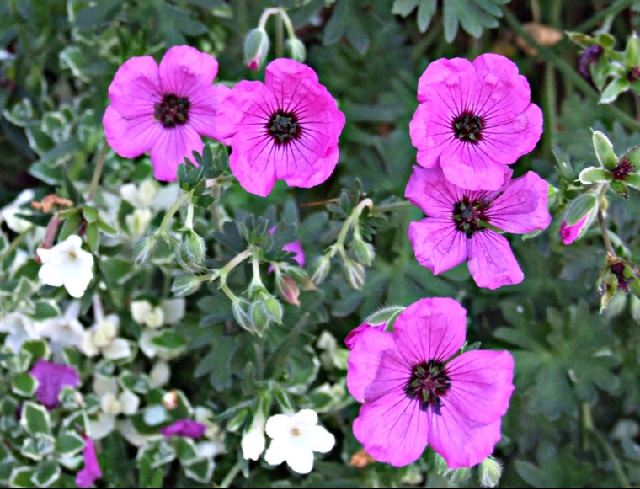 Tufa bed

In the tufa bed, I have never seen the silver saxifrages with such a density of flowers as this year
Saxifraga paniculata ''Lagraveana' (previously known as 'Correvoniana')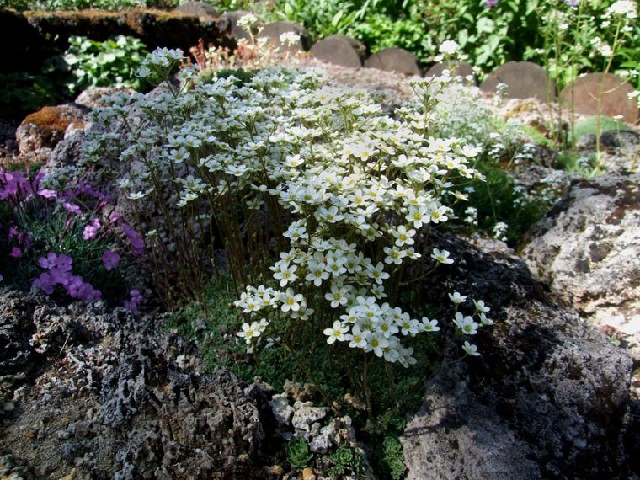 and next to it in the tufa, Dianthus 'La Bourboule' is also full of flower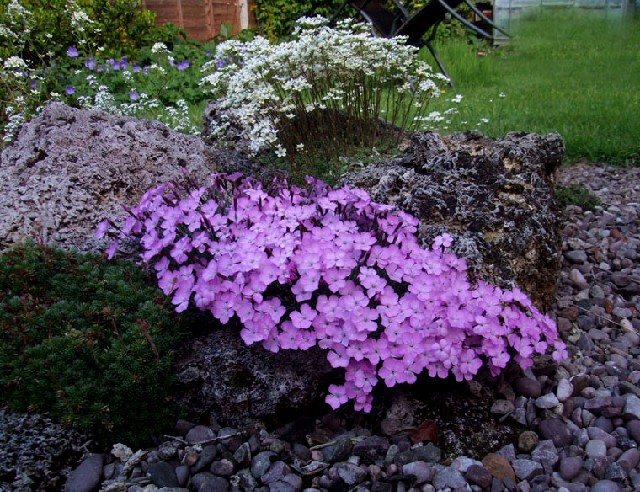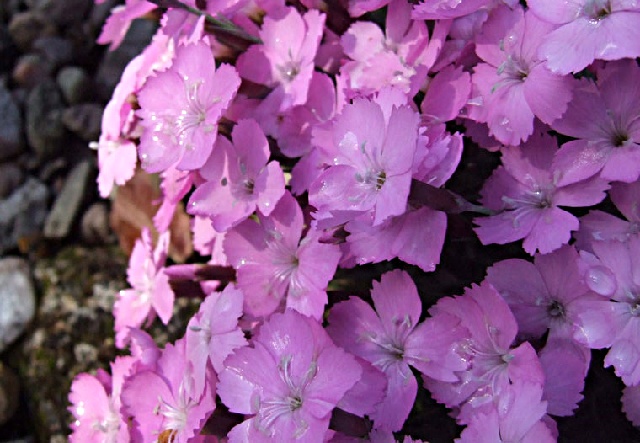 The Stars of the Show

But, the most exciting development this week has been the flowering of Meconopsis. M x cookei is a hybrid between two small species, M punicea and quintuplinervia and has done quite well for me, in two different colour forms, this is the nicer colour.
Meconopsis x cookei 'Old Rose'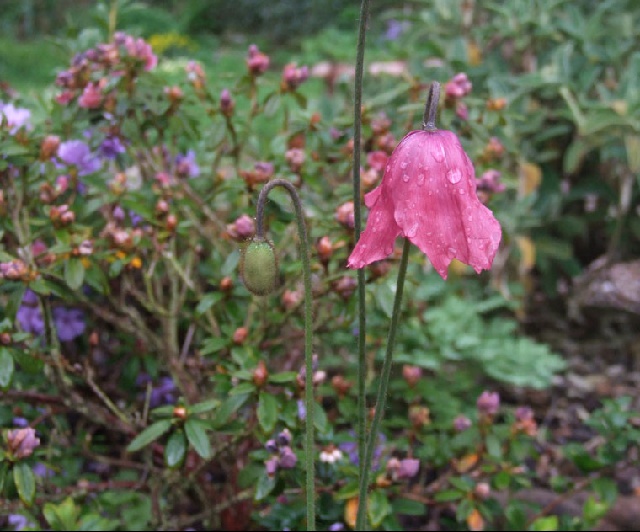 I realise that to people living in northern areas of the UK and Europe, it is no big issue, but down here in my Midlands garden, meconopsis do not thrive. Up until this year no other meconopsis (other than M cambrica) have flowered in my garden.
Many times I have sown seed of various species of meconopsis, usually it germinates well, then invariably it damps off. I have also several times bought plants and brought them through the winter, to then see them die in the spring. I have waited years and now I have two varieties in flower at once. The first is Meconopsis 'Lingholm' - I obtained the plant from Edrom nursery last year and planted it out in the garden in my woodland area, where it has a fence behind it, which keeps off the afternoon sun, and is growing between hellebores, trilliums and rhododendrons. The pictures were taken 3 days apart, showing the first flower, then as that faded, two more opened.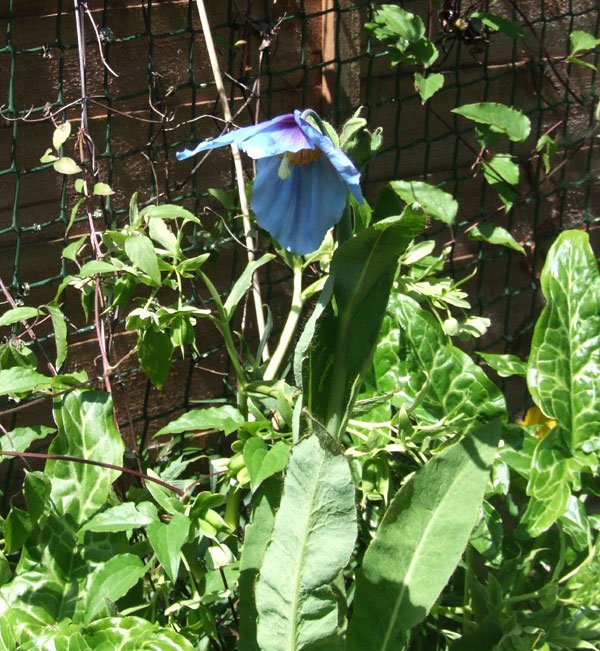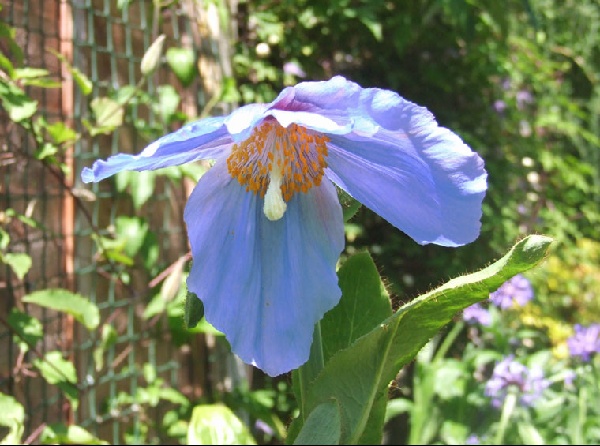 In an adjacent bed, Meconopsis racemosa is also flowering. This plant is a spiny monocarpic species related to M horridula which was a gift from fellow diarist John Richards last year (thanks again, John!). It stayed in a pot in my Access frame over winter and, in my ignorance, I thought it had died as I had not realised this is a deciduous species. When it started to grow a few weeks ago, I wasn't sure how tall it would be, so thought it best to liberate it, so I planted it near the M x cookei. It is also growing between dwarf rhododendrons which I hope will keep its roots cool.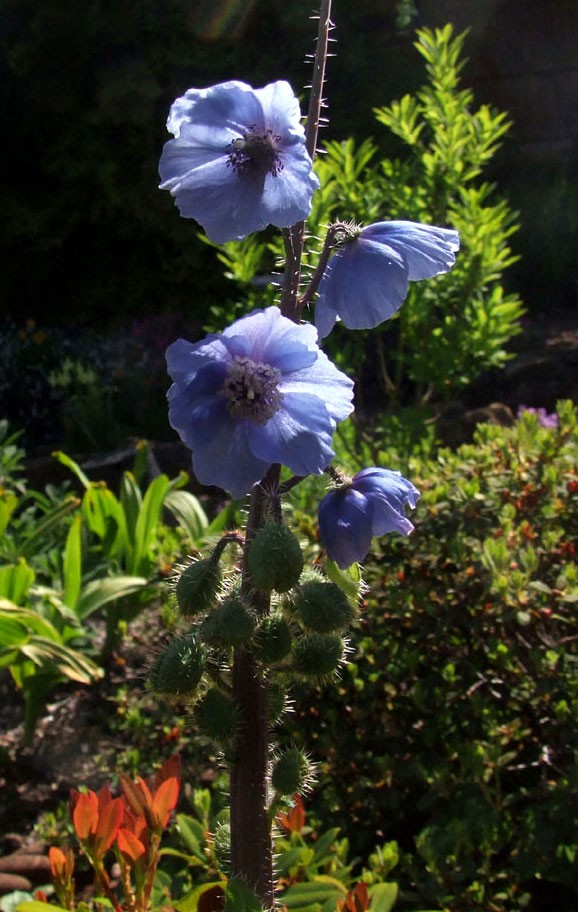 I'd be pleased if anyone could advise me if either of these two meconopsis set viable seed on their own?
Please add any comments in the discussion thread at the link below