In like a lion, out like a lamb

"In like a lion, out like a lamb" is a saying associated with March, meaning that a bad start to the month should mean a good end to the month. This sort of saying has little substance as more recent theories suggests that weather forecasts cannot be predicted more than a day or two ahead because of the complexity of the weather systems. What we can do is look back and acknowledge that the last two years have been the coldest winters since 2003, and prior to that, we've had a run of about five very mild winters and during those years we have become blasé about what we can grow in our gardens. We are still waiting to see what we have lost and we will not know for certain for a few weeks as the soil is still too cold for many plants to start growing. What we do know is that recent suggestions that we all grow Mediterranean plants are proving erroneous. Here in the West Midlands we have certainly suffered damage to bay and olive trees although they will have probably just pulled through.
Jewels in the crown
Everything seems slow in the garden, but there are some advantages to the cold season in that some flowers keep in good condition for several weeks, the prime example is Cyclamen coum.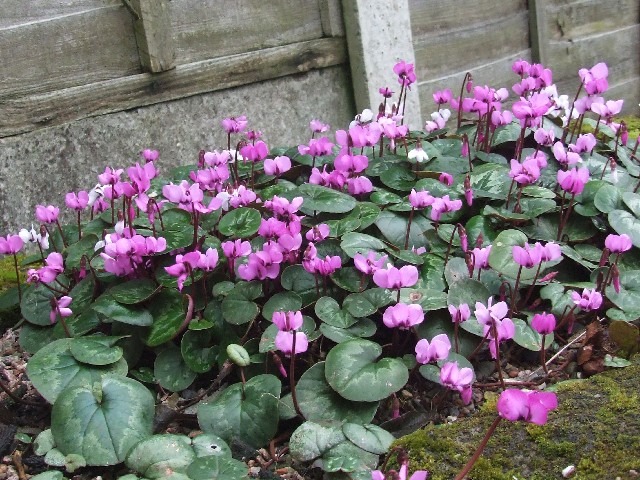 Cyclamen coum seeds around the place, and I suppose it's due to sod's law that the best plants will grow in the most inappropriate sites, this one growing in a path next to a greenhouse (note also the interesting leaf form of Cyclamen hederifolium behind, clearly a good situation for cyclamen to grow!)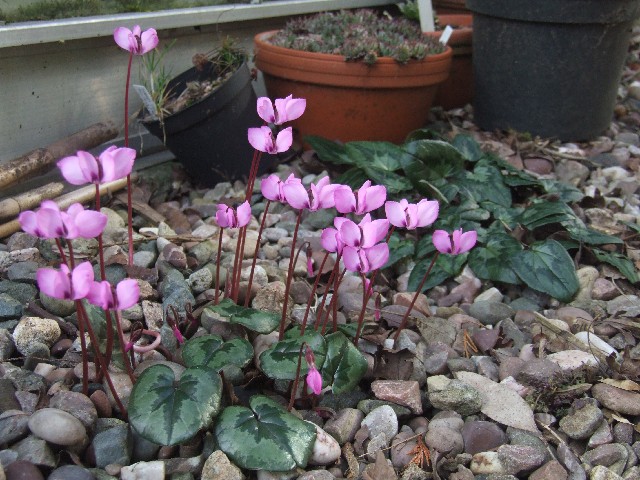 Eranthis hyemalis is still in good condition, and also seeding around this woodland bed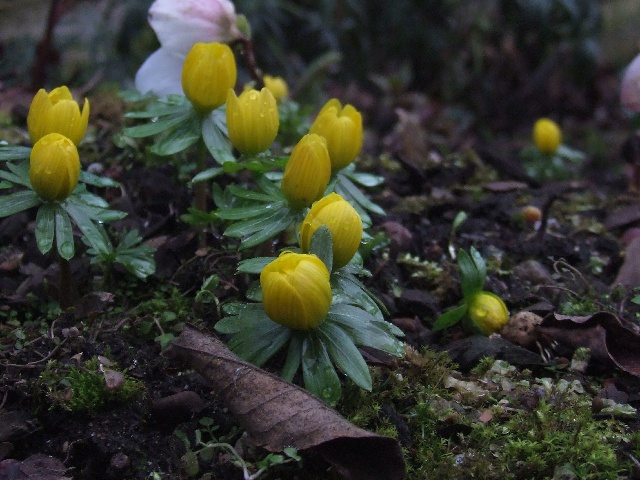 Some snowdrops are moving very slowly, this clump is still reluctant to open.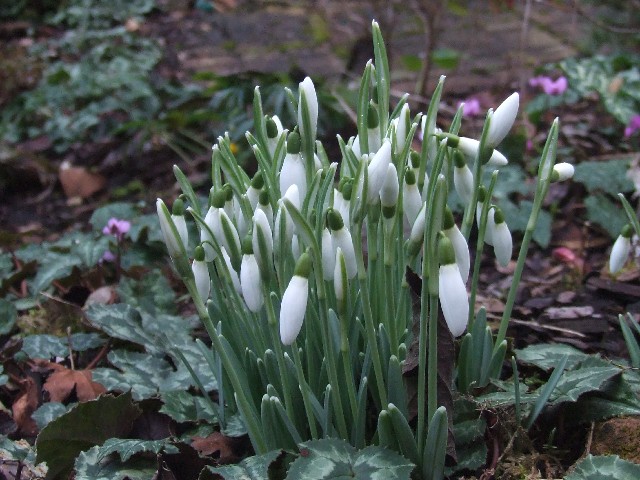 The Crocus lawn

The crocus lawn is now in its third year of flowering and I was anxious this year to see how it had fared. In 2007 I planted about 400 corms in the lawn of 7 varieties of chrysanthus/biflorus hybrids, plus some 'Negro Boy' (a larger vernus hybrid). They were planted in clumps, in 4 quadrants of the lawn which have different conditions, to see how they did in different situations. So what of them all now, after two hard winters, and two wet summers?
Ard Shenk has done well and so has Blue Pearl.

'Bluebird' is showing no signs of life yet and the yellow ones, 'Romance', 'Advance' and 'Zwanenburg Bronze' have not done so well, whether due to weather or predators I am not sure.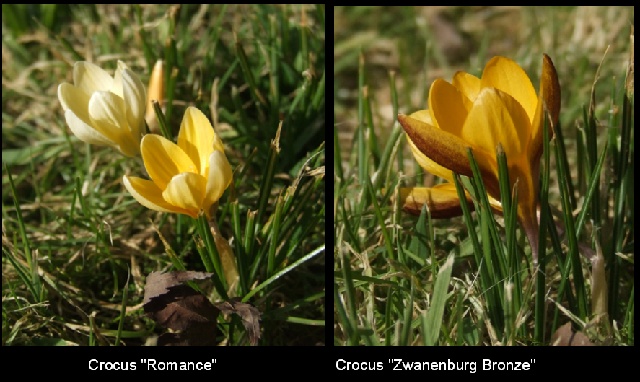 I thought it might be a mistake to include the larger vernus type 'Negro boy' alongside the biflorus hybrids, and I am still not convinced it looks right, but it has done well and it does look very smart in the sunshine.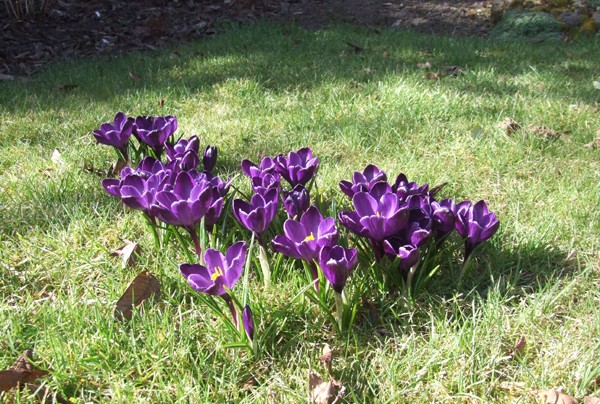 Pure white Cyclamen coum

Previously named forms of C coum albissimum - 'Golan Heights' and 'George Bisson' have some red colouring in the plants - usually showing on the reverse of the leaves and in the pedicels. A newish cultivar - 'Ashwood Snowflake' also shows a slight greyish or pinkish tinge at the nose of the flower.
Cyclamen coum 'Ashwood Snowflake'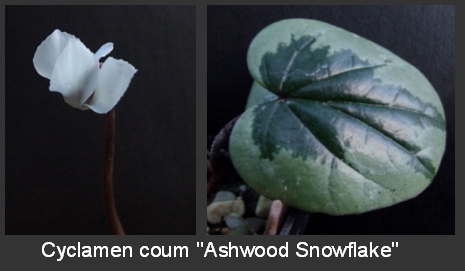 A year ago I discovered a pure white Cyclamen coum in a pot of seedlings whose label was lost. My plant has pure white flowers, pure green leaves with no red reverse and green pedicels. I've temporarily named it "Compton Ice" but a name for a cyclamen has little value unless it can be raised from seed. The standard advice to stabilise a recessive gene is to self pollinate the plant, then back cross the next generation plants back onto the parent. This will keep me busy for a few years!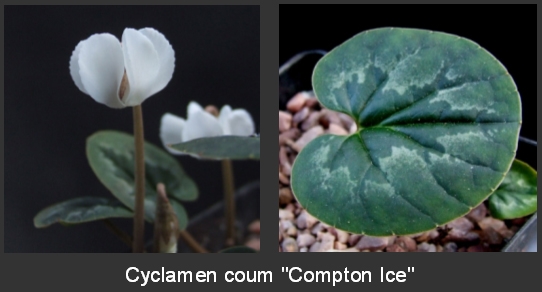 And to finish, a few pictures from my Cyclamen coum frame.
All Cyclamen coum forms:
top row: "Tilebarn Elizabeth", white seedling from Cyclamen Society expedition plant,
bottom row: "Linnett Jewel" and "Meaden's Crimson"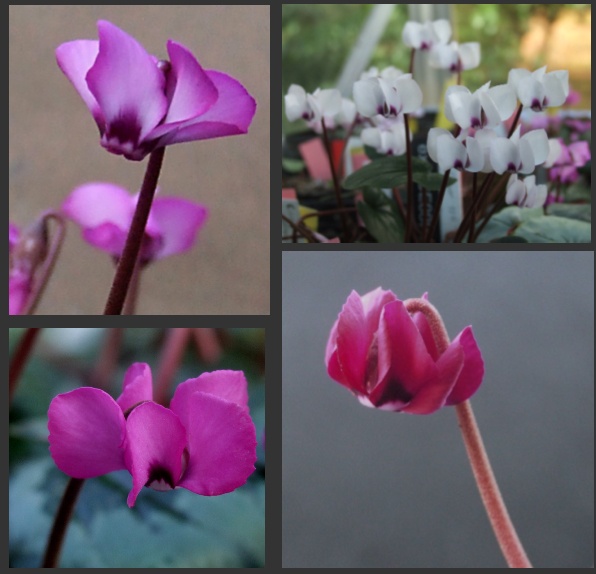 Please contribute any thoughts on this diary entry here: