Crocus Lawn

Two years ago I decided to try naturalising some crocuses in the lawn. I did a bit of research and decided to go for mainly Cc chrysanthus and biflorus hybrids as these are smaller and more attractive to my eyes than the so-called Dutch hybrids which can be so large they are inclined to flop over with the first bad weather that hits them, be it wind or rain.
The original breeding for these smaller crocuses was done earlier last century by John Hoog of Zwanenburg nursery in the Netherlands and E A Bowles who wrote the classic book "A Handbook of Crocus and Colchicum". They corresponded and swapped plants and the best of their selections are still around today.
Most of the yellow forms are straight varieties of C chrysanthus and some of the creams and blues are hybrids between C chrysanthus and C biflorus. Sometimes the outer petals are darker or striped with contrasting lines, and sometimes the outer and inner petals show pleasing differences.
I opted to buy 100 each of Blue Pearl, Ard Shenk and Zwanenburg Bronze and 20 each of Advance, Blue Bird and Romance. I also bought 25 of a C vernus variety called Negro Boy which is a stunning dark blue crocus. The total outlay for 385 corms was £17.50.
I decided to try four areas of the lawn to see which sites fared best in time. The crocuses were divided into groups 3 or 4 types were allocated to each section. They were planted in Autumn 2007 by cutting "H" shapes in the lawn, peeling back the turf and planting the crocuses in groups. Our garden is generally shady, as it faces north, so the area of lawn nearest to the house gets no sun for six months of the year. Also the left (west side) of the lawn is damper than the east as it is shaded by a fence and trees. So I have four quadrants with differing situations and will see which area does best.
Their first flowering was spring 2008 and they did quite well in their first year, although as the winter had been mild, the grass was quite long. During the first autumn, we were unsure when to stop cutting it as we weren't sure when the crocuses would start growing. Negro Boy flowered quite a bit later than the smaller varieties so doesn't appear in these pictures. The crocuses did well and set seed, some of which I collected but much fell onto the grass.
Crocus lawn - First year - March 2008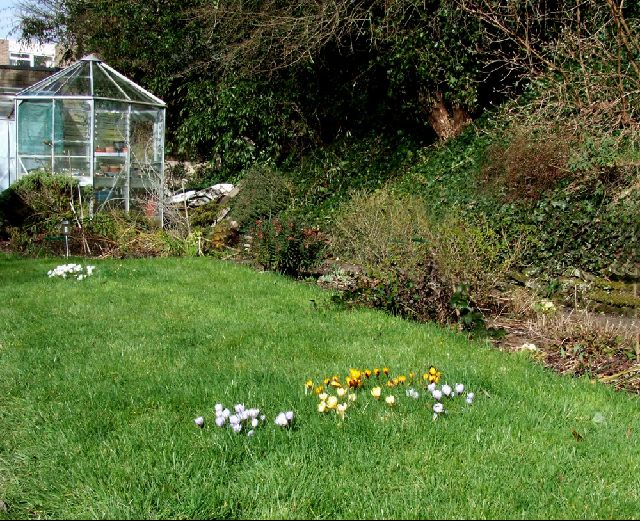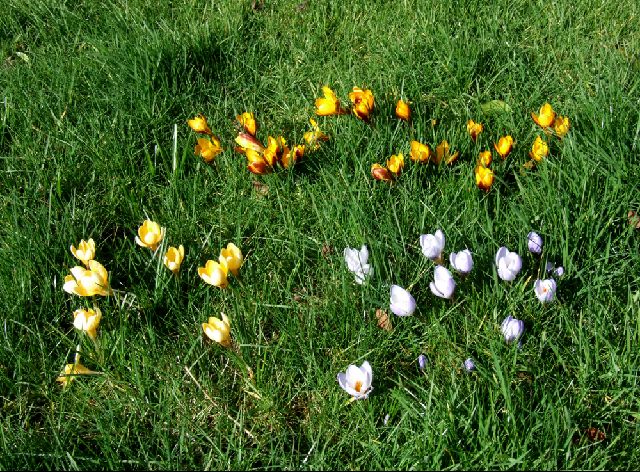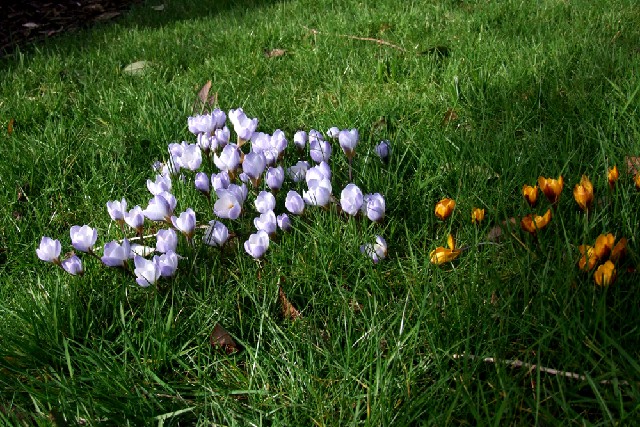 The second year
A year on, and I was very interested to see how they looked in their second year, now growing under their own conditions.  This year the winter has been colder so the grass has stayed fairly short and the crocuses have looked good.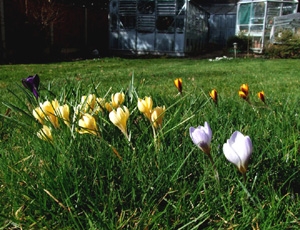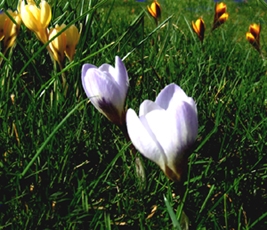 Ard Shenk and Blue Pearl both look good this year, they both seemed to stand up to the weather and last quite well
Crocus Ard Shenk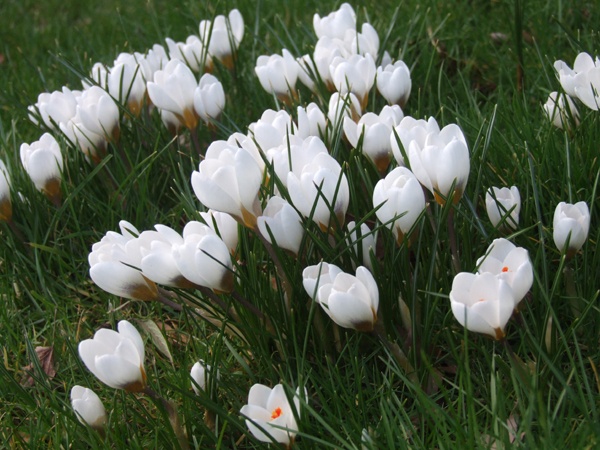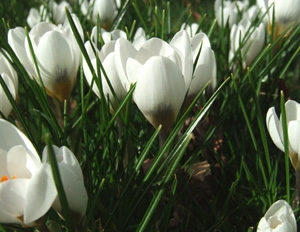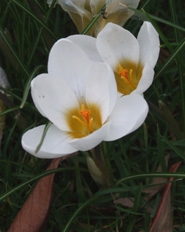 Crocus Blue Pearl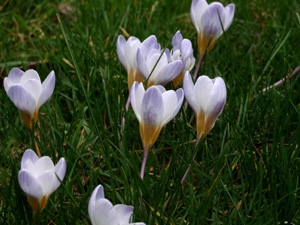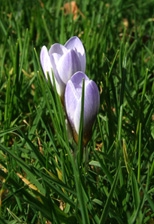 I enjoy the delicate colouring of Romance and Advance
Crocus Romance
Crocus Advance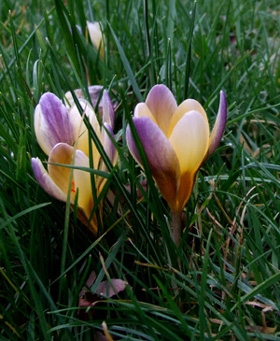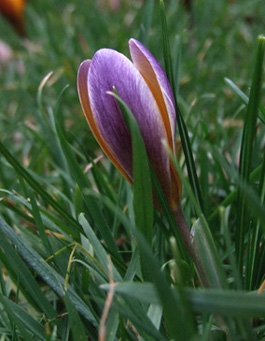 Blue bird and Zwanenburg Bronze flowered early this year and seem to have done the least well but they may have suffered from early snow damage
Blue bird                                                                                                   Zwanenburg Bronze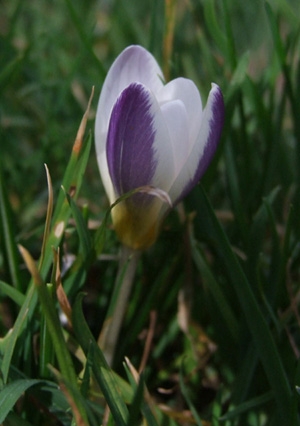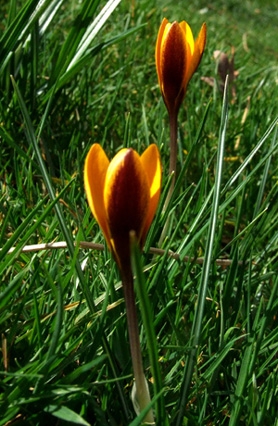 This year, Negro Boy flowered at the same time as the others and looks to have increased. This is a lovely crocus but I am not sure it fits in with the others, as it is so much bigger.
Crocus vernus Negro Boy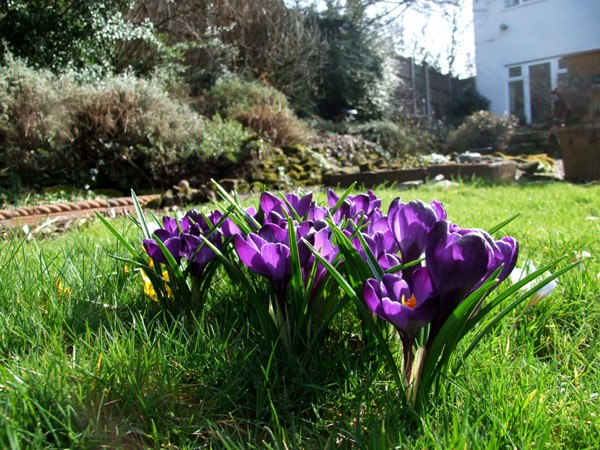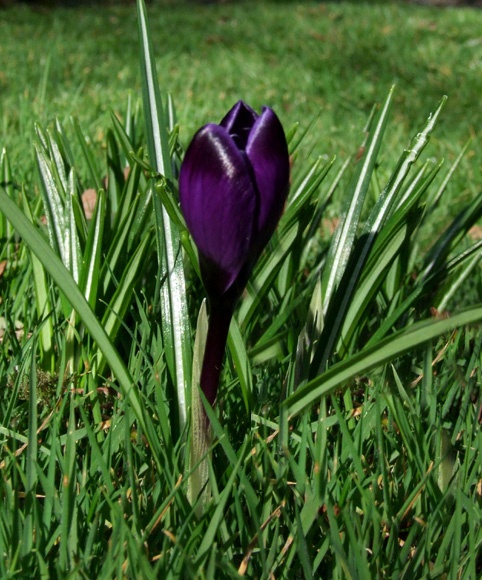 In other areas of the garden I have a few crocuses in beds.
I bought this stripey yellow crocus several years ago as Crocus chrysanthus Gypsy Girl but it is very similar to another I have called Fuscotinctus so could have got confused over the years
Crocus chrysanthus Gypsy Girl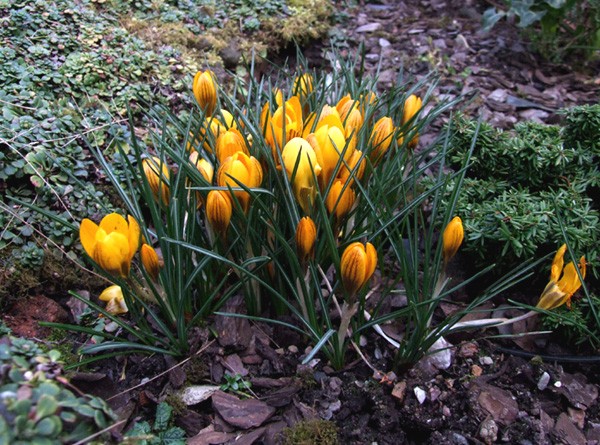 I have been wary of planting Crocus tommasinianus in the garden.  It is a very beautiful crocus but can be invasive in favourable conditions.  One of my favourites is Whitewell Purple.  This does not seem to have increased and I notice this year that the squirrels or mice have replanted it in two new places in the garden. 
Crocus tommasinianus Whitewell Purple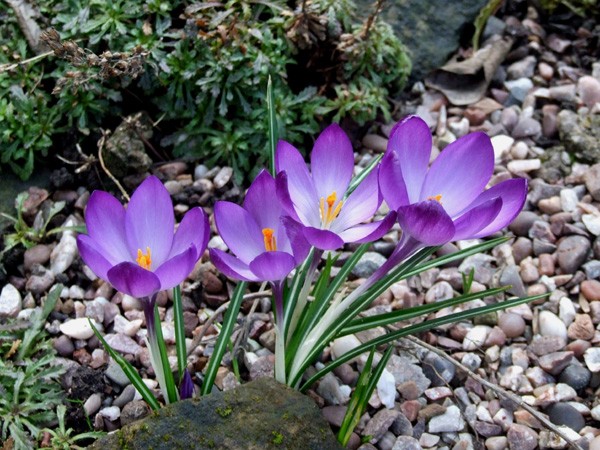 It will be interesting to see how the crocuses in lawn do next year.
And thanks to Thomas Huber of Neustadt for the original idea of a Crocus lawn.
Do please add any thought or comments in the Discussion board by clicking here:
http://www.alpinegardensociety.net/discussion/midland/
Diane Clement