A Swiss holiday - full of sun, snowy mountains and flowers
It's been a while since I've been able to do a diary entry, but I've been persuaded to start up again, with a log of our recent holiday.
Our first trip to Switzerland was over 30 years ago when we drove to Grindelwald in our old Morris Marina and stayed two nights in the Youth Hostel. We spent all our hard earned money on a train journey up the Jungfrau and a chairlift ride up the First behind Grindelwald (sadly now replaced by a modern gondola). I knew nothing about flowers in those days (maybe not much more now!) but the scenery was stunning, and we fell in love with Switzerland and have been visiting on a regular basis ever since.
What was special about this year's trip was that every trip in the past has been later than the 3rd week of July, because of having to take school holidays. This year, following recent retirement, we were able to go earlier, at peak flowering time. We visited two resorts, Zermatt and Wengen, both of which we have visited several times before. Interestingly, the season was very late and the week before we arrived, we heard that snow was still lying at 2400m. But the day we arrived marked the change in the season, and the sun shone almost continuously for the whole ten days of our holiday. I took too many photos and it has taken some time to review them and I am still struggling with some of the identification. I hope that some of you can help correct any misidentifications.
Our first resort was Zermatt, which is in the south west corner of Switzerland, in the canton of Valais. The village is at the end of the Mattertal valley and to the south of the village is a massive ridge of mountains, many of which are over 4000m, including Monte Rosa which at 4634m, is Switzerland's highest mountain. To the west of Monte Rosa lies the Matterhorn (only 4478m, but looks higher), whose familiar shape features on many a chocolate box. The ridge of mountains forms the border with Italy. Zermatt is busy with visitors, but the infrastructure of trains and cable cars copes well with demand, and nothing can detract from the beauty of the scenery in all directions.
Day 1 Zermatt - Zmutt - Zum See
Our first day was a relatively low level walk to regain a feel for the area. We set out from Zermatt and walked through the meadows up to the delightfully named hamlets of Zmutt and Zum See, then back to Zermatt. Zmutt is a tiny village with several restaurants: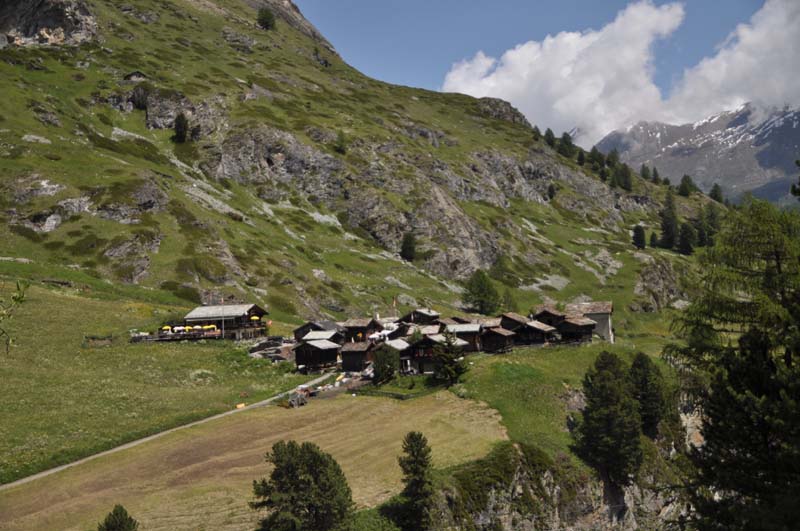 The meadows at this altitude had not yet been cut, and were full of flowers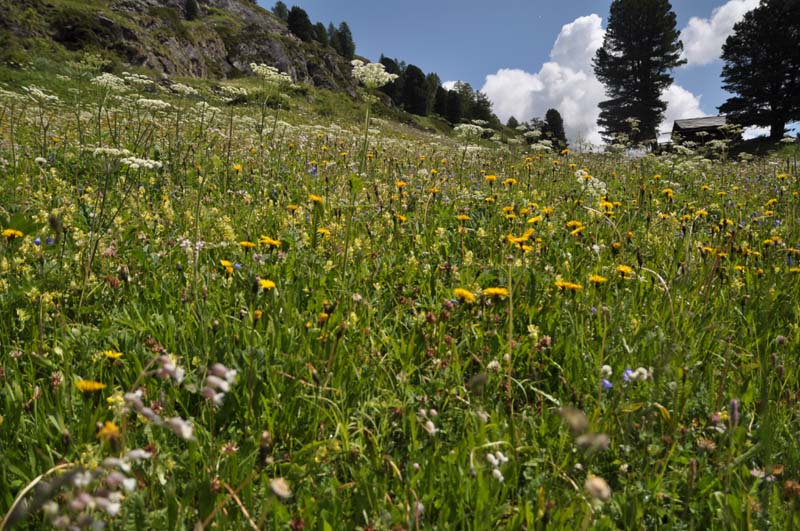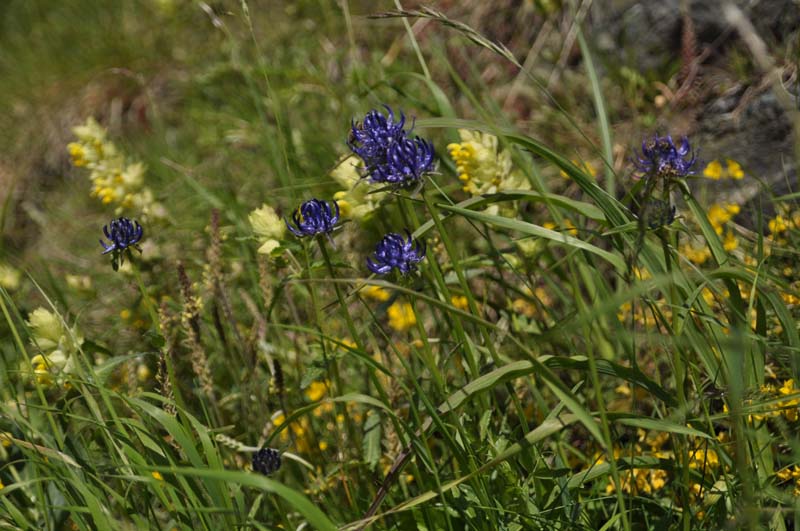 We walked on through woodland. Anthericum liliago was quite common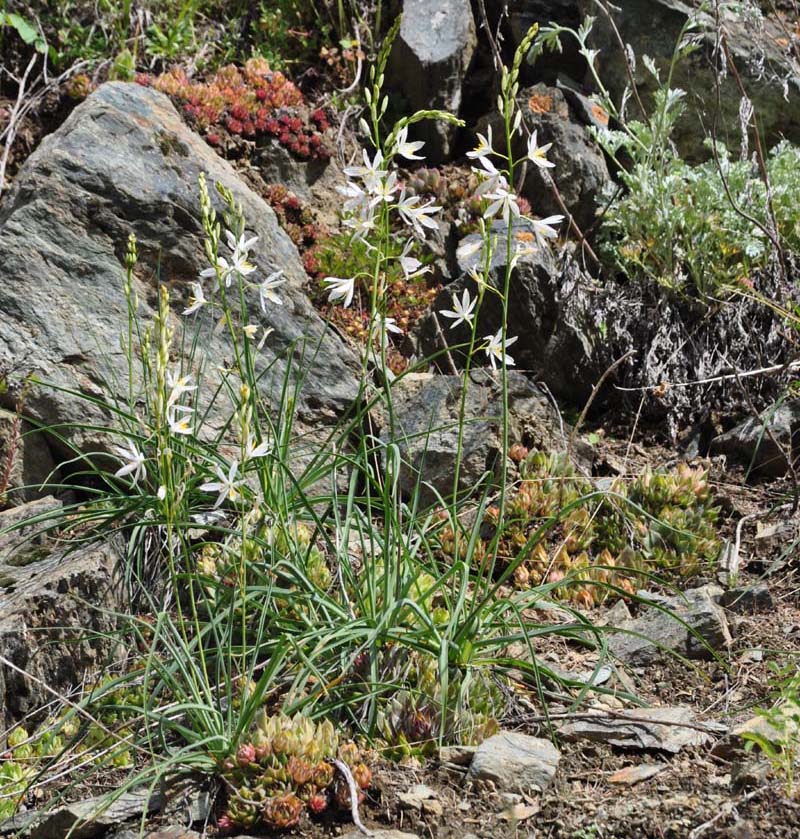 Also in the woodland, Erysimum rhaeticum and Geranium rivulare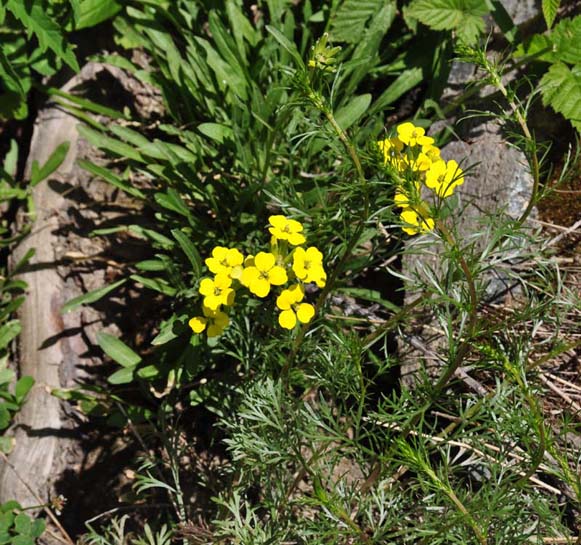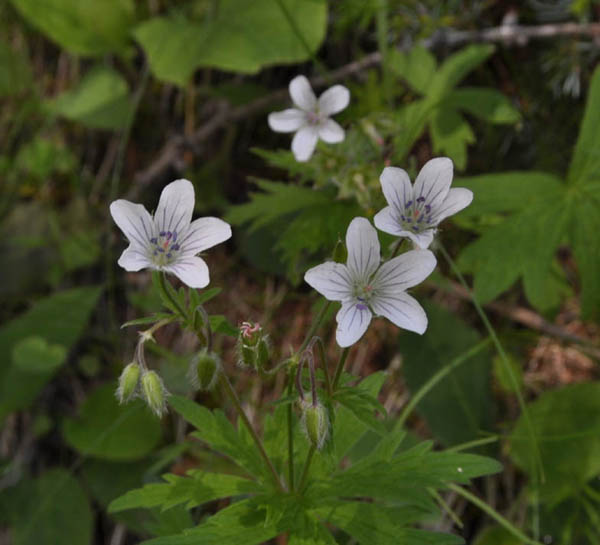 interesting bugs included: red and black striped shield bug Graphosoma lineatum and Granville Fritillary Melitaea cinxia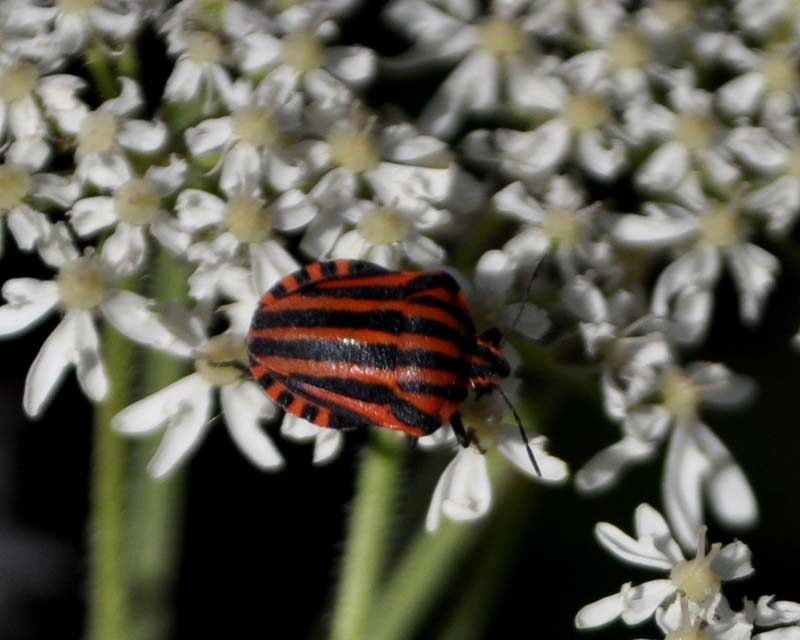 But the highlight of the day for me was Hepatica nobilis, only in leaf, and fairly dull leaves at that, but for me it was a treat just to see them. I guess they were in flower about a month previously.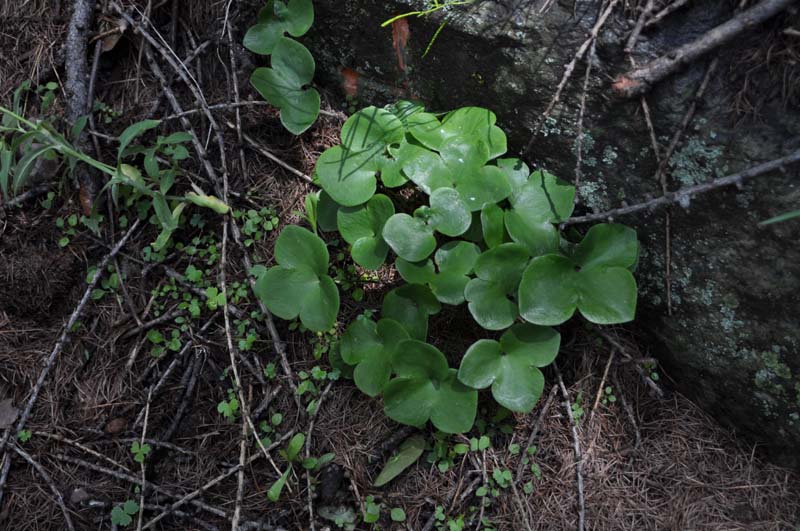 Day 2 - Rothorn, and Blauherd to Sunegga
One advantage of staying in a tourist resort is the availability of transport which can whisk you up easily to high altitudes. We travelled up on the three stage journey of funicular, gondola and cable car, up to the Rothorn at 3103m.
From here the views are tremendous and the Matterhorn dominates the skyline: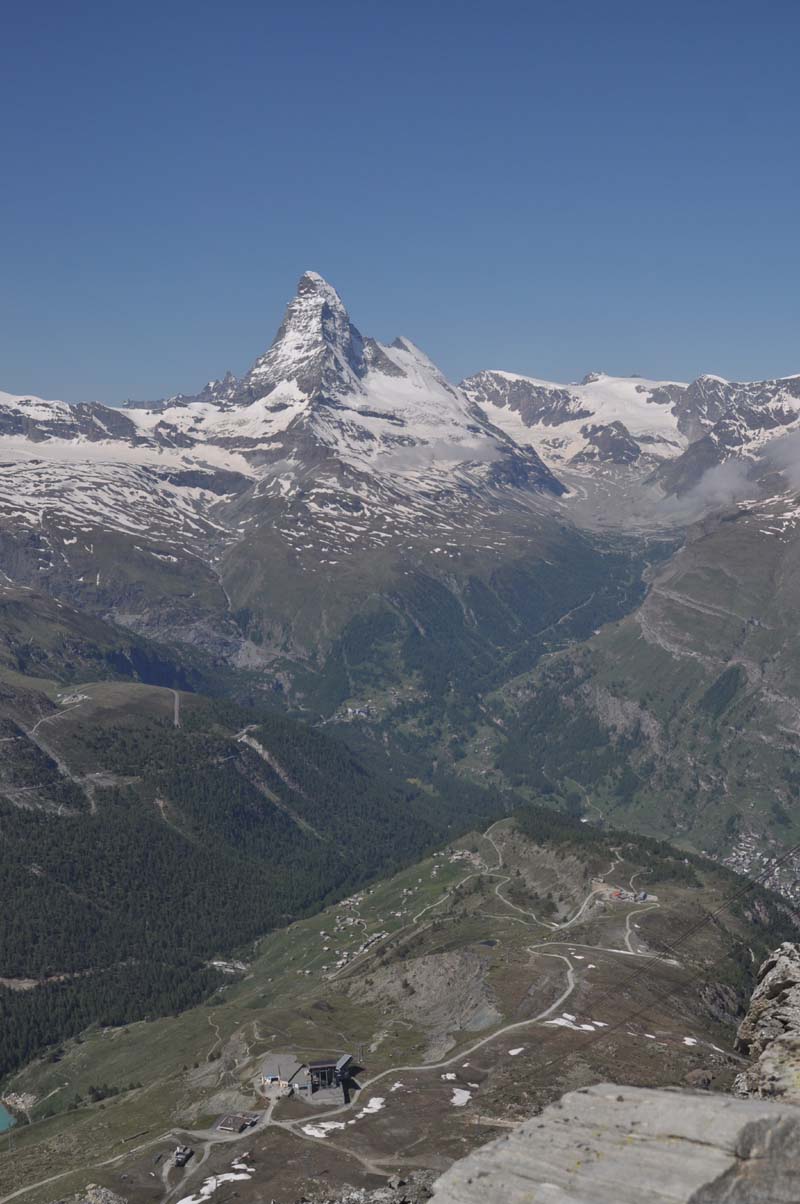 Round to the east are the snowy peaks of (picture below, from left to right): Liskamm (4527m), Castor and Pollox and the Breithorn (4164m) and the Kleine Matterhorn which is the little dark triangle just right of the centre. The big Matterhorn is off this picture to the right:
But what of the flowers?? On a previous visit, I had seen Eritrichium nanum at this site, so we searched for it, but only found a small patch (sorry for quality of the picture)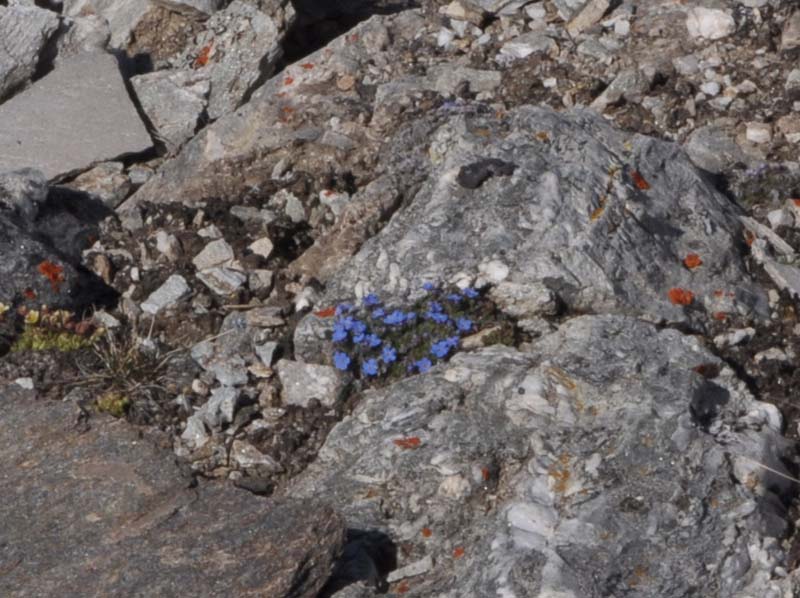 But the star of the show here was Saxifraga oppositifolia, here on a ledge: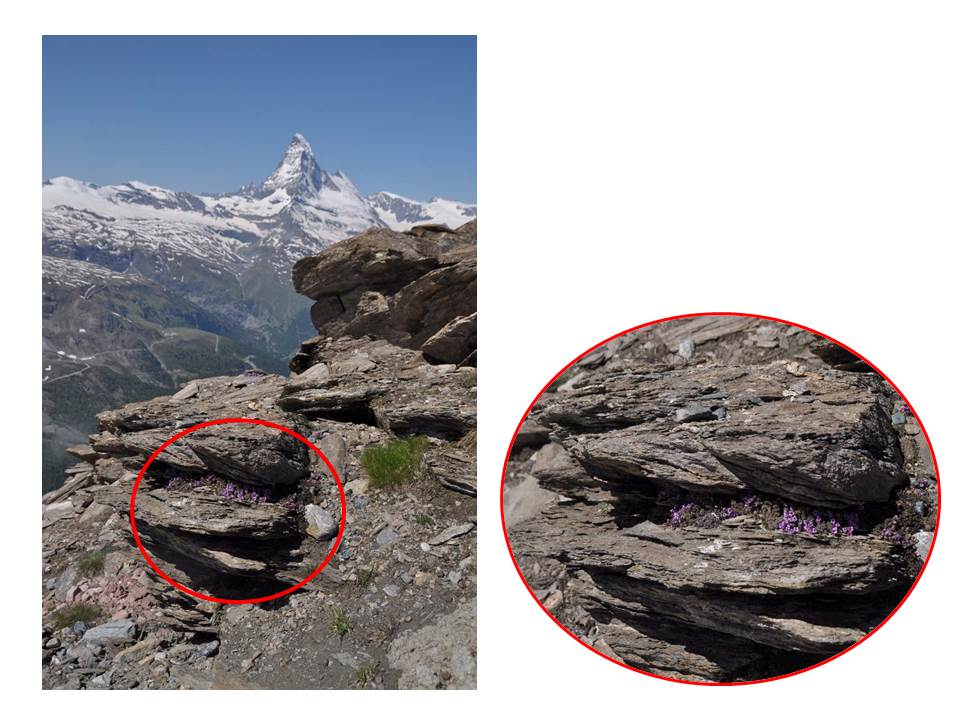 and in front of the Matterhorn: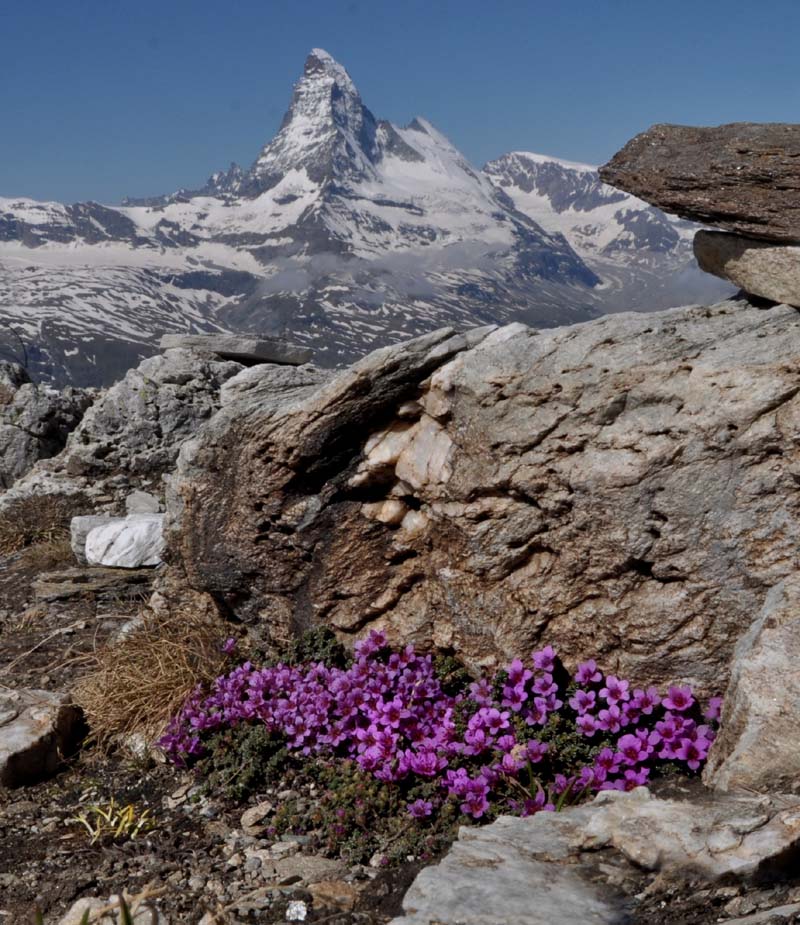 Walking from here wasn't possible due to the snow cover,
so we took the cable car down to Blauherd at 2571m and walked from there. 9
Where the snow had just melted, Soldanella alpina was looking good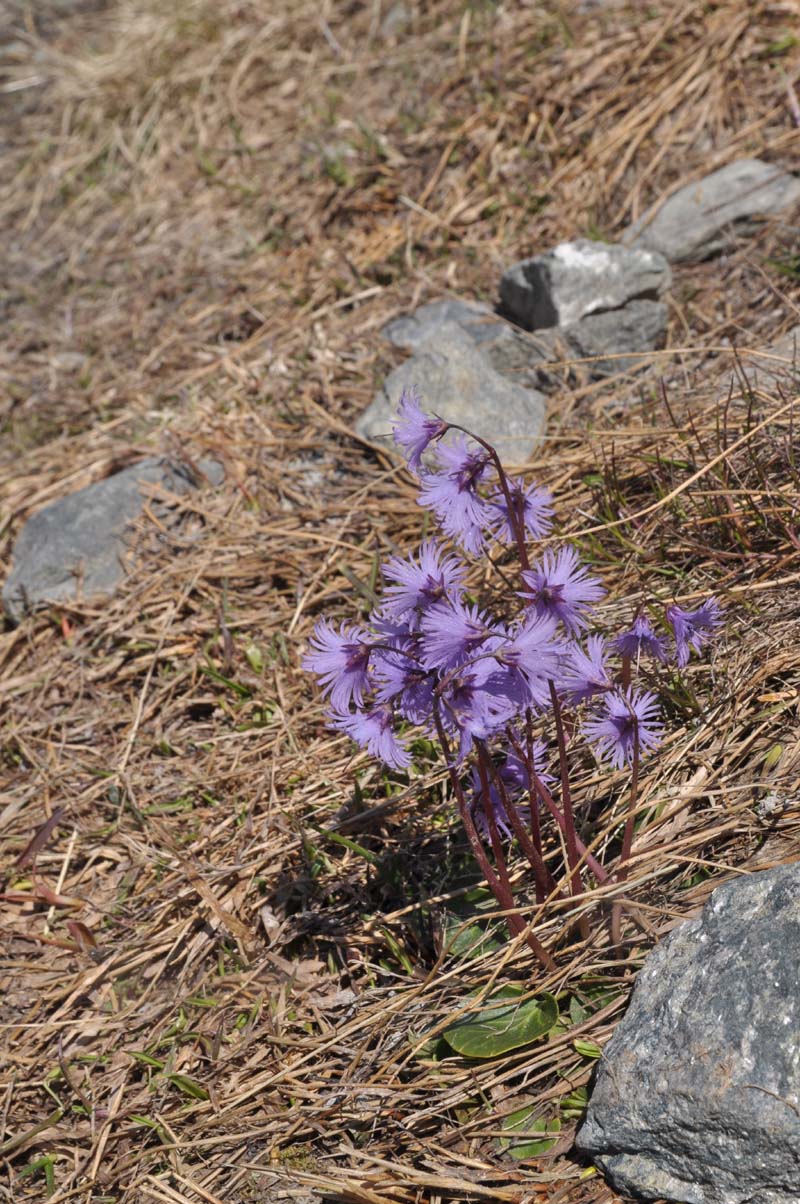 and I was pleased to see Lloydia serotina and Gagea liotardii (renamed from G fistulosa ), also growing in abundance in the snow melt areas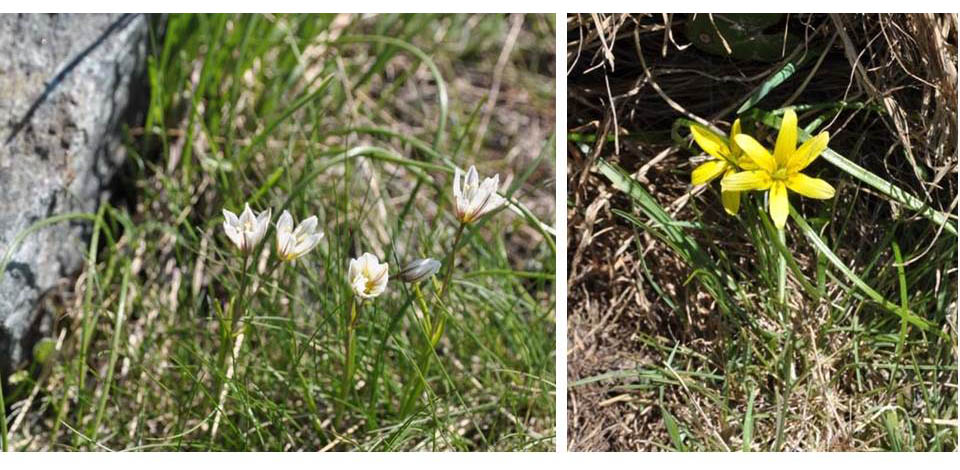 I have never before seen Vitaliana primuliflora before in the wild although it is clearly abundant, we have previously always been too late to see it. The name is up for grabs, and it may eventually settle as Androsace or Primula, but the jury is still out so I will leave it as Vitaliana for the time being.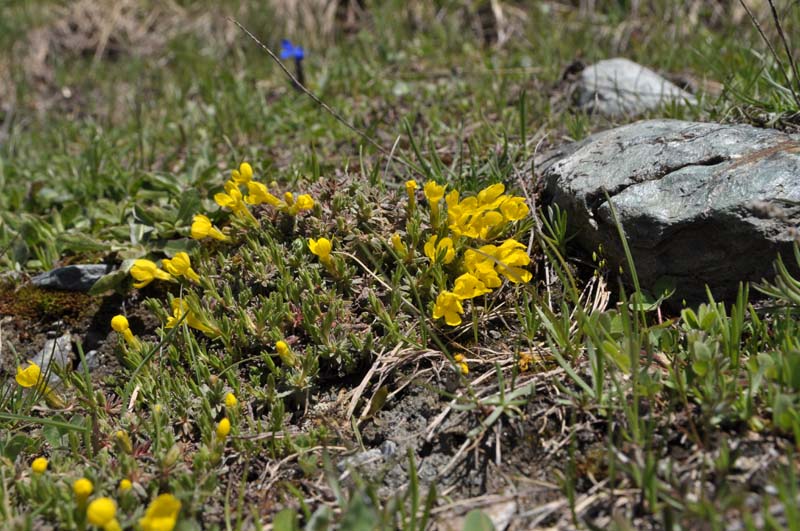 Keeping with the Primulaceae, we saw Androsace laggeri and Primula farinosa, also both abundant in several sites we visited.

Gentians
The trumpet gentians we saw here were Gentiana acaulis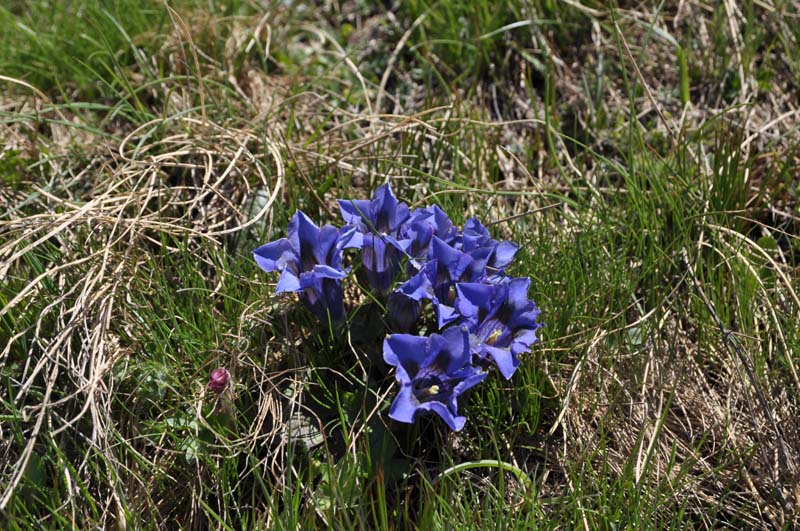 but the verna group caused identification problems, of which more later, but I think these are straight Gentiana verna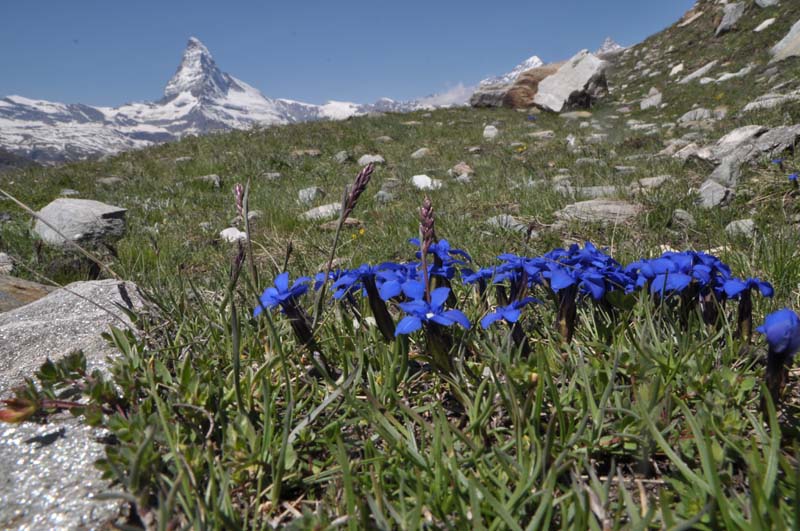 Pulsatilla rookie
Because we have previously only visited the alps two to three weeks later, I had, prior to this visit, only ever seen one flower of any Pulsatilla. I have now seen thousands! The first was the unmistakeable Pulsatilla alpina apiifolia, the sulphur-coloured subspecies, reputably growing mainly on acid substrates: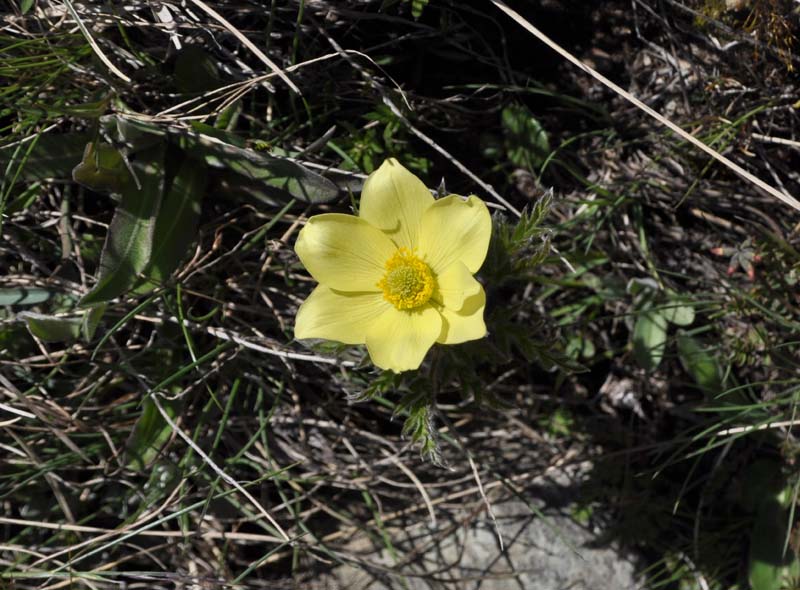 >Also here was Pulsatilla halleri, confined to the southern and western alps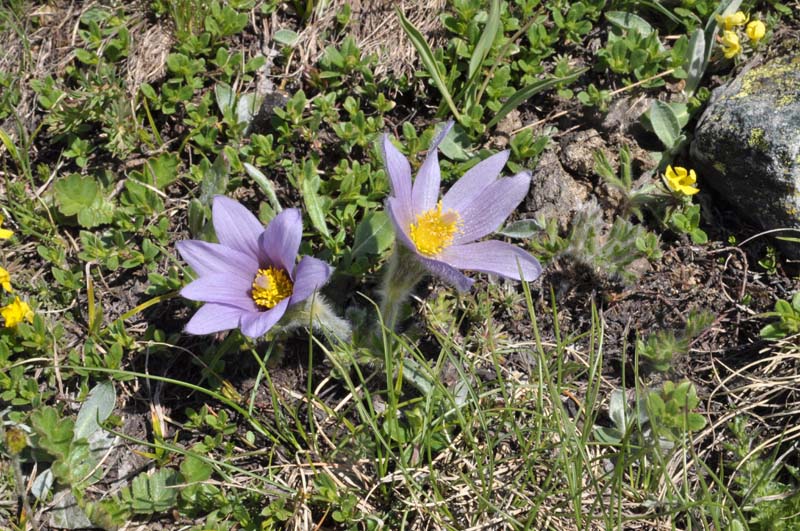 Pulsatillas are especially photogenic, and I couldn't help taking lots of pictures!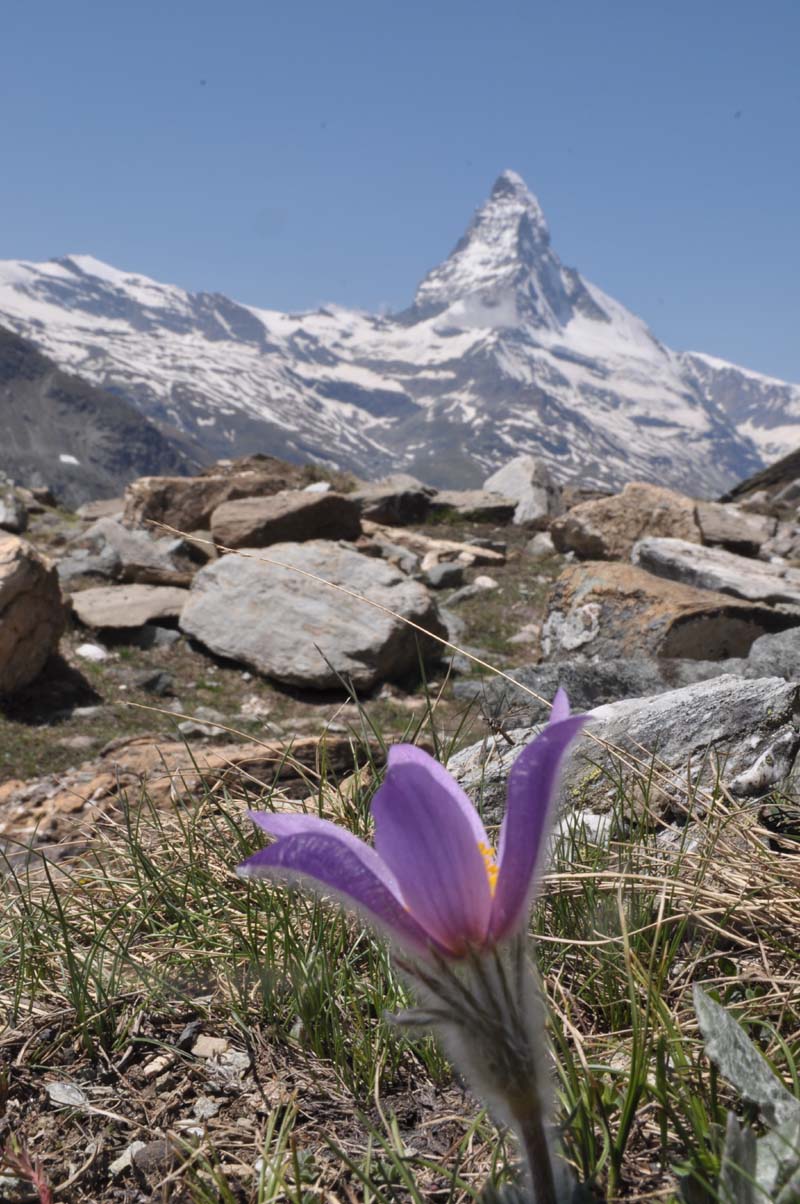 We walked down to Sunegga from where we took the underground funicular back down to Zermatt. This was our view for most of the walk.