Ripening seed
Seed is starting to ripen on many plants in the greenhouses and the garden, and needs regular checking.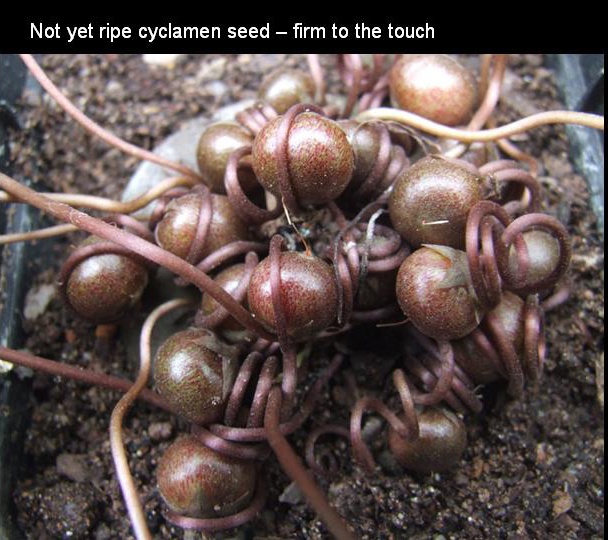 Earlier in the season I marked those cyclamen pots containing seed pods with brown labels so I don't overlook the pots when I come to collect the seed.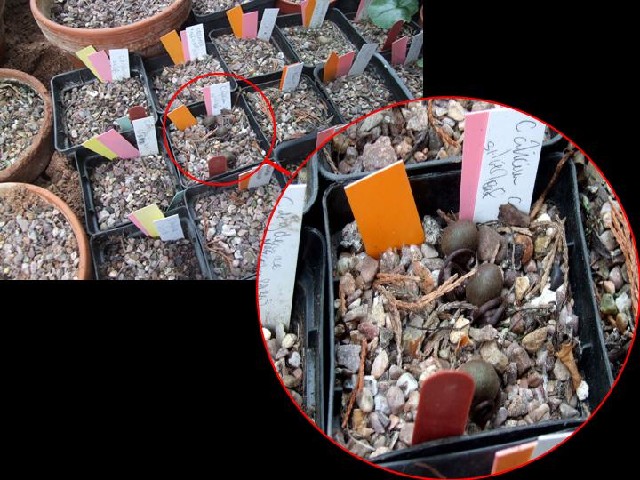 Cyclamen seed is ripe when the pod opens (dehisces) at the top , but it is possible to take the seed pods off the plant just before ripening so as not to lose the contents. Squeeze the seed pod - it is quite firm when not ripe, but if when the pod is squeezed, it gives slightly, the seed is ready and can be removed to finish ripening in a warm place.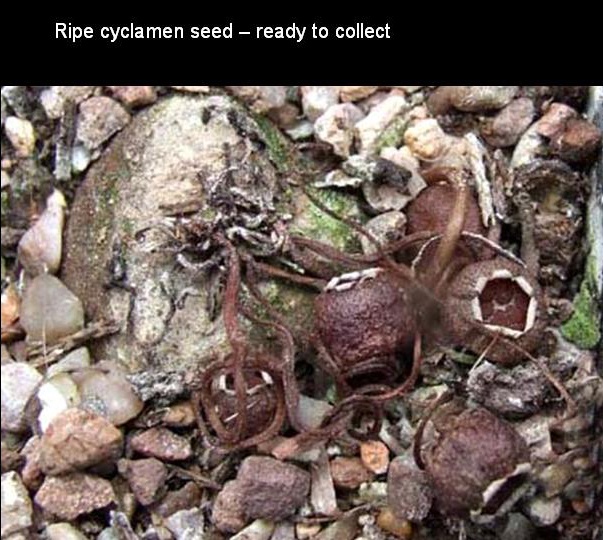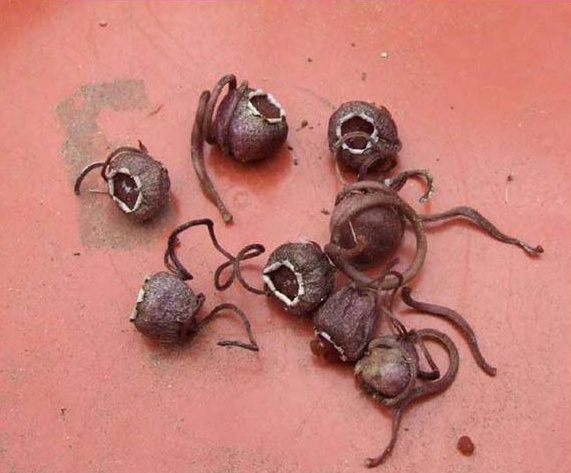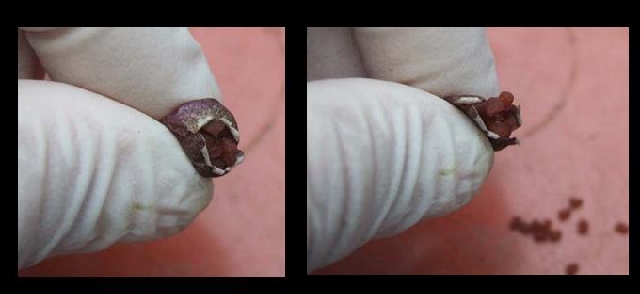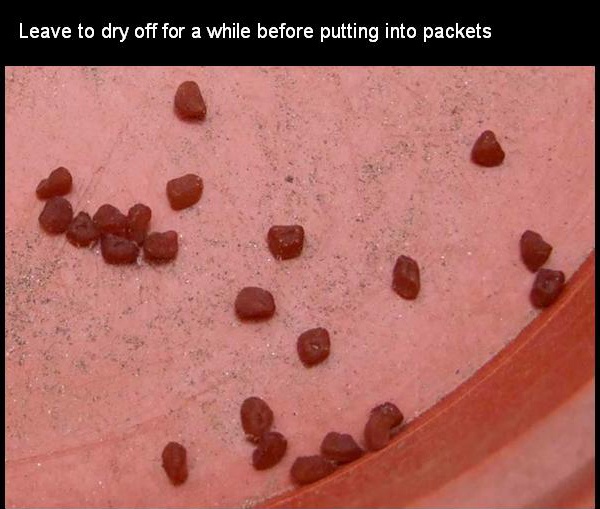 In the garden

Some plants outside need monitoring carefully or seed can be lost.
Erythronium seedpod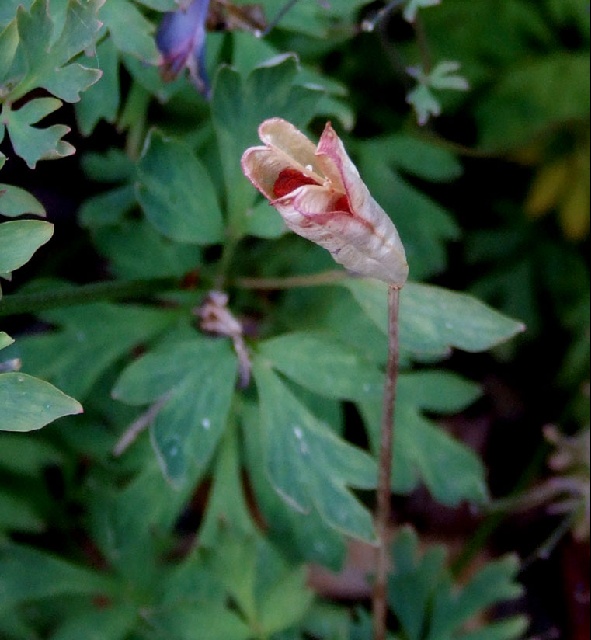 Berries on Daphne mezereum album - a good crop this year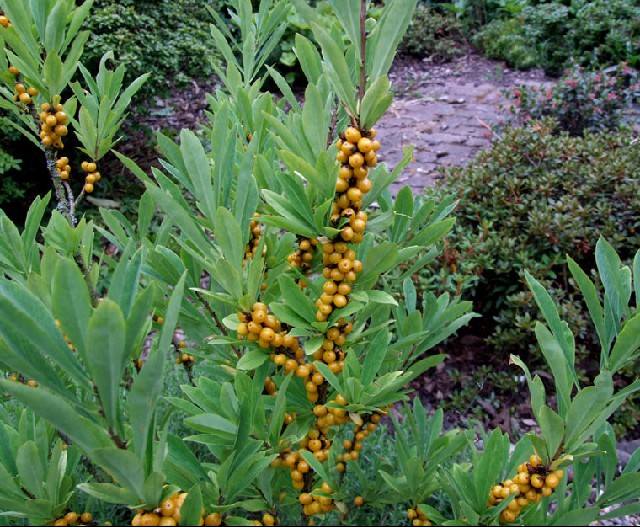 Some South Africans

In the spring of 2007 I ordered some seed of South African bulbs from Silverhill seeds for a trial. I had almost no experience of these plants, so, armed with a copy of 'Cape Bulbs' by Manning and Goldblatt, I picked out a few species, from a range of genera, from the catalogue.. Following advice, I kept the seed in a warm room for the summer and sowed them in the autumn of 2007. Several of them germinated well and I grew them on in a Mediterranean bulb regime. I had previously grown a few South American bulbs, and found that some of these would sulk in the winter and not put on much growth, then fairly quickly go dormant in the spring. So I found them easier if I kept them frost free in the winter, and they would then keep growing and come to flowering size. So I thought I would try the same regime with the South Africans, also because I was not sure of the hardiness of them.
One of the pots (Polyxena ensifolia) flowered last autumn at two years old, so I hope some more of these pots will flower this year. Although all have had liquid feed when in growth, none had yet been repotted, so I thought I would repot them all and see what was going on below ground.
So almost three years after sowing, they look like this: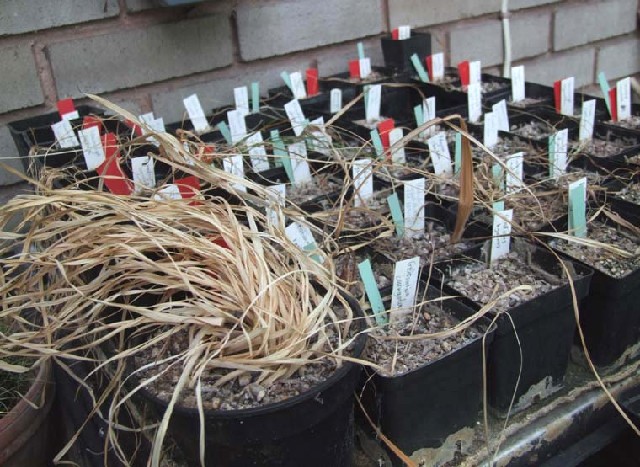 The first to be repotted was Babiana framesii, sown October 2007, germinated December 2007. Five corms, the left hand one has an offset, and a new cormlet also forming on a stolon.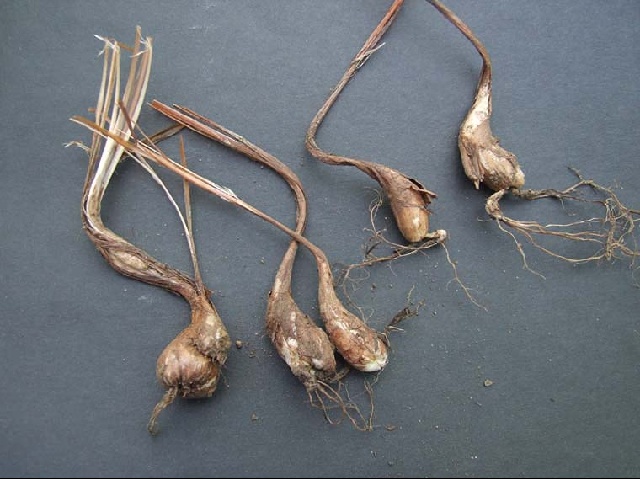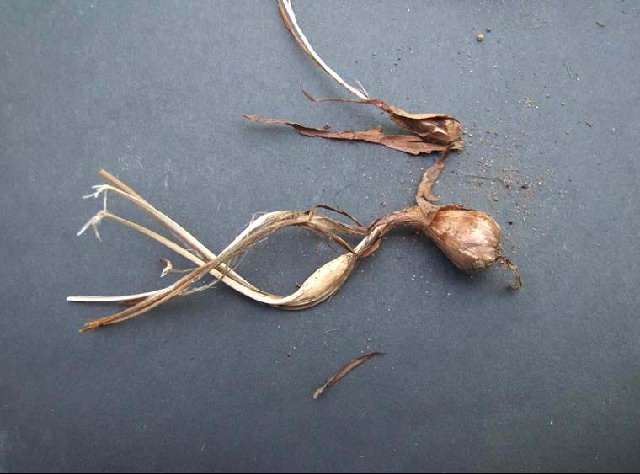 I'm going to repot the rest over the next week or so, so watch this space for more!
Soggy pots

I have several pots of spring flowering colchicums which I regularly show at the spring shows. Usually after a show, the pots stay outside and I water and feed them as necessary, then bring them in after they have set seed. This year, unusually, very little seed has been set - my large pot of C szovitzii usually sets a large quantity! This year, after the plants had gone dormant, there was a heavy fall of rain before I had chance to bring them in, so I thought that I needed to inspect the contents and at the same time I might as well repot them.
A soggy mass of corms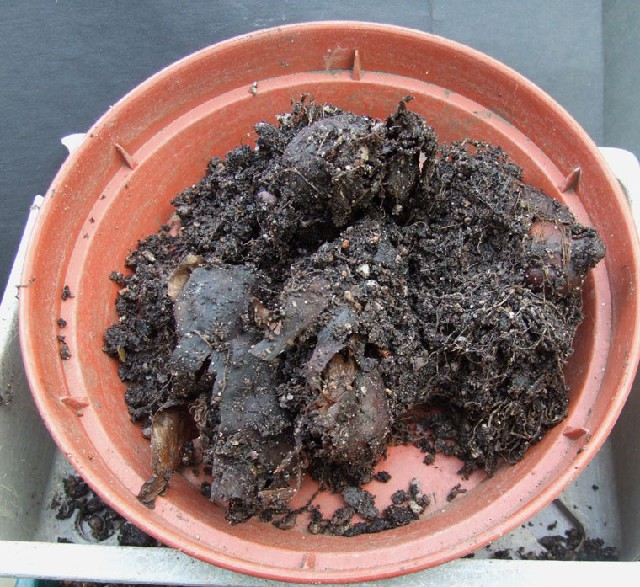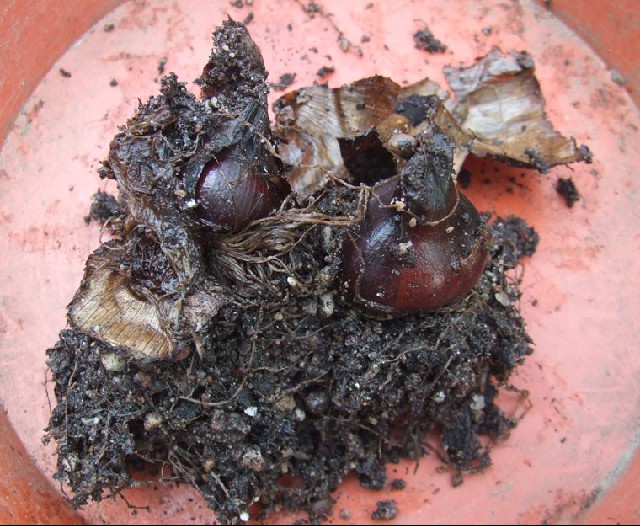 I removed the old roots and old tunics and found that all is fine, as this corm shows, having made a new corm and an offset.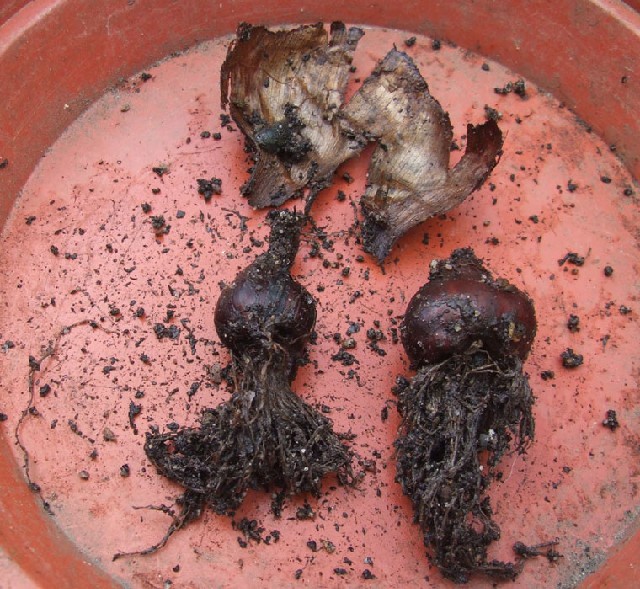 The roots are no longer serving any purpose and are best rubbed off as they are attached to the wet compost.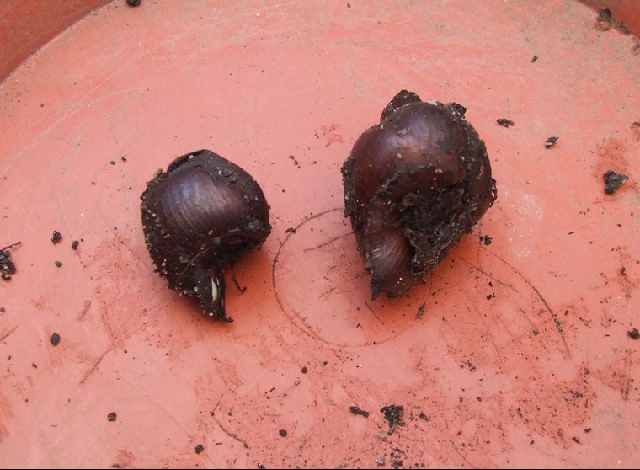 The original pot of five is now five plus five smaller ones. What a relief! All is not lost by my error of judgement in not taking them in sooner (and now I remember that this has happened before, and they have come to no harm)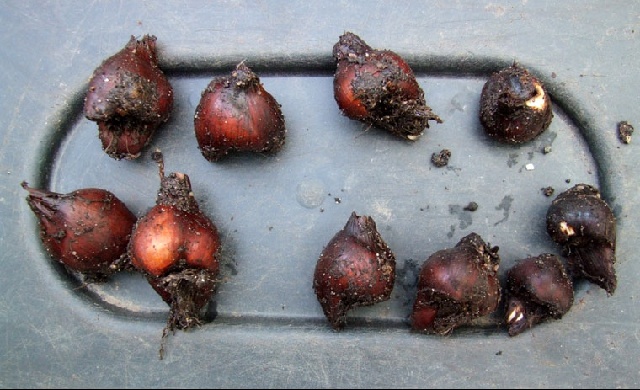 Round the garden at the beginning of July

I'll finish with a quick tootle round the garden to see if we can still find any interesting plants. One of the things about alpine growers is that we always have stories about our plants, we remember who gave us the plant, or where we got the seed from or why we bother keeping it!
Dactylorhizas in the woodland border - most of these plants were a gift from a friend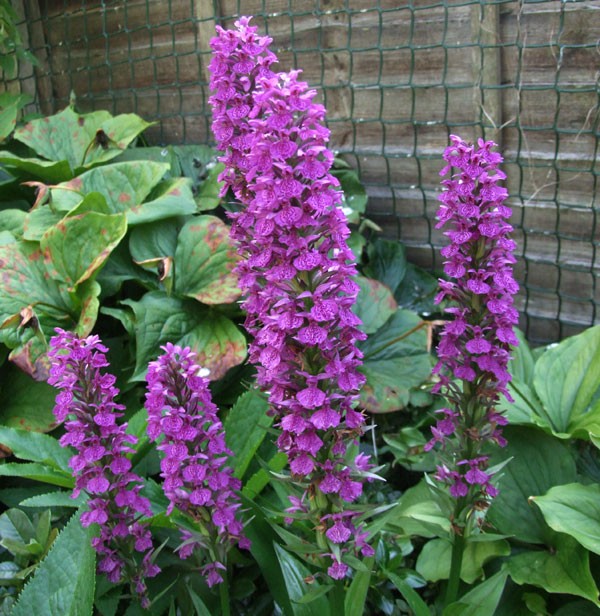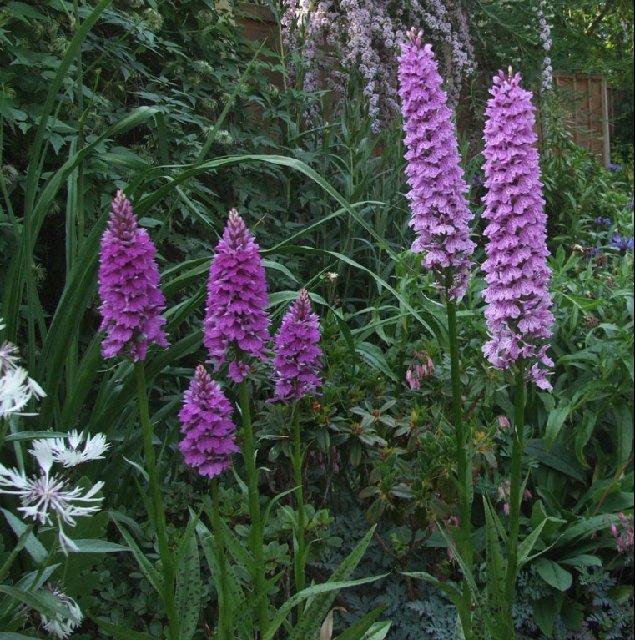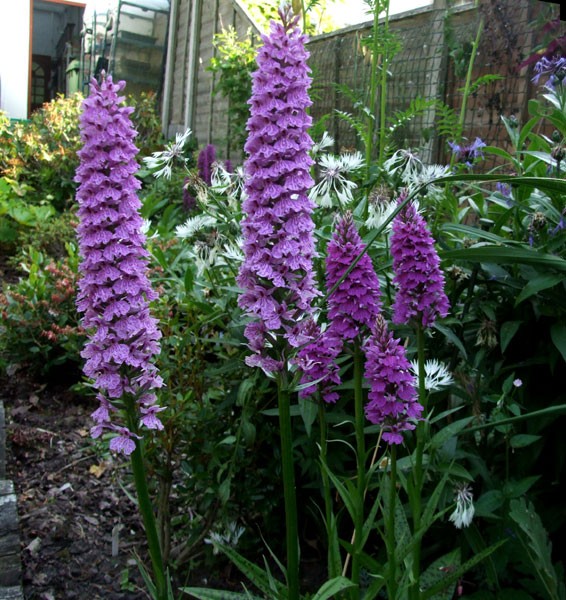 Rhododendron hirsutum in a pot - not an easy plant to grow well, but I persevere because it reminds me of holidays in the Alps.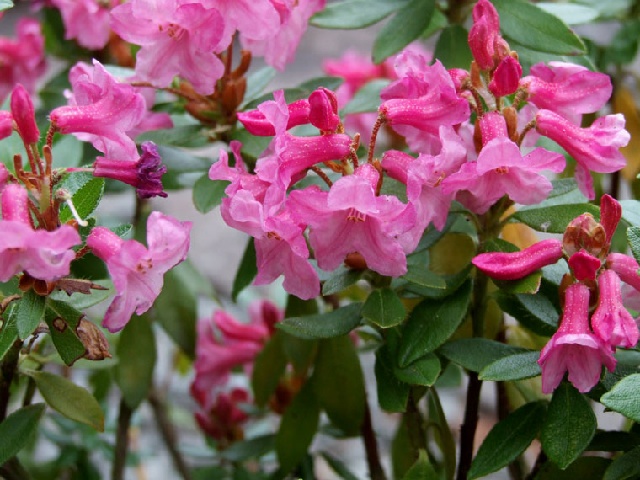 Hypericum corris, not exactly vigorous or showy, just one of the first plants I grew from AGS seed (sown circa 1997)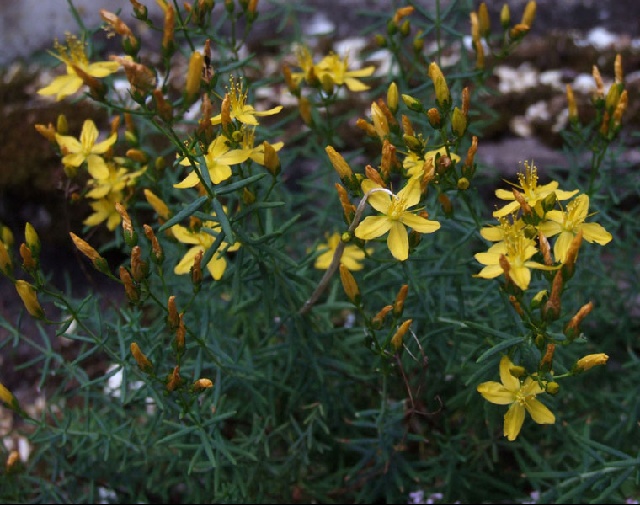 A personal favourite, Malva moschata in its two colour forms. I have grown this plant from seed for many years (longer than I have been in the AGS!) I allow them to self seed round the garden as they are easily controlled if they come up in an unsuitable place. These two are offspring from a very floriferous parent a few years ago that grew close to this site.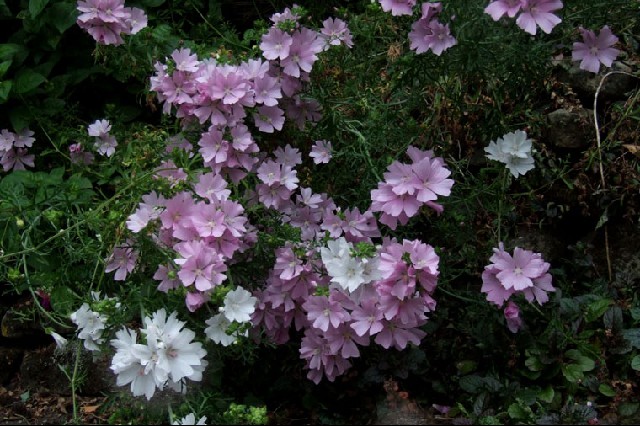 My husband has asked me several times "why are you growing a dandelion in the crevice garden?". Of course, he's wrong - as it's not a dandelion, it's a hawksbeard and a pink one! I thought it needed a dry site, so I built up a bit of the crevice garden specially for it, but it's grown well in the last few weeks and now it looks rather large for the site.
Crepis incana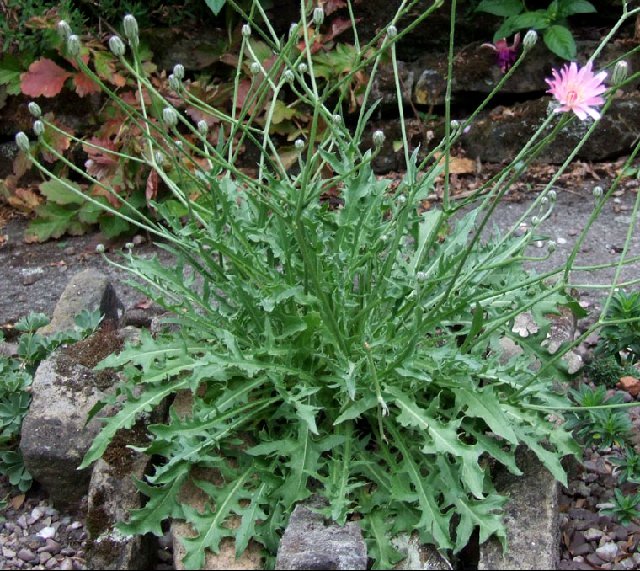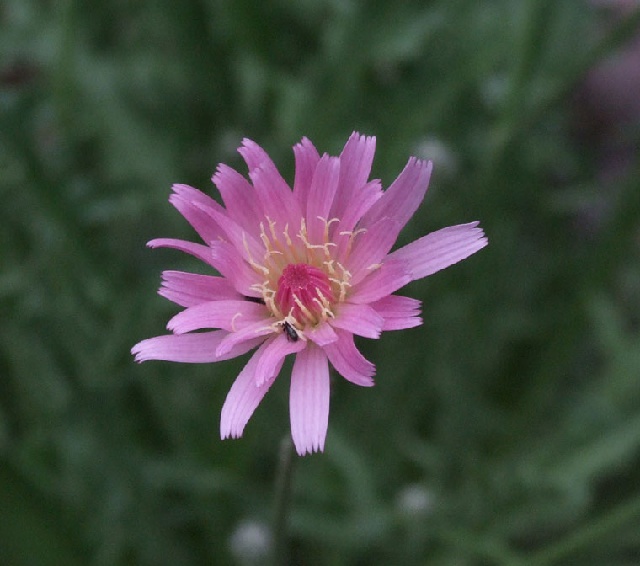 And to finish, the first flowering of a Sarracenia hybrid - not an alpine - but definitely hardy and worth growing for the fun of it (and I believe it catches wasps!)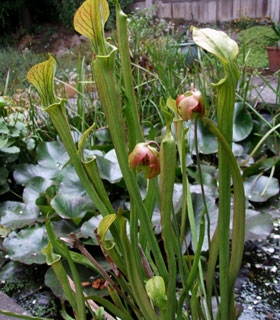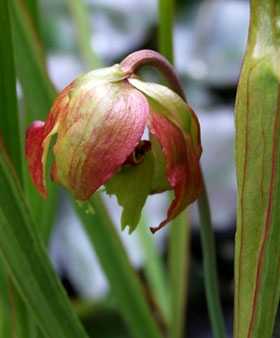 Please add any comments or contributions in the Discussion thread, click here for the link: