At this stage in the year, many of my plants need little attention. Most bulbs are dormant, most true alpines are "ticking over" embedded in a sand plunge and need watering and my largish collection of Himalayan and Chinese woodlanders are easily served with a generous watering two or three times a week. This is a good state of affairs as seed is ripening, and seedlings are at all stages and careful management is needed.
I have been accused of being an "inveterate seed raiser", and I am also an inveterate seed collector. In previous blog number 10 I showed how I collect hepatica seed in teabags and this is ripe by the end of May. The teabags are split open to reveal the green seeds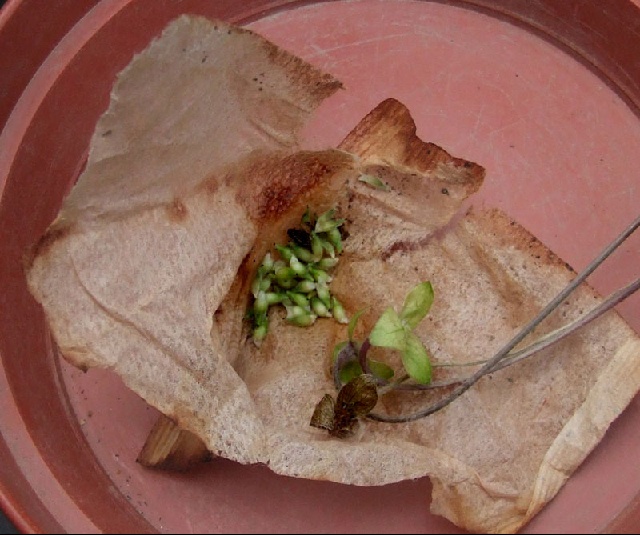 The hepatica seed crop was quite good this year, and surplus seed has been sent to four continents as there is no point putting it in the seed exchange as it needs immediate sowing. 
Crocus and Snowdrops
I keep a watchful eye for seed forming in the pots of bulbs and in the garden.  The crocus lawn I featured in blog number 8 was left unmown until I saw the seed pods ripening.  The pods were then collected and the final drying and ripening took place off the plant to enable mowing of the lawn to take place (the lawn has now fully recovered after recent rain and sun!)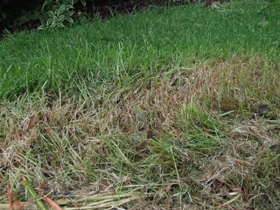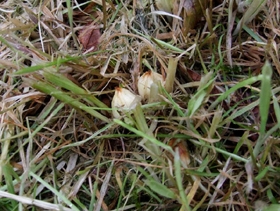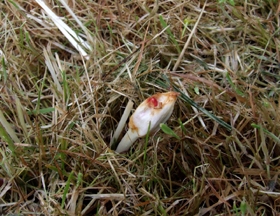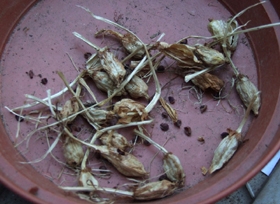 Crocus in pots are easier to manage. My crocus currently look like this - all the leaves are brown and the corms are dormant in the pots.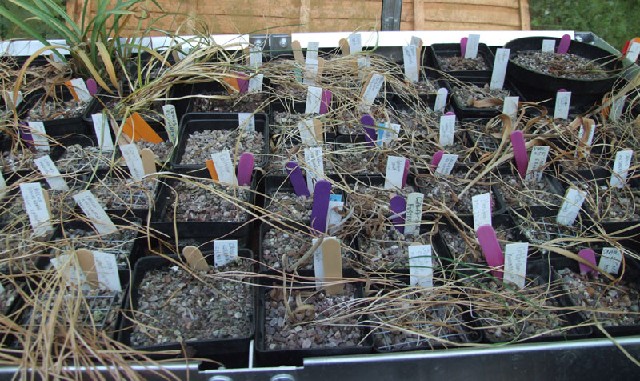 The ovaries of crocus are usually underground where the seed forms in a situation protected from sun and predators.  When the seed is ripen or almost so, the seed pod is pushed above ground ready to be dispersed.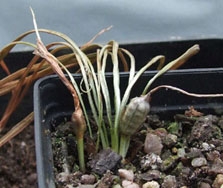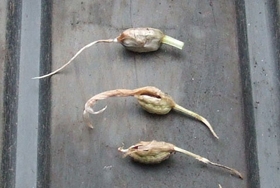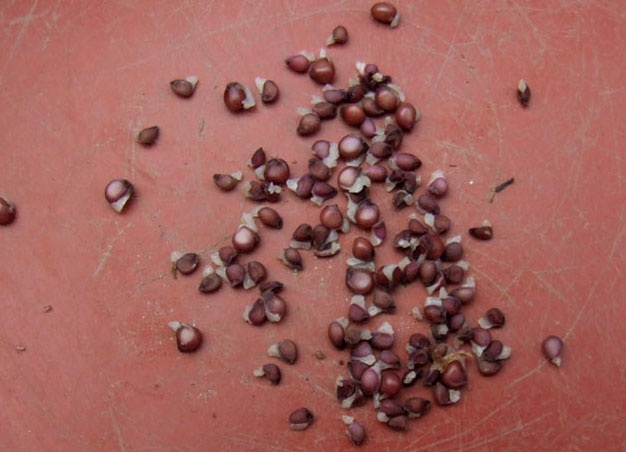 Galanthus fruits can be removed from the plants when green and ripened in a sunny greenhouse or on a windowsill. The pictures show that the fruit will turn brown and the seed will gradually ripen and dry out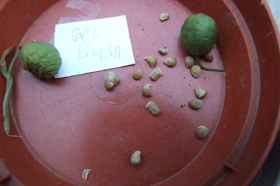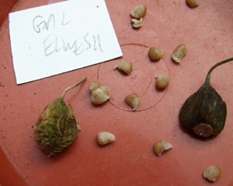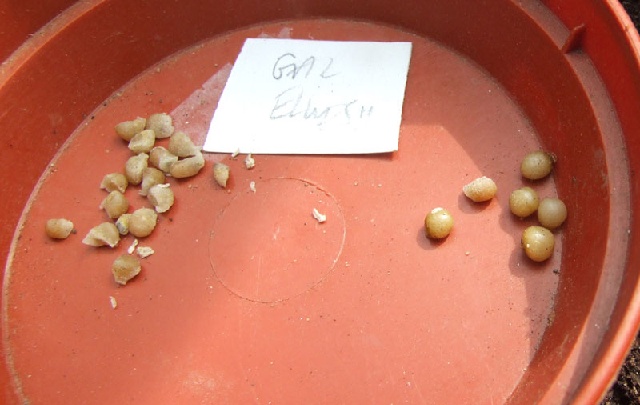 In the garden

Roscoea have done well this year. I have a largish clump of R cautlyoides in a raised which flowers well. As the fruits ripen, they fall to the ground and will in time, germinate in situ. The lower pictures shows the young seedlings which were self sown last year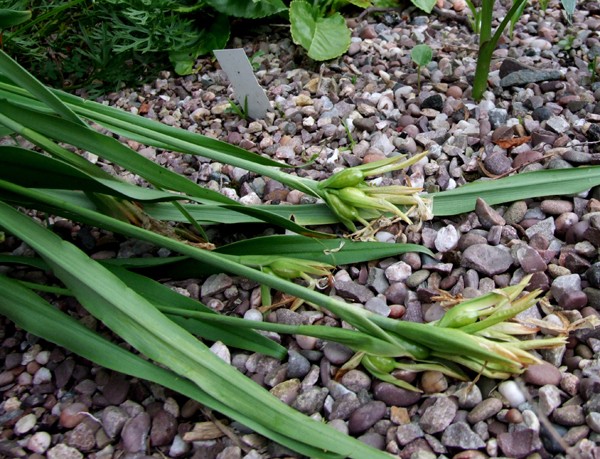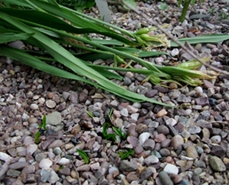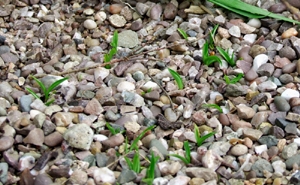 Late sowing

I often sow some seeds rather late in the season, either because I received them quite late from various sources or I just didn't get round to sowing any earlier. And I have found over the years, that in general Narcissus and some other bulbous seed do tend to germinate late so nothing is lost by sowing late. The following picture was taken in June and shows several pots of seed that have germinated late: among them - Narcissus, Crocus, Colchicum and Arisaemas. Of course there could be a problem with the increasing heat of the summer, young seedlings are rather vulnerable to scorch or die back soon after germinating and therefore do not put on much growth. So I try and keep them in a shady place and keep watering as long as there are green shoots showing.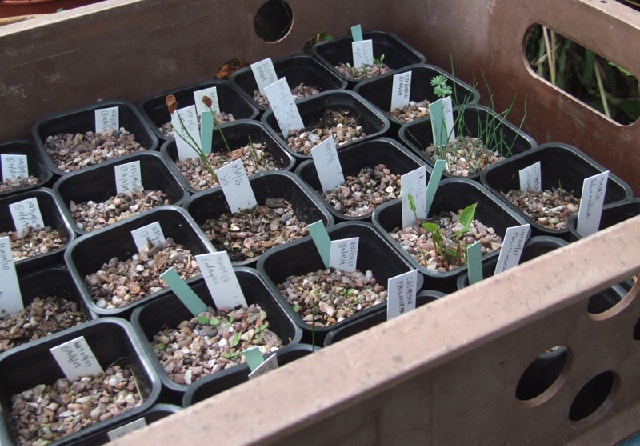 Arisaema from seed
A particular interest of mine is Arisaema, and at this time of year, my greenhouse and frame seem to fill with arisaemas in all stages.  I do also find it practical to sow arisaemas in April or May and they germinate in a month or so.  If sown earlier they do not germinate until the same time.  These were sown this year in May and germinated in June.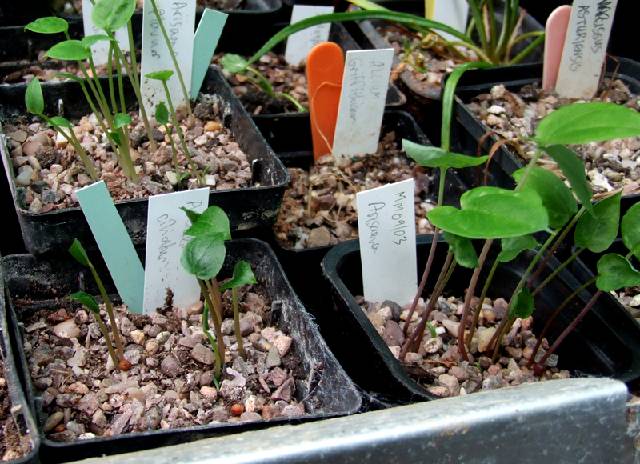 Arisaema flavum are one of the easiest from seed and germinate reliably in a month from sowing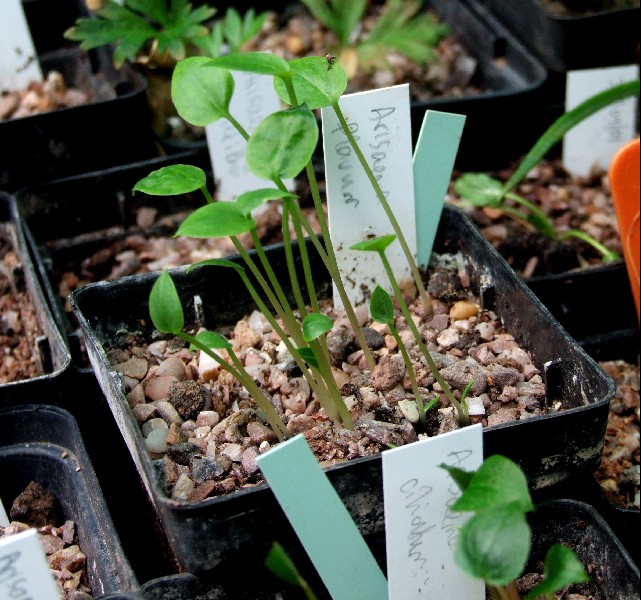 Young Arisaema flavum plants are quite characteristic in leaf - this is a one year old seedling.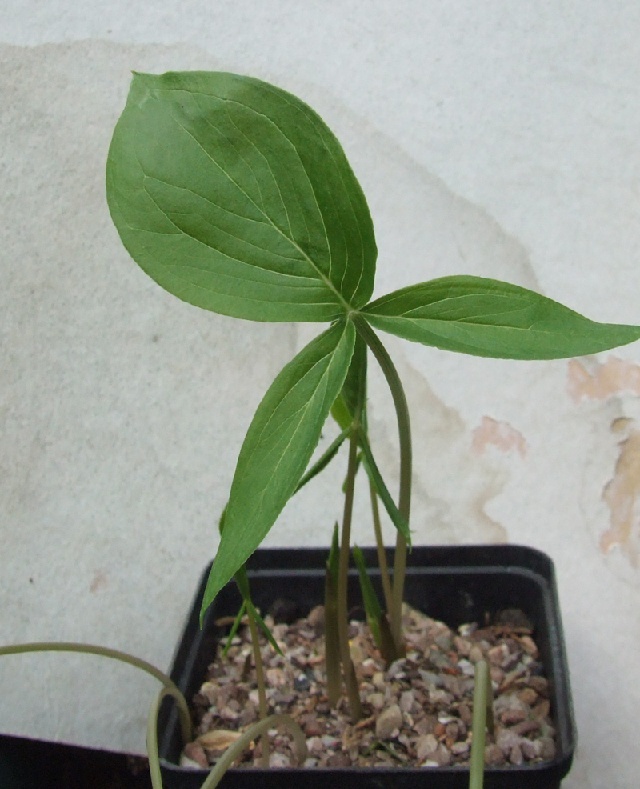 And I also seem to have several patches of Arisaema flavum popping up in the garden - I can't imagine how they got there.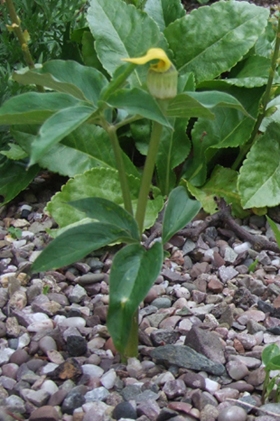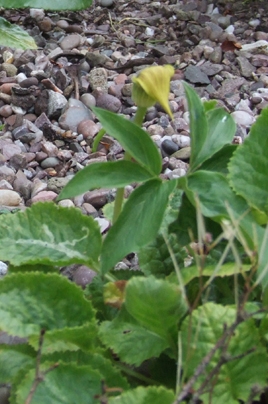 The picture below shows last years sowings of arisaema in pots in the greenhouse. These were sown and germinated around this time last year. I think I will have a lot to deal with in a couple of years time!
To finish - something completely different
I have for some years been trying to grow some Chinese gesneriads.  The winter flowering Petrocosmeas do quite well, they flower well and are easy to propagate.  Other genera have proved more tricky.  I have experimented with different conditions and this year I kept several of them fairly dry in a frost free greenhouse over winter.  then in the spring I moved them out into a frame with open sides, where I disappointed to see that they promptly scorched - clearly only a little direct sun was too much for them.  However, I was pleased with the flowering of Chirita sclerophylla. Unfortunately, a few days after I took the picture, something (slugs?) took a liking to them and the flowers were badly eaten.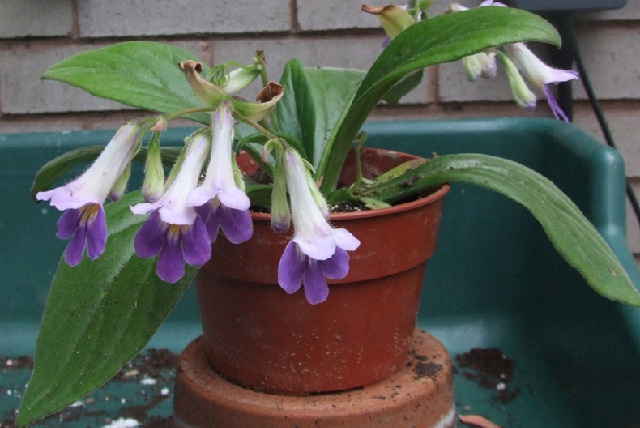 The plant is still alive and healthy - but I will have to try better next year ....