Our garden faces north. The house shades a good proportion of the garden at this time of year and trees to the east and west also contribute to it being a cold garden. Once winter has set in and the temperature has dropped it takes a lot of sun to warm it all up again. Wet soil takes a lot of warming up and if the sun can only manage short blasts of warmth the benefit is minimal. I say all this because other people seem to have all sorts of flowers open in their greenhouses and gardens and I can't seem to manage very much at this time of year.
A desperate search for flowers

A reliable early flowerer that doesn't seem to care about cold wet soil and no sun is Hamamelis. We now have three colour forms, this is the largest and oldest, Hamamelis x intermedia 'Pallida' which is superb for brightening up dark corners in the depths of winter. This is in the coldest part of the garden as it is in the shade of the house all day at this time of year. Incidentally, this part of the garden gets no sun at all for six months of the year.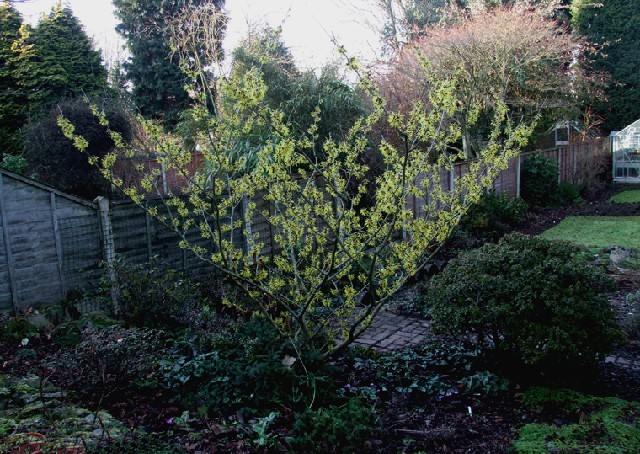 Under the hamamelis I have planted lots of plants which flower early in the year: snowdrops, hellebores, hepaticas and eranthis, but most of these are only just starting to show. The only flowers to be seen at the moment are a few Cyclamen coum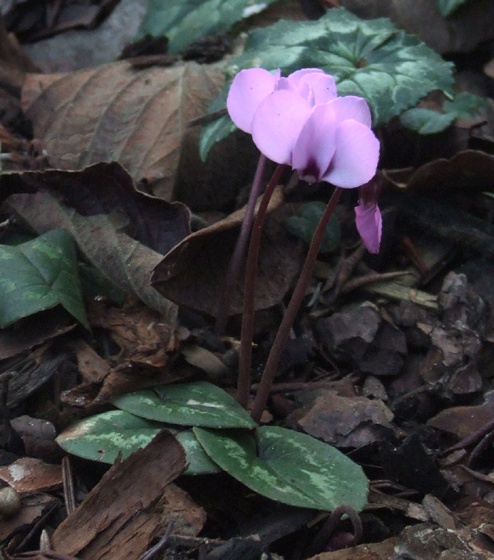 Still unsuccessfully looking for flowers, my eye is caught by a patch of rhododendrons, this is part of a bed I made a few years ago.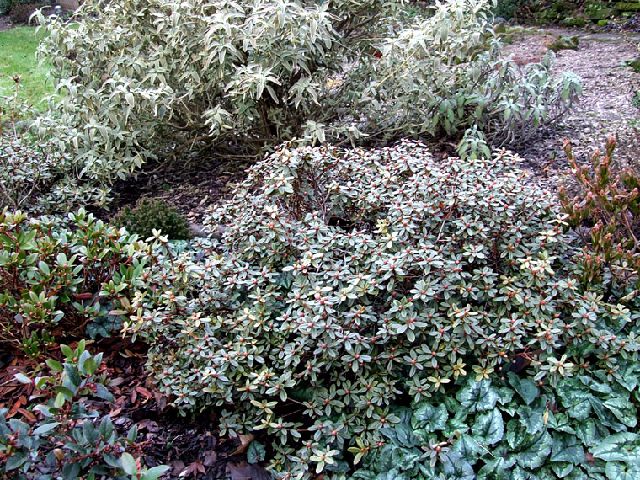 The large spreading shrub in the middle is Rhododendron 'Ptarmigan' – interestingly, in mild winters this has sometimes been in flower at this time of year.
Rhododendrons form their flower buds in the autumn and can suffer if we have a dry autumn so it is good to see these now fattening up.
Rhododendron diversipilosum (was Ledum) is a very hardy species but its strategy for coping with the cold weather is to fold its leaves downwards against the stem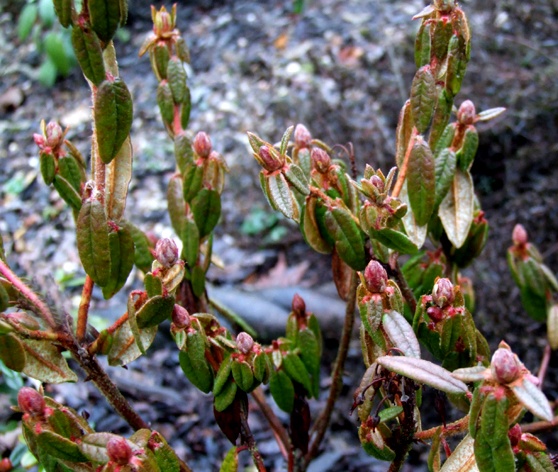 In the greenhouse

There's always jobs to be getting on with. I showed tidying up of primulas last time, but there are more to do! This is Primula 'Anna Griffith' having a make-over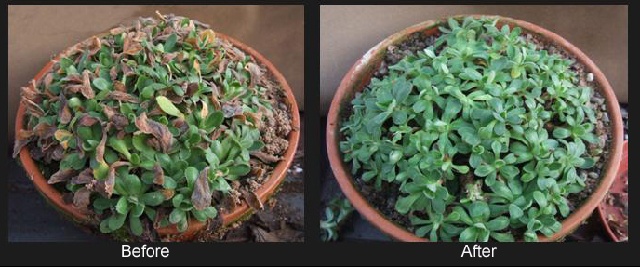 Bulbs in the greenhouse

My first Narcissus in flower is usually Narcissus 'Camoro' a hybrid raised by Henry and Margaret Taylor between N. cantabricus ssp monophyllus and N. romieuxii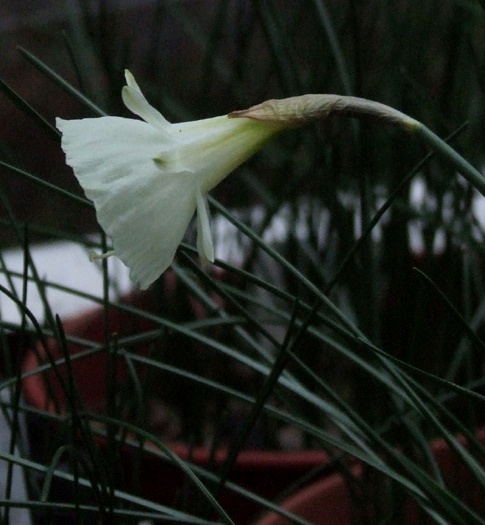 I've lots of buds forming on other narcissus, but due to the previously mentioned issue of the cold dark garden, no more flowers showing yet. Galanthus in the garden are just starting to break through, but my collection in pots are further ahead. Here is G fosteri antepensis – a large sturdy species and in comparison G gracilis, a tiny species.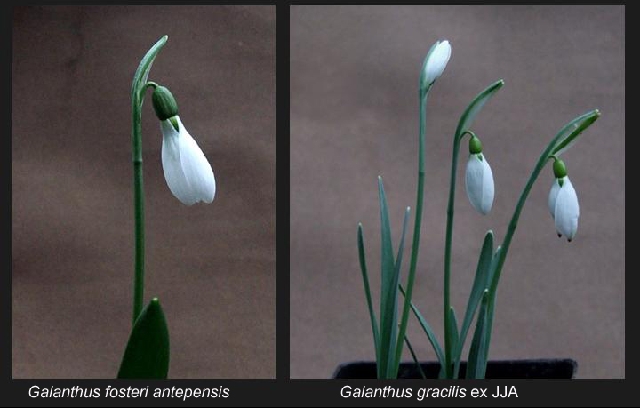 The only way to make the flowers open is bring them indoors temporarily – here is Galanthus 'Three Ships' – reputed to flower at Christmas, it started a week or so after Christmas, but this time the cold weather was an advantage as the flower did keep going for a couple of weeks and has only just gone over.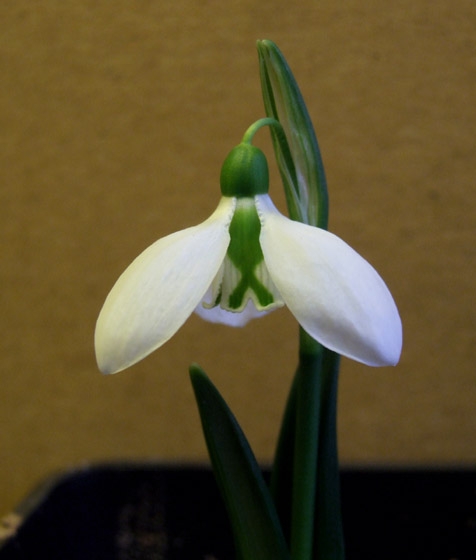 A little cheating

In the last diary I showed Petrocosmea grandiflora just starting to flower, here it is in full bloom. This has been in flower for several weeks now, and is an excellent plant for winter flowering. The cheat? - well it is under (just) heated glass as the winter has been so cold, although it has in previous years survived down to about -6C.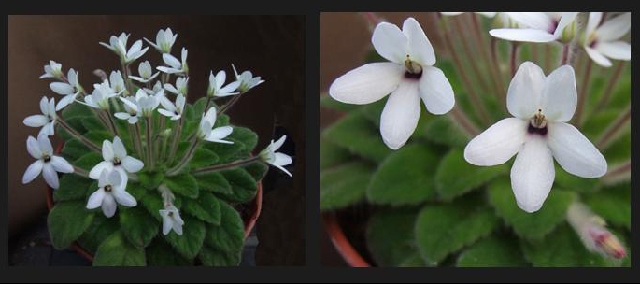 Pièce de resistance

The coldest part of the garden is close to the house, but down at the end of the garden the occasional bit of sun can strike the ground and last year I planted two tubers of Eranthis 'Schwefelglanz' - a new pale clone recently introduced from Germany. I planted these two together, well away from my other 'normal' clones to try and encourage them to produce offspring of the same colour. I did also buy a third plant which I did place with my other dark ones, to see what offspring will arise – we'll need to wait three years to see.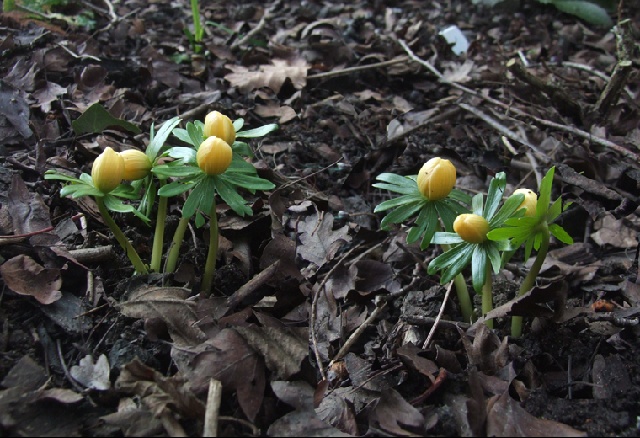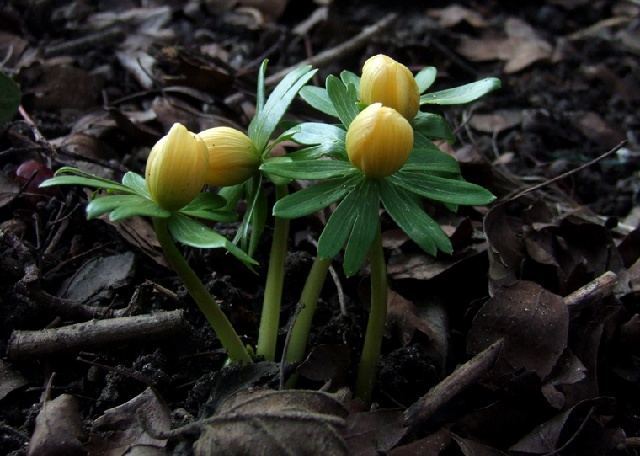 Please add any thoughts or comments in the Discussion thread here:
http://www.alpinegardensociety.net/discussion/midland/Midland+Diary+No+A+cold+garden/475/