It's been just two years since I started writing this diary, and I hope some readers still "tune in" to see what I've been up to. It is nice to get feedback and compliments when I am out and about around the country and that is much appreciated. I do hope my diary is helpful in a practical way for beginners as I feel that I am still in this category myself, certainly compared with fellow diarists John and Paul, both professional botanists. I know that since starting to grow alpines about 14 years ago it has been a steady learning curve for me and still continues that way. Growing from seed and propagation are very important aspects of growing alpines and I hope those aspects come through in my diary. Experimentation is also important – if something doesn't work one way, try another method. Record keeping is important in order to make sense of what you have done.
Over the last month we have had unusual weather conditions, very cold with lots of snow cover. Now, in the first week of January there is a feeling of spring in the air - deceptive as we feel that we have had winter, but statistically, January and February are typically the coldest months with snow most likely in those months. We fervently hope not, as we feel we have had enough. But with the garden, greenhouses and frames at last uncovered from their white blankets, it's time to get on with some jobs.
Seed sowing for me usually begins just after Christmas. Some people like to sow seed in the autumn, but much of my autumn is taken up with seed exchange work, so my own seed has to wait. Also seed from the various exchanges and wild collected sources tends to arrive just before or after Christmas. Usually the first thing I sow is cyclamen. I first soak them in warm water with a drop of washing up liquid to wash off the sticky substance which attracts ants to disperse the seed, but also acts as a germination inhibitor. I use little plastic containers of various sorts – some of these are old film containers

They are left to soak for a day or so and then sown in 7cm pots in a mixture of John Innes no 3, leafmould and perlite or grit. They are covered with a centimetre of grit to exclude the light, which is a germination inhibitor for cyclamen.

The pots are left indoors in a room where the temperature is between 15-18C. I have found over the years that these conditions are the best for most species, although C purpurascens has a different germination pattern and is best put outside in the cold. Over the years I have done some experimental work with cyclamen sowing and I have done some more this year, I hope to share the results of the experiments here in a few weeks if and when I have something to show.
Cleaning up primulas

Inside my greenhouse some work is needed on my primulas as they have been in the sand plunge for a while and some are now looking rather tatty – a normal situation at this time of year, but this is a good time to sort them out. My European primulas – mainly allionii and auricula species and hybrids are in my small greenhouse, and as my garden is very shady particularly at this time of year, moss tends to grow in the sand plunge and on the sides of the pots and this needs removing.
Here's a few pots removed from the sand plunge – they look like they need sorting out: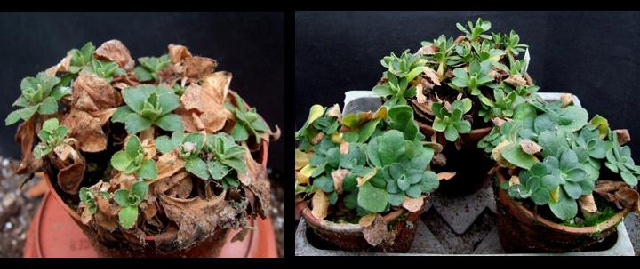 It is the natural habit of these plants that the outer leaves in each rosette die back leaving the central part green. I use tweezers and go round each rosette removing the old brown leaves.
Sometimes, inadvertently a rosette comes away in my fingers. This is not a problem, and the detached shoot will be pushed into the sand plunge as a cutting and a new plant will form.

The next plant needs a bit more than just tidying up, it has clearly outgrown its pot.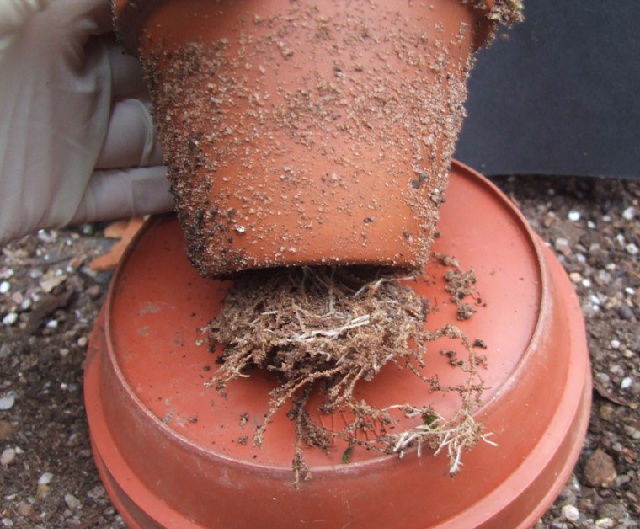 I have removed the plant from the pot and taken off the old leaves and it looks a healthy young plant.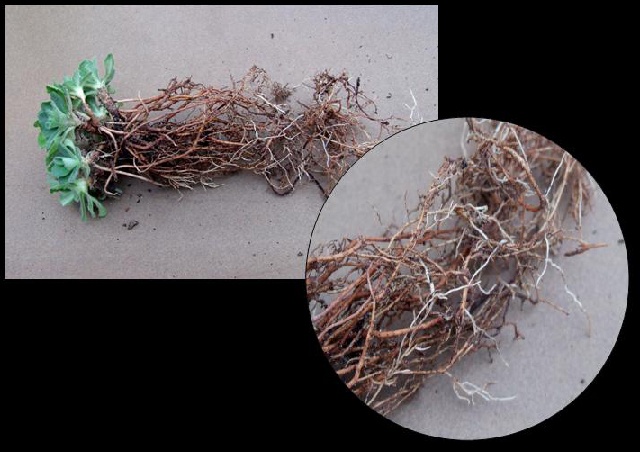 The new white root growth is healthy and the flower buds are forming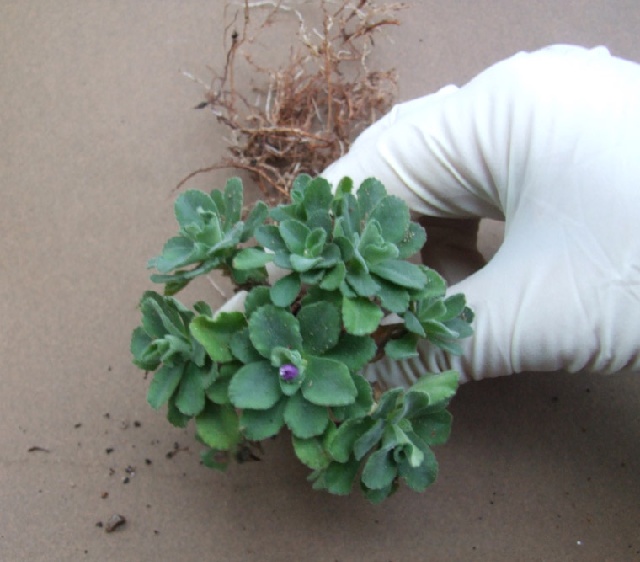 I've chosen a slightly larger pot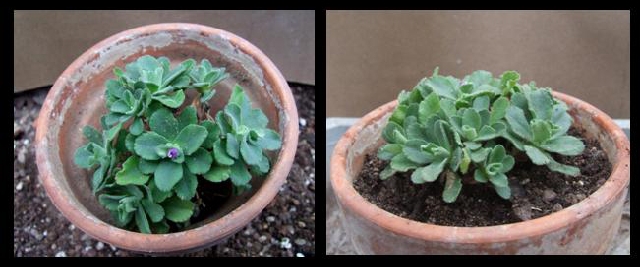 I filled up the pot with compost, stopping just below the leaves, then top dressed with gravel to keep the leaves from touching the compost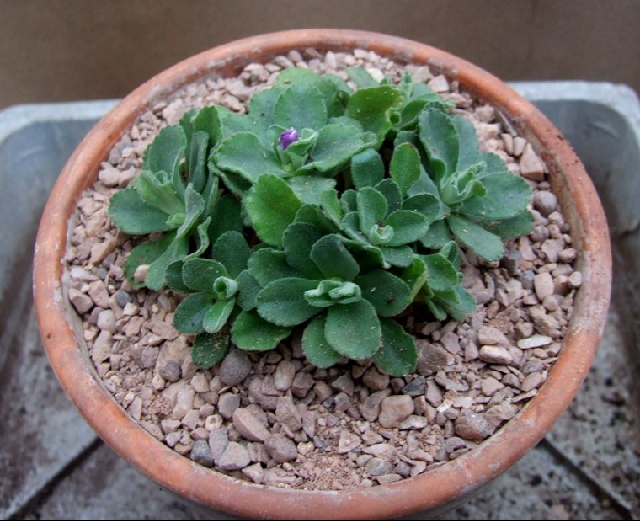 Androsace cuttings

Last year I took cuttings from a large plant of Androsace cylindrica x hirtella and they have been sitting in a sandy mix for some time. Here they are on the left, all together in one pot, getting a bit crowded, so I have taken them from the pot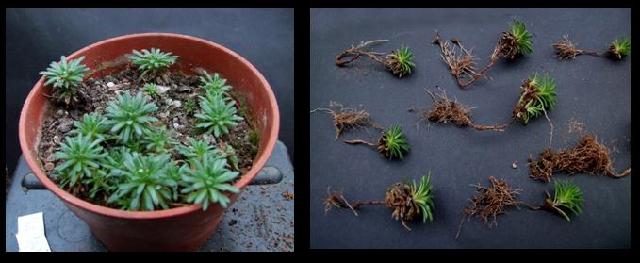 and potted them up individually, some for the plant sales table, and there's enough to risk trying a couple outside in the crevice garden.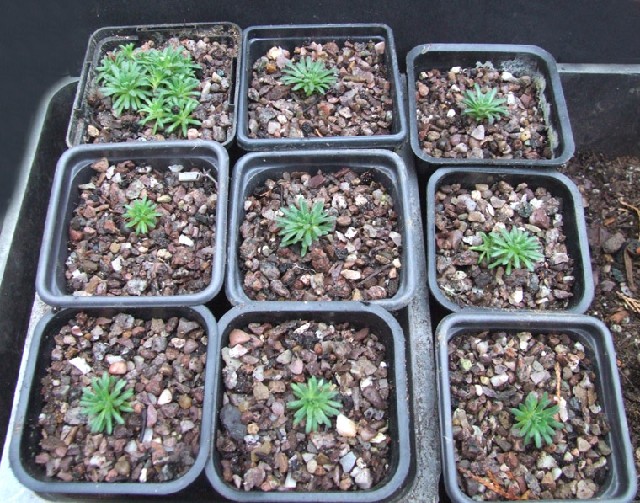 Winter flowers

The most flowers I can find at this time of year are on Chinese gesneriads.
Petrocosmea sericea has been flowering since November and is just finishing. Underneath the main rosette a new rosette is forming – I shall separate this out and pot it up.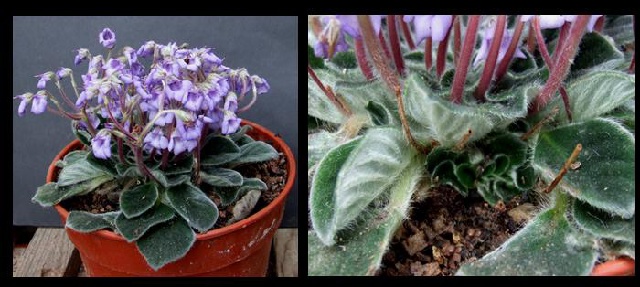 The last two pictures are petrocosmeas which always flower in December and January, welcome flowers at this time of year.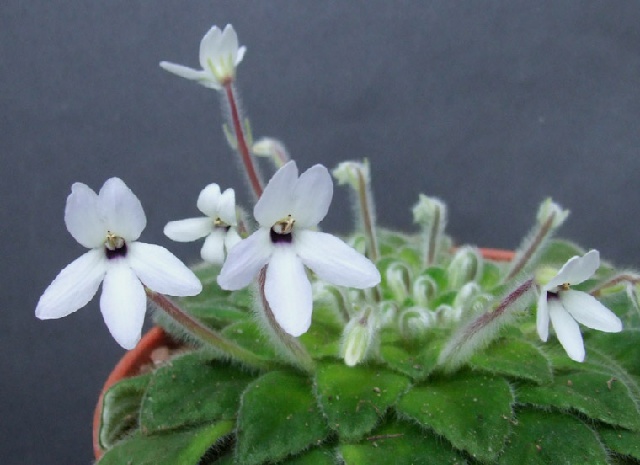 Petrocosmea grandiflora (above) and Petrocosmea rosettifolia (below)
Please add any comments about this diary entry in the Discussion thread: