In search of sun
We usually go away in February, to try and catch a bit of sun.  Observation of climate charts combined with a wish to keep the journey not too long, have resulted in us over the years visiting Portugal, Spain, Cyprus, Canary and Balearic Islands - some of these several times.  Weather in the Mediterranean can be dodgy in February, and over the years we have had our share of rain, wind and even snow in Mallorca one year, but we have also many times had very good weather.  Our favourite place, and the most reliable for good weather is southern Spain.  This year, unfortunately, the global climatic quirks hit us and heavy rain did fall a couple of times, fortunately the worst of it at night. 
The southern coast of Spain is dominated by two of Spain?s big sources of income: holiday resorts and market gardening.  At this time of year, the coast is significantly warmer than inland so this year we did opt to stay in a coastal resort - Nerja, about 30 miles east of Malaga.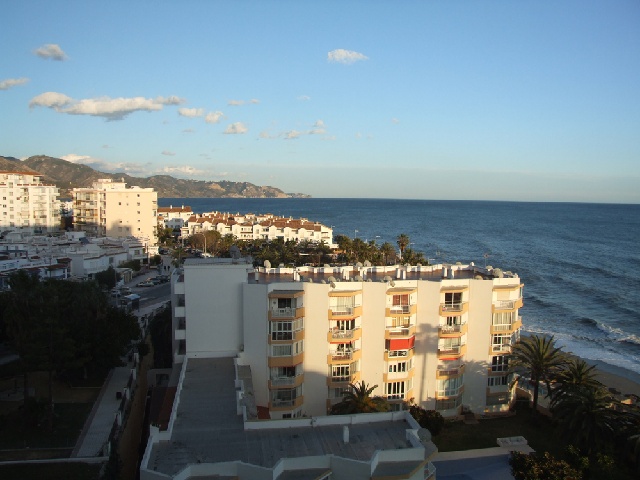 Possible threats to biodiversity

Some areas along the Mediterranean coast are taken over by several invasive species - the ubiquitous Oxalis pes-caprae dominates cultivated areas and waste land near the coast. The colloquial name of Bermuda Buttercup is particularly inappropriate as it does not come from Bermuda, nor is it a buttercup. Travel inland or at higher altitudes and the species becomes less common - partly because it is not fully hardy away from the virtually frost-free coast. This form (the only form that has become widespread outside of its native South Africa) is a sterile pentaploid race, which spreads by bulblets formed at the base of the succulent stem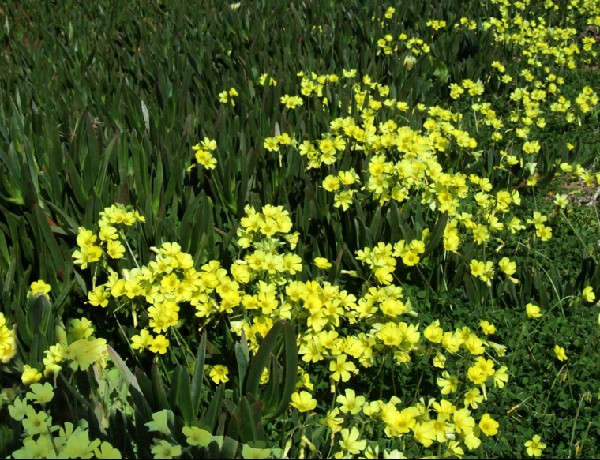 Another South African invasive species is Carpobrotus edulis - the Hottentot fig. It enjoys sunny sites and its succulent leaves mean it can cope on poor soil such as sea shore rocky edges. It is capable of completely covering large areas, and crowding out any native flora. The next picture shows it covering a bed next to a paved walkway, which has also been planted with Agave americana, another non-native, this time from Mexico. Agave americana is widely planted round the Mediterranean as a decorative plant, and although it does seed around, and propagates by offsets, it does this in a controllable fashion, and I suspect with no threat to native species, unlike Carpobrotus. Interestingly, Agave americana was one of the species first described by Carl Linnaeus, and appeared in the first edition of Species Plantarum, which lists all plants known to him.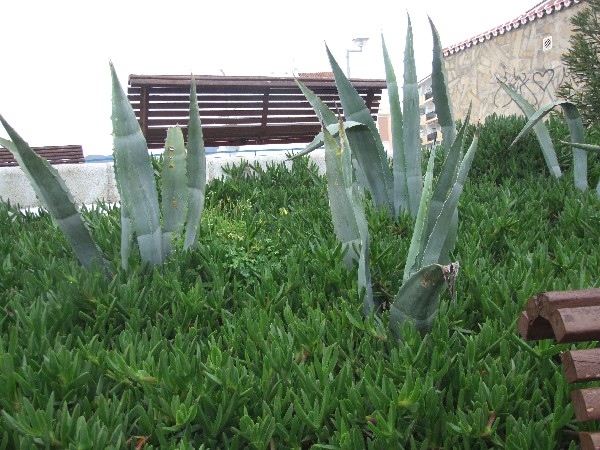 Another invasive species is Opuntia ficus-indica (Prickly pear). This is also widely planted as a decorative plant and when a plant becomes large, pads fall off and root where they fall, sometimes forming large colonies.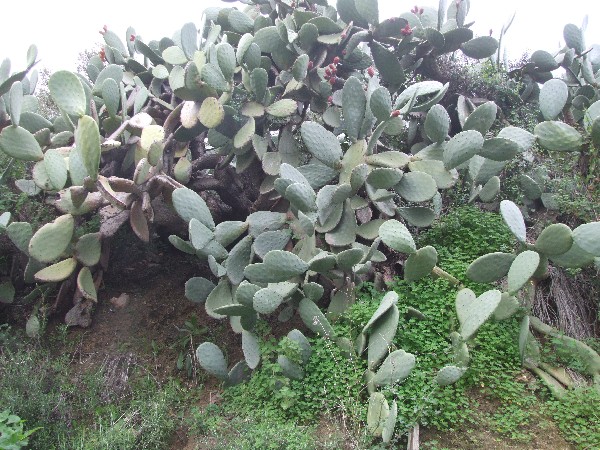 Native flora
If you travel from any of the coastal resorts just a short distance inland you very soon reach a different Spain - villages and mountains and a quieter way of life.  The following picture was taken about 20 miles north west of Malaga and shows a typical landscape in an upland limestone area.  There had been heavy rain the previous night, so the stream is fuller than it would usually be at this time of year.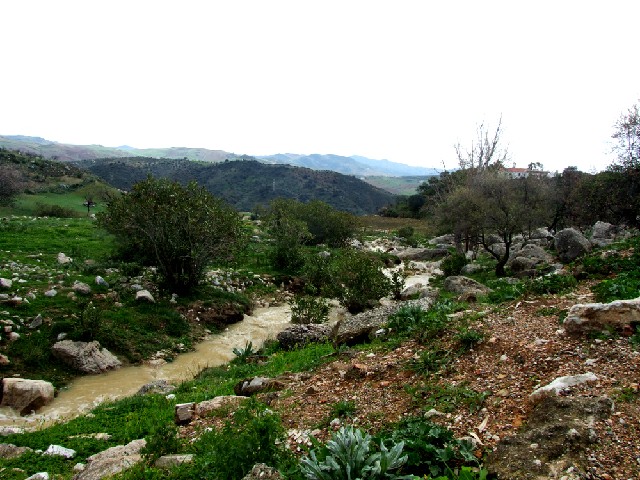 The flora is a little thin on the ground at this time of the year, but there are a few plants that make a visit to the area rewarding.  The banks of the streams, in seasonally wet sites, supported some beautiful plants of Narcissus papyraceus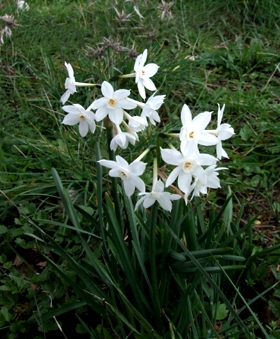 In the same area is found the only juno iris growing wild in Europe - Iris planifolia.  The population in Southern Spain flowers is at its peak flowering in January and February and in the area round Ronda the plants carpet the hillside.  This year we were too far to visit Ronda but we found small populations north and west of Malaga.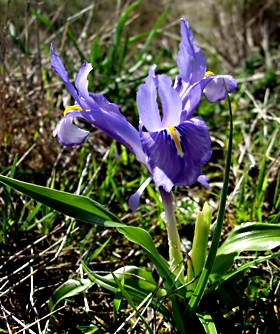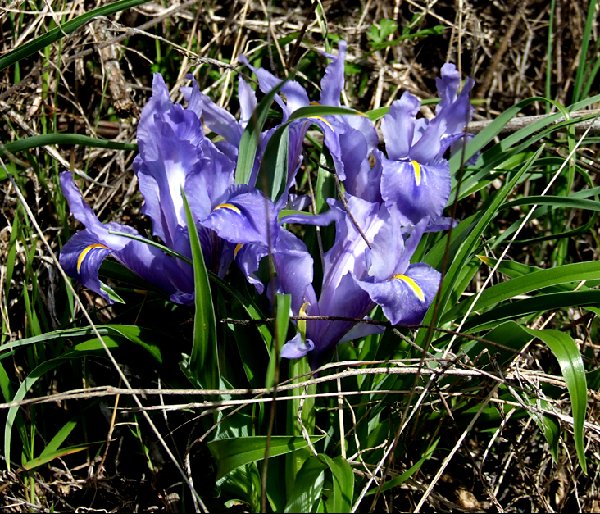 The plants were growing in a drier area than the Narcissus papyraceus, at the edge of an olive field in what looked like a mixture of clay and lime - an unpromising-looking growing medium that looked like it could turn into concrete with the addition of a little water.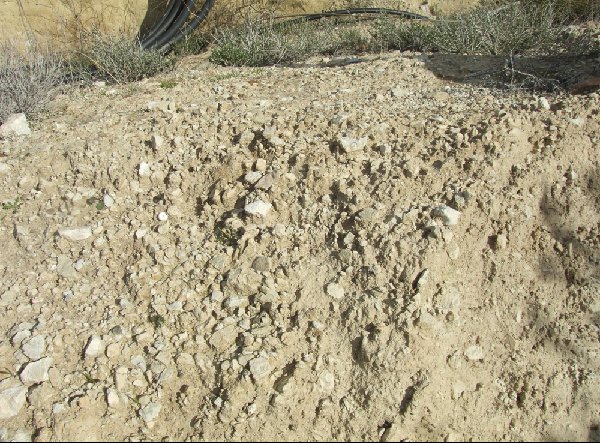 About 30 miles north west of Malaga is a area sometimes referred to as 'Malaga's Lake District' - this is in fact a series of reservoirs created by a dam built across the Guadalhorce river gorge, known as the Garganta del Chorro. The dam was opened in 1921 by King Alfonso XIII of Spain and to celebrate the occasion he took a walk along a specially constructed walkway, named El Camino del Rey (The King's Path), which clings to the rock face 100m above the river.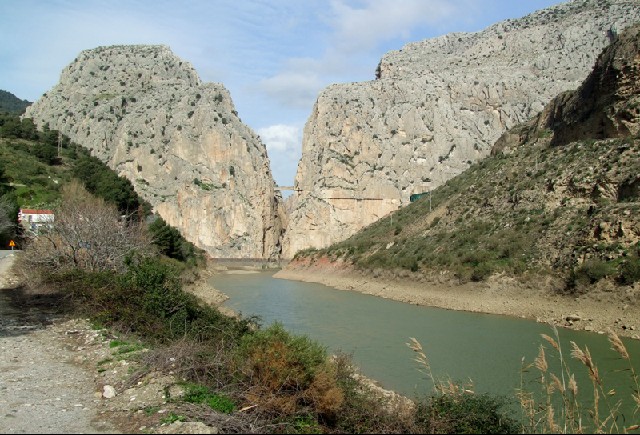 The path is not in a good state of repair, and the vultures constantly circling overhead serve as a warning to anyone foolish enough to want to try it.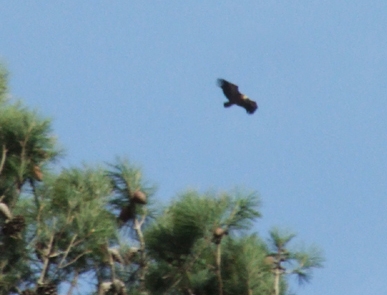 I have now visited this area several times as I have found a super site for early flowering plants.  By one of the reservoirs is a conifer forest where the underlying soil is thin and over limestone, and the poor soil is improved by a layer of pine needles.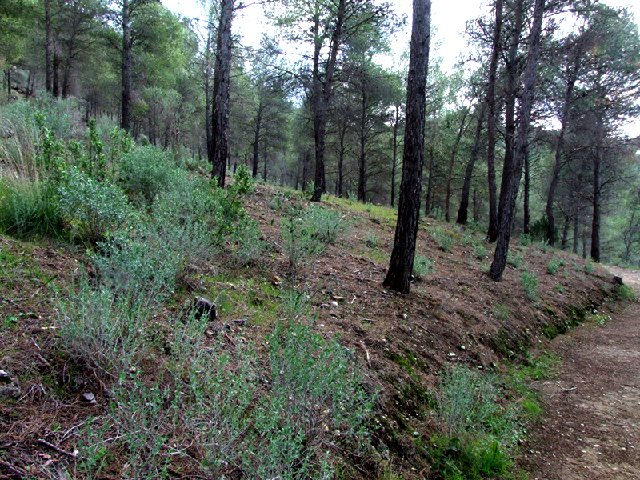 In February several plants of interest grow under the conifers
Aristolochia baetica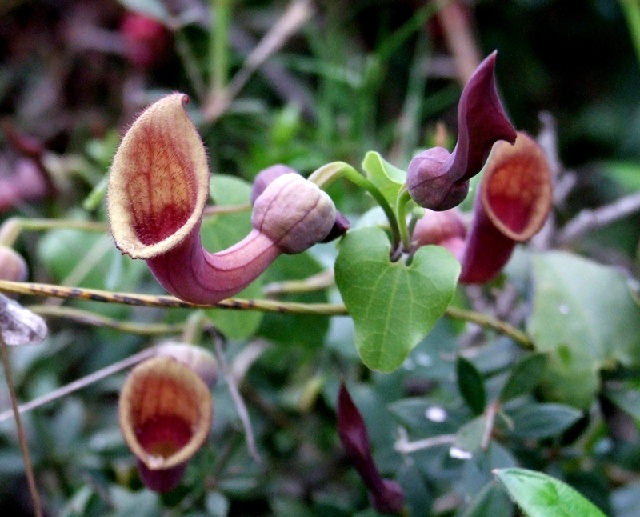 Fritillaria lusitanica, here in two colour forms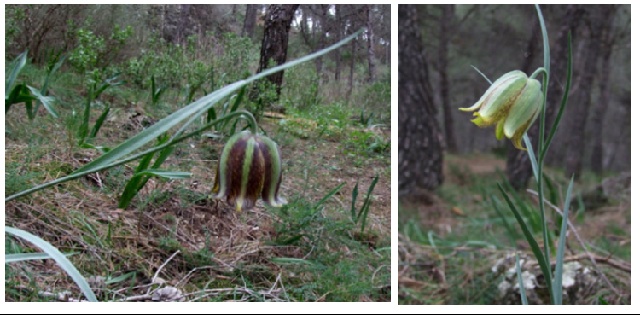 Three early orchids
Orchis collina                                                         Ophrys fusca (possibly O iridicolor)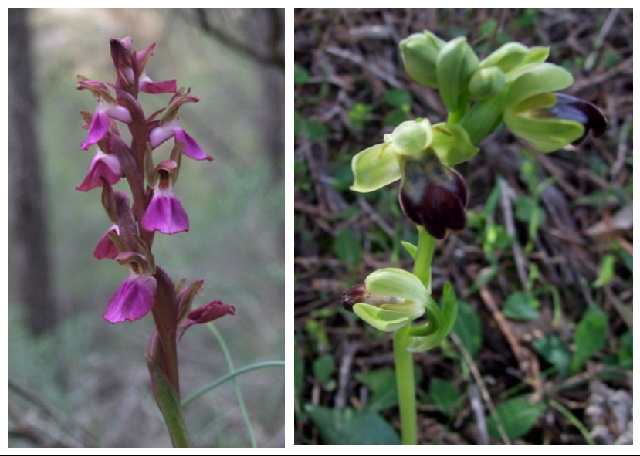 Ophrys apifera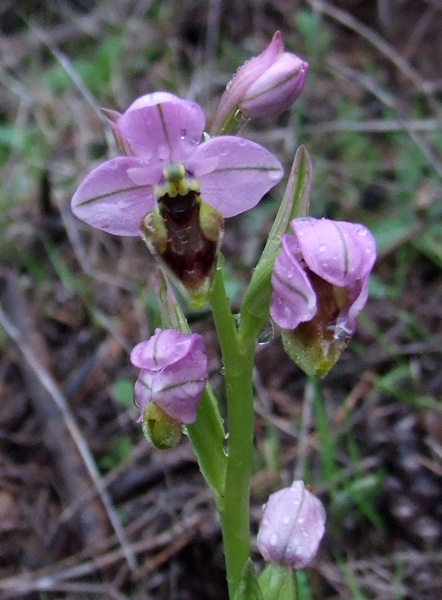 The special plant of this area is Narcissus cantabricus which grows in large populations under the coniferous trees.  To me, this is a particularly beautiful plant, with its pure crystalline white hoops.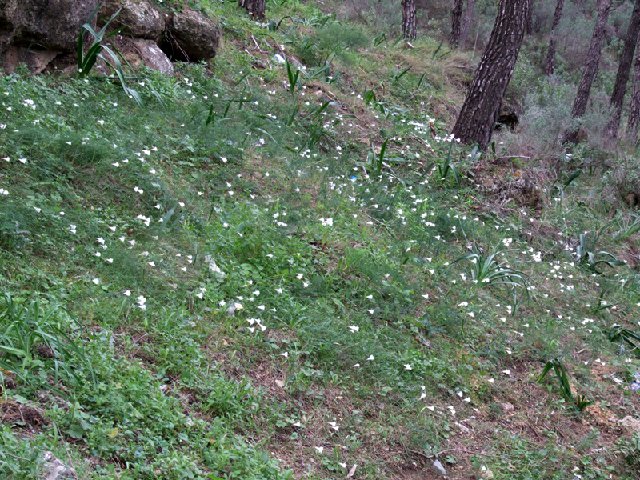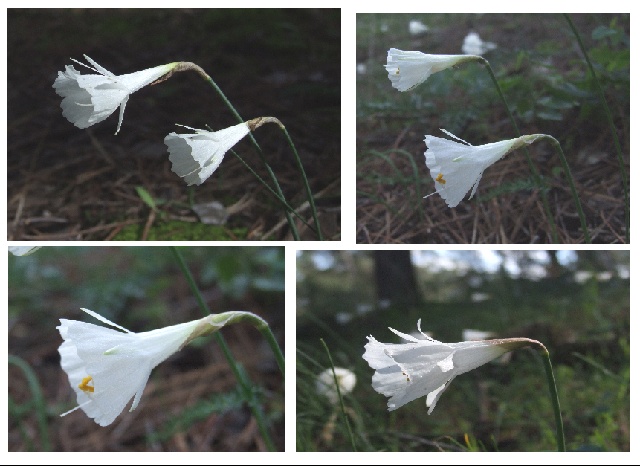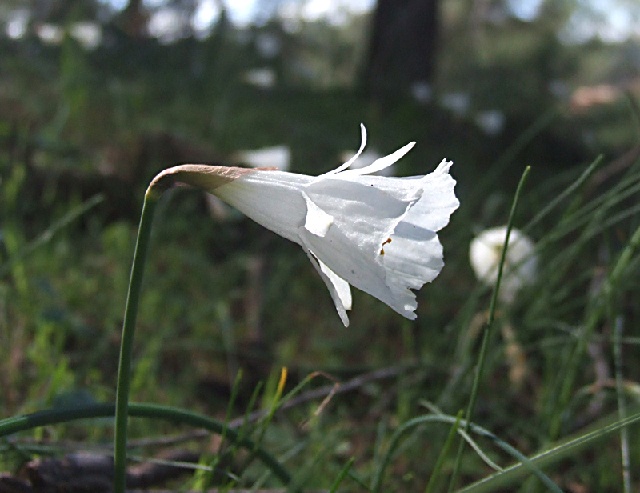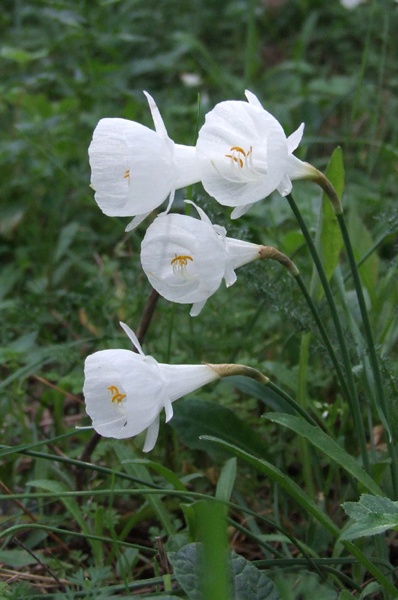 And a little cliche to finish, a glorious sunrise over the Med, one morning from our hotel room
Please make any comments on this Diary entry in the discussion thread which can be reached by clicking on the link below