It's been a cold end to 2008 in the West Midlands. Over the last few days, the temperature here has only just lifted a couple or so degrees above 0C by day and we have had temperatures down to -3C overnight. This seems the coldest few days we have had for several years.
In the garden there is not much in flower yet. I have two Hamamelis and the largest was bought under the name 'Pallida'. I believe this name is used for several cultivars, so I do not know if mine is the true cultivar, but it does have the annoying habit of hanging onto its leaves until after the flowers open, which rather spoils the display. Over the years I have found that the best show is obtained by removing the leaves. Pulling them off doesn't work as it frequently pulls off the flowers as well, so the better strategy is to cut them off with garden scissors. It sounds silly, I hope the neighbours weren't watching and it is a bit tedious, but only takes twenty minutes or so and the final result is well worth the effort.
Hamamelis x intermedia 'Pallida' hanging onto its leaves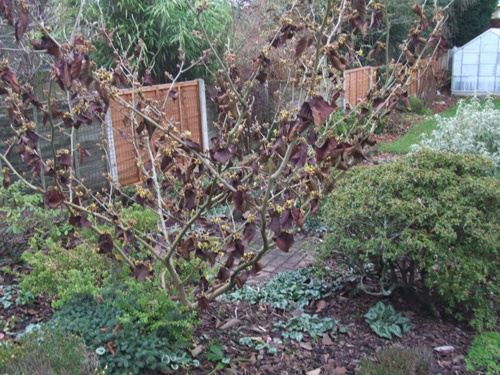 Close up of Hamamelis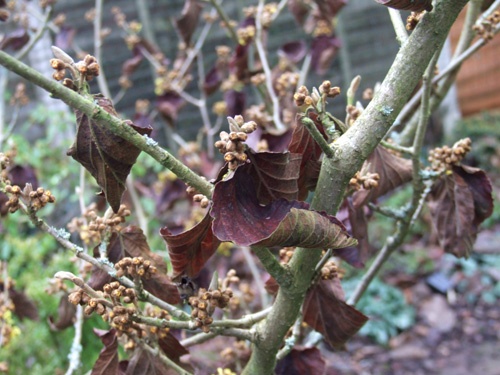 Incredible spidery, spiral flowers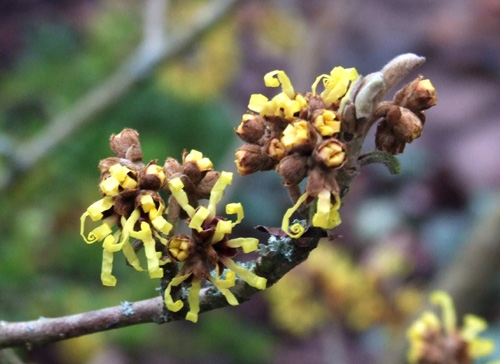 Hamamelis a week after removing the leaves - a great improvement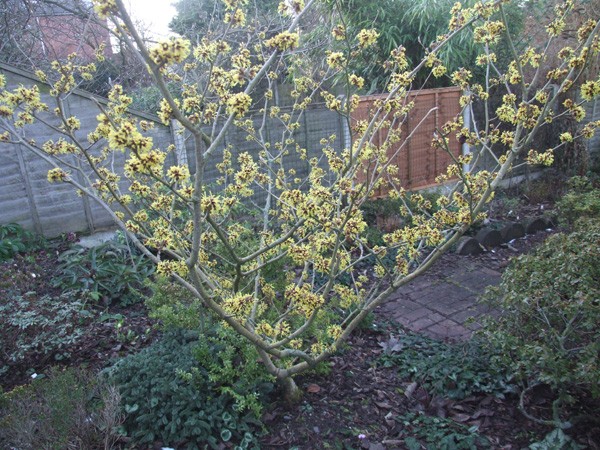 Under the Hamamelis are several hellebores, later this year in starting, but Helleborus foetidus looks good on a frosty morning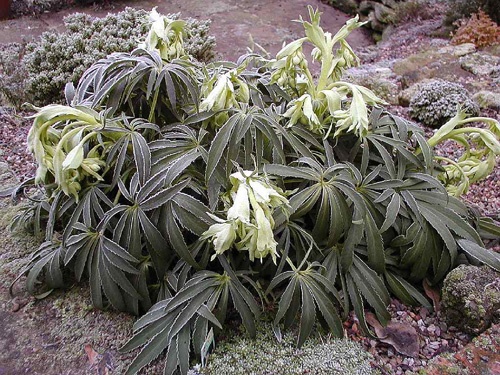 My year starts traditionally with seed sowing. 1st January is a nice date to write on the labels and it is a time when I have a few days in my busy schedule to devote to this job. My seed comes from many sources: AGS and other societies' seed exchanges, private collectors and my own collected seed. It would probably be a good idea to sow some of this seed in the autumn, but there is never time for this, so 1st January has to do.
For sowing, I use general purpose compost, John Innes no 3 and grit in roughly equal proportions. The pots are then put into water to soak. Then the seed is sprinkled on top, then top-dressed with grit which helps to keep liverwort at bay and also stops the compost from drying out too fast. Fine seed such as campanulas and primulas is just sprinkled directly on top of the top dressing. I try to fit as many seed pots as I can into a small space, so I use these shuttle trays of 40 pots, then stack them, double decker style in a small plastic frame. I don't use these pots for monocot seeds but sow in 9cm pots as they are a more appropriate size to manage.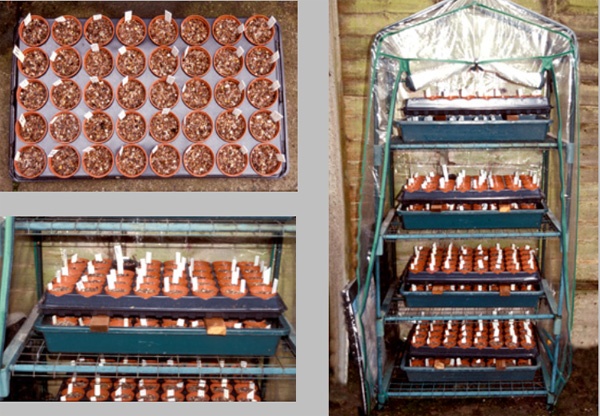 There's always something interesting in my three greenhouses and I have a small collection of Chinese gesneriads, some of which start to flower in December.
Petrocosmea grandiflora