Day 5 Transferred Zermatt - Wengen, then up to Männlichen
We made the transfer from Zermatt to Wengen by train, the journey taking us along the Rhone, the vineyards on the south facing slopes indicating warm and fertile soil in this wide valley. The train line now goes under the Bernese Alps via the Lötschberg base tunnel, which at 21 miles is the world's longest land tunnel. This tunnel was opened in 2007 and is below the pre-existing Lötschberg tunnel which was finished in 1913. The older tunnel goes via Kandersteg and takes cars.
The journey from Zermatt to Wengen, although not very far, involves 4 changes of train, but there were no problems, and the scenery is so wonderful, nothing else matters! The last bit of the journey takes you into the Lauterbrunnen valley, a classic glaciated U-shaped valley with steep sides. Wengen perches on a shoulder half way up one of these sides, so the last bit of the journey from Lauterbrunnen is rack railway up to Wengen. This last section of the journey takes 14 minutes up from Lauterbrunnnen, although the downhill journey takes 17 minutes, as the down train has to wait at the passing place at which point the up train continues without stopping.
Wengen, in common with Zermatt, is almost traffic free, although in both resorts there is a plethora of electric hotel vehicles transporting guests and luggage.
We arrived at Wengen in the early afternoon, deposited our cases, and consulted the weather forecast - rain was forecast for the afternoon, so we packed waterproofs, put on our boots and took the cable car up to Männlichen and started along the classic trail to Kleine Scheidegg.
Snow was still lying at this altitude (2300m) and I was excited to see Crocus vernus albiflorus (desperately hoping this is now the current name for what used to be known as C albiflorus)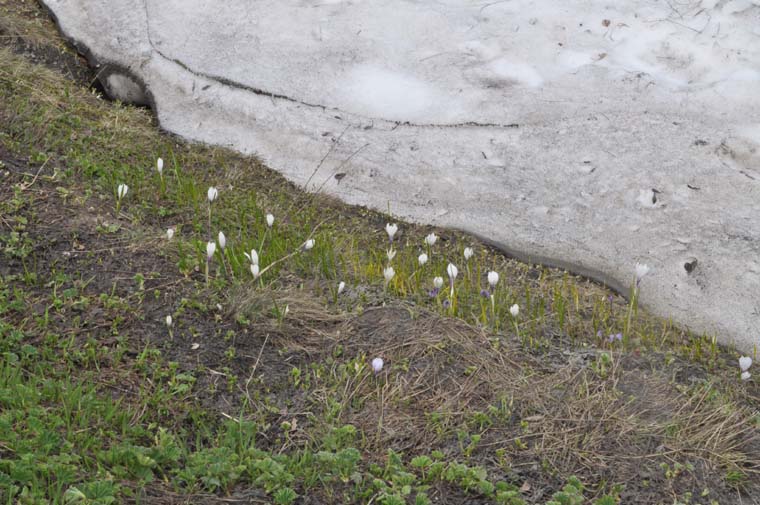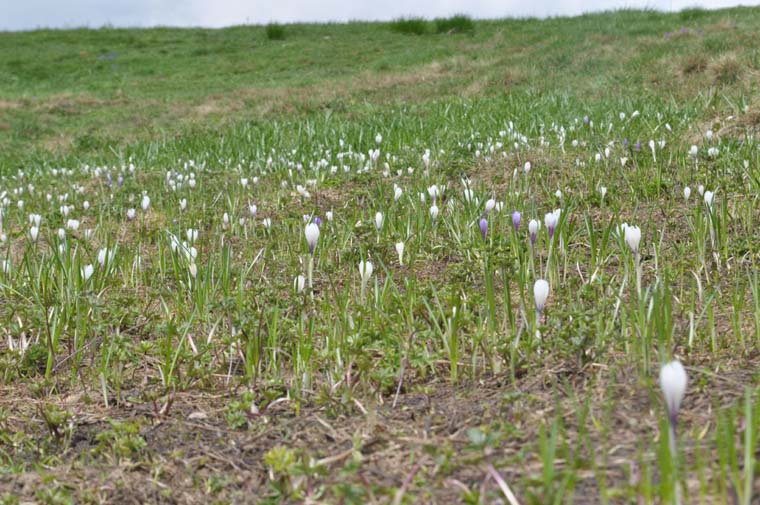 It has two colour forms, purple with a darker base and white with purple stripes at the base: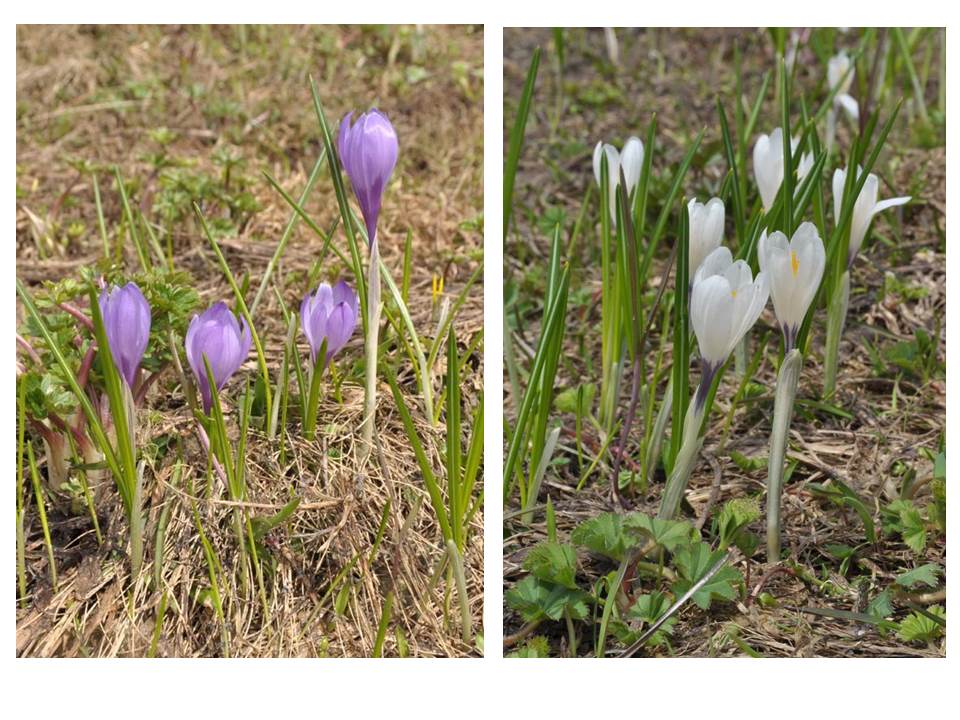 And of course, wherever there is snowmelt, there is Soldanella, in this case S alpina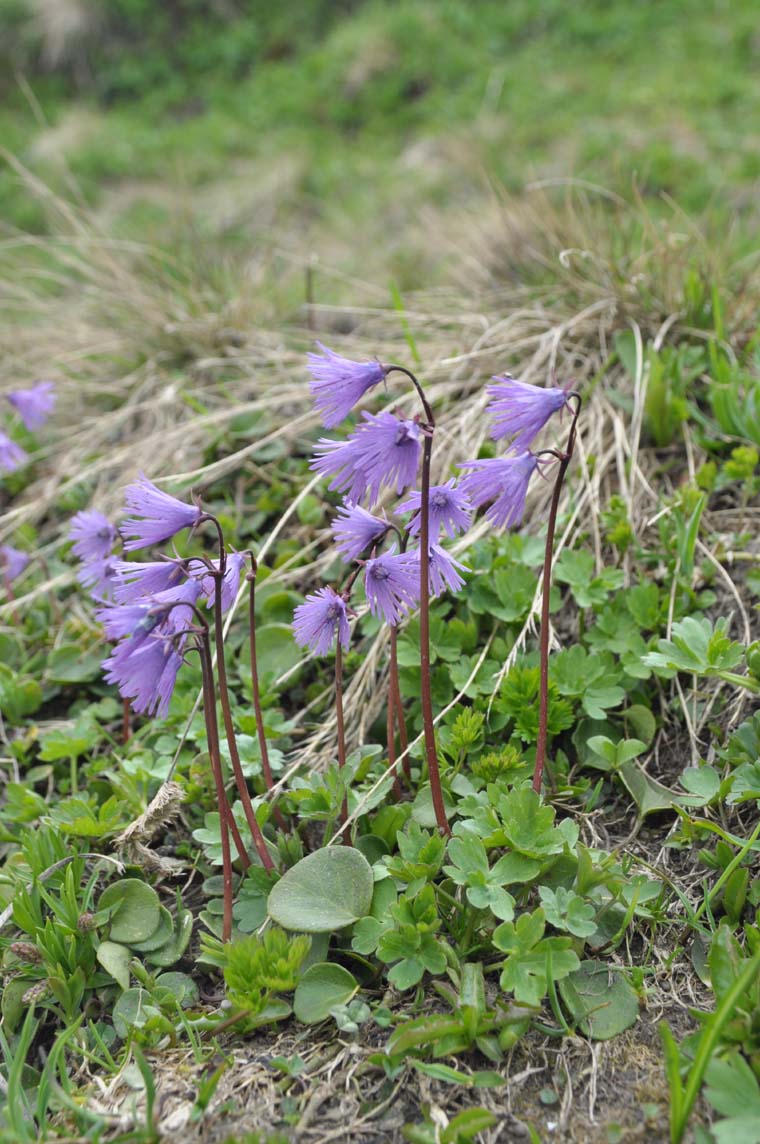 The weather in the Wengen area is significantly different from the Zermatt area. It's further north, and tends to be a bit cooler and wetter, and we noticed that the season here was significantly behind. This was to our benefit, with the additional effect of our trip being earlier than usual, and the season being late. I've seen Trollius europaeus before, but never in such profusion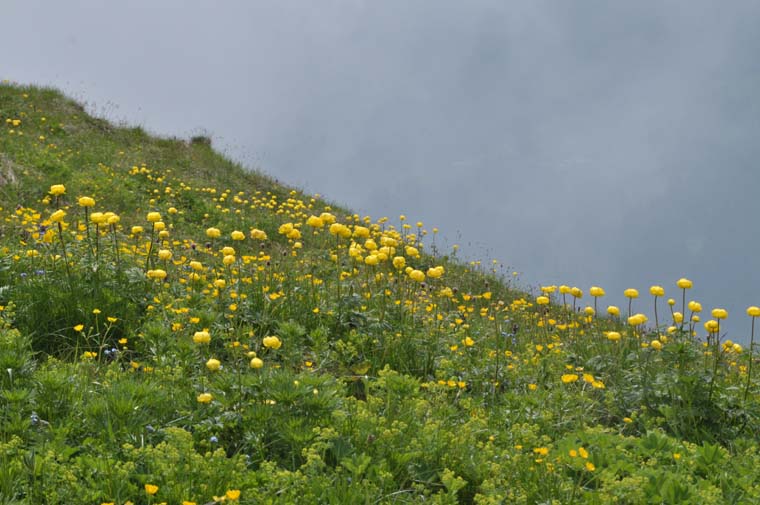 And in huge numbers in the meadows, Ranunculus aconitifolius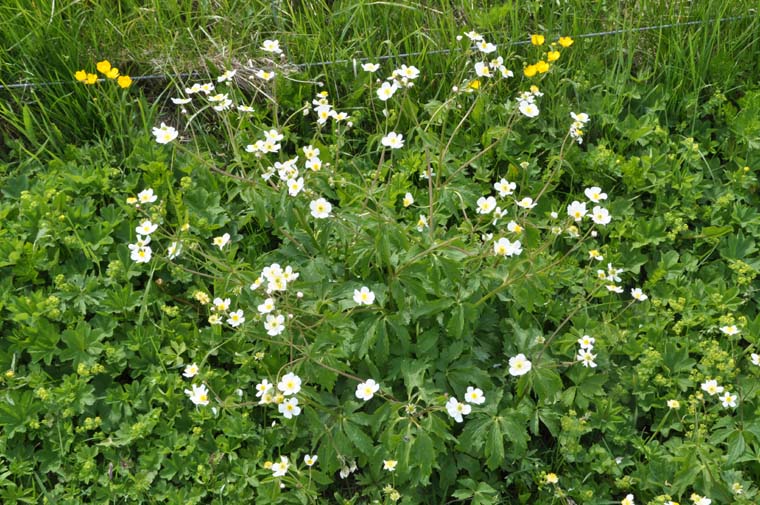 From a distance, similar in appearance but with larger flowers in terminal clusters, Anemone narcissiflora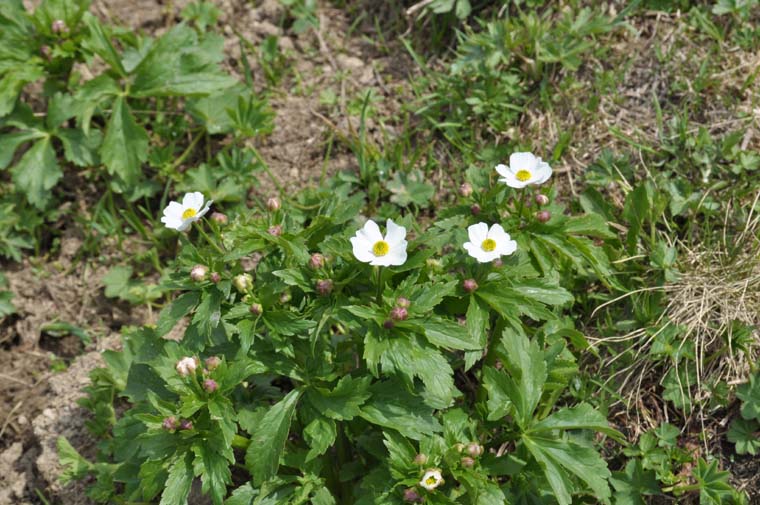 I think this is a very pale form of Gentiana brachyphylla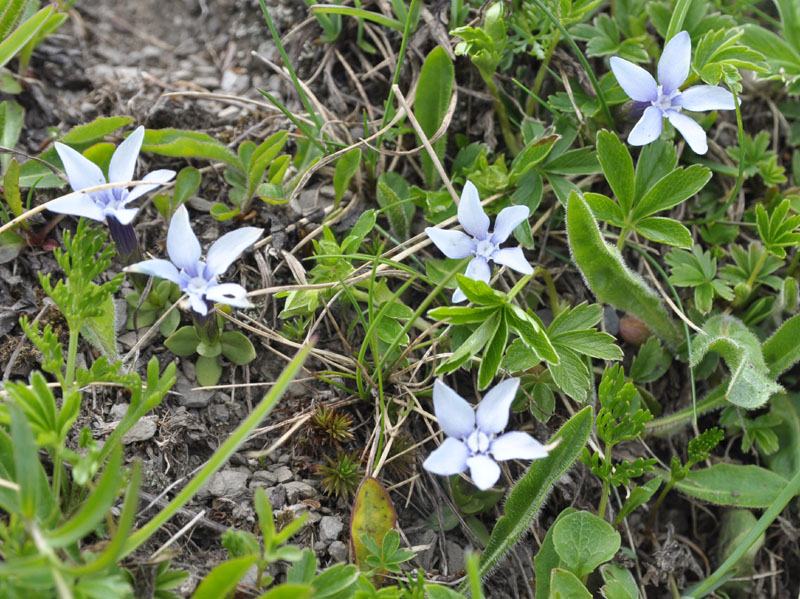 and here, the larger Gentiana acaulis were in much greater numbers than they had been at Zermatt. There were several colour forms in addition to the usual dark blue, a slatey violet form was quite common, but the almost white one was quite exciting to find.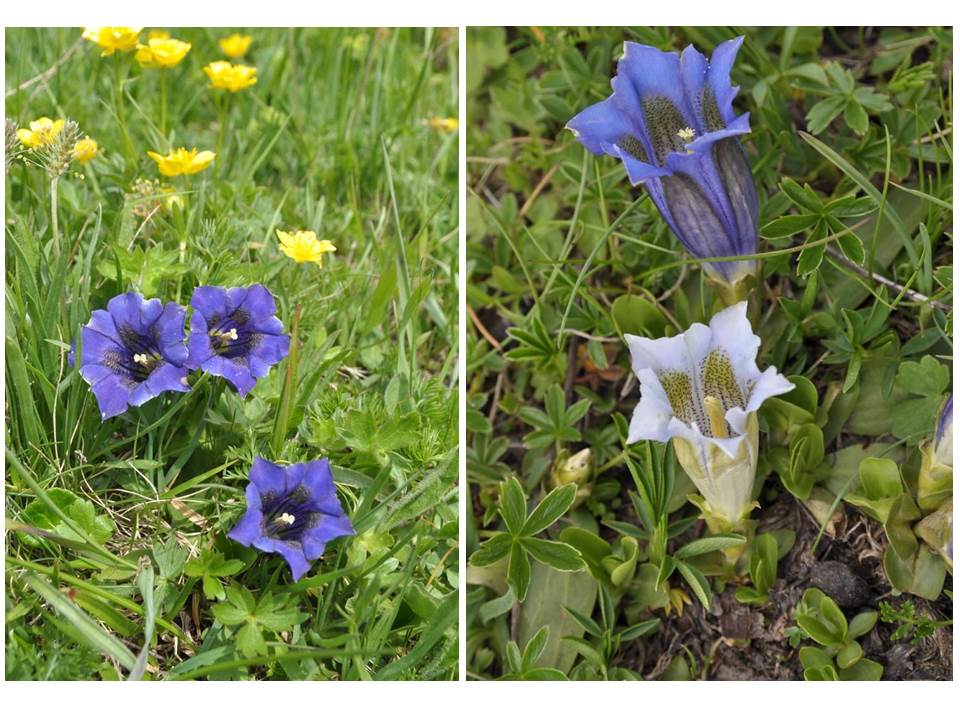 As always photogenic, and as always, me trying to get a clever shot and nevet quite succeeding! Pulsatilla vernalis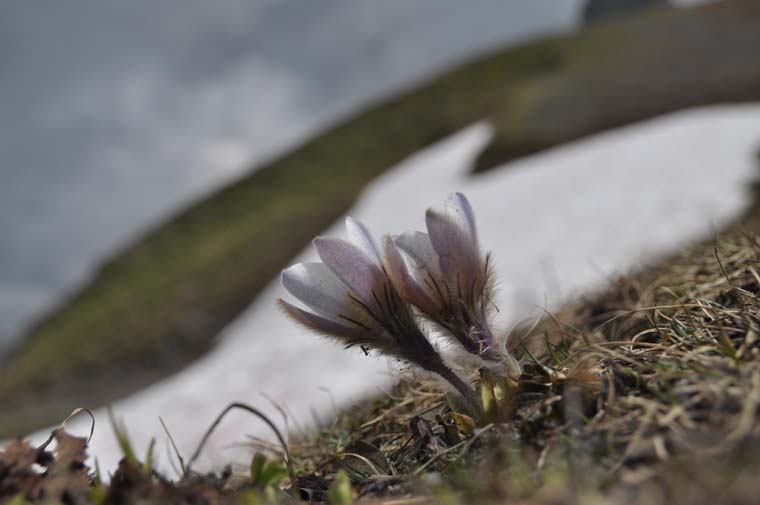 Unfortunately, then the rain started, which turned to vicious hail, so we returned back to Männlichen and returned on the cable car. It was the only rain we had in the ten days, so we can't complain, and we had had an excellent afternoon.
Day 6 Wengen - Lauterbrunnen (train), Lauterbrunnen - Gruetschalp (Cable car), Gruetschalp (train), Muerren - Almendhubel (Funicular) Walk (North face trail) Almendhubel - Sonnenberg - Suppenalp - Schiltalp - Spielbodenalp - Muerren
Firstly, an early morning view of the Jungfrau from my hotel balcony at 7am. It looked like it would be a good day.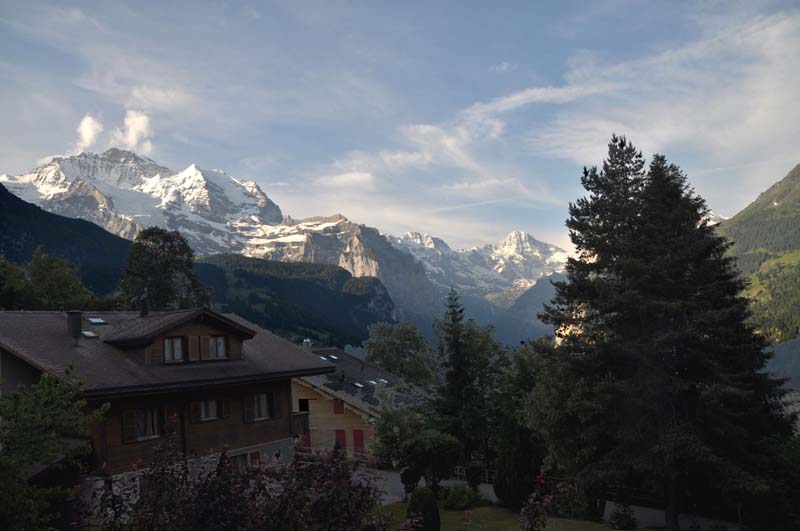 Murren is on the other side of the Lauterbrunnen valley to Wengen, and at 1638m, a little higher than Wengen. To get from Wengen to Murren involves going down to the Lauterbrunnen valley, then up the other side. The original route involved a funicular from Lauterbrunnen straight up the steep valley side to Grutschalp, but this was replaced in 2006 by a large cable car (100 passengers and 6 tonnes of freight carried underneath) which whisks up 690m in 4 minutes. At the top, you change onto a narrow gauge railway which takes you to Murren. We had decided to walk one of the trails from Murren, the Northface trail, named for its views. We started with a short funicular ride up to Almendhubel at 1907m.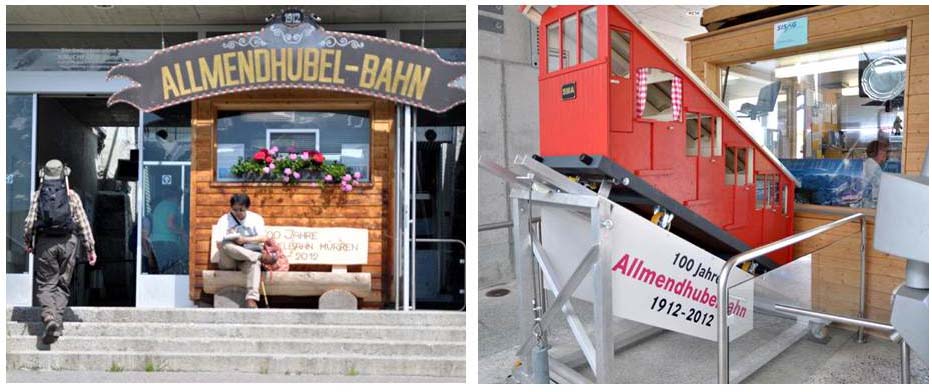 The trail took us through delightful farming country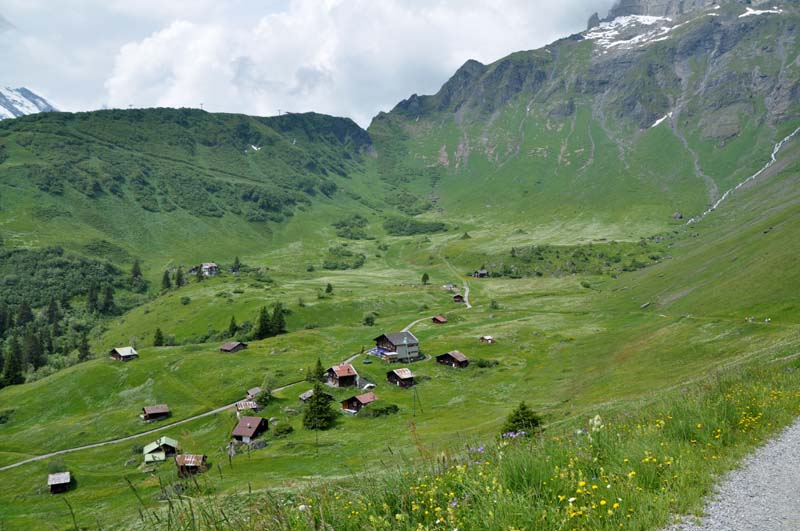 The meadows were full of flowers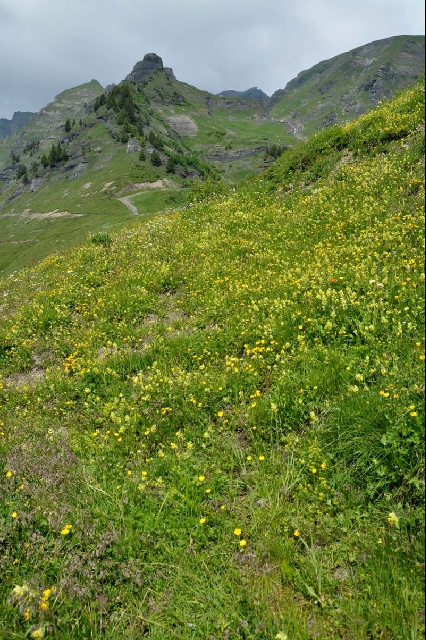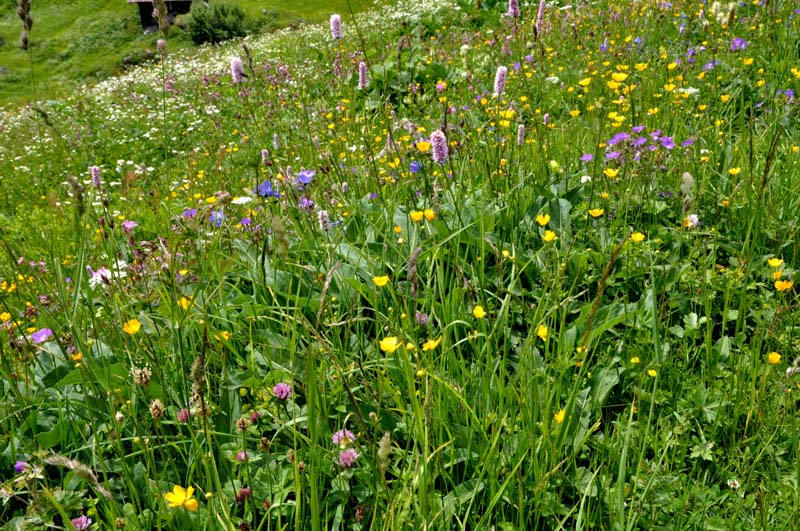 Campanula thyrsoides, a most odd member of the family with strange, hairy flowers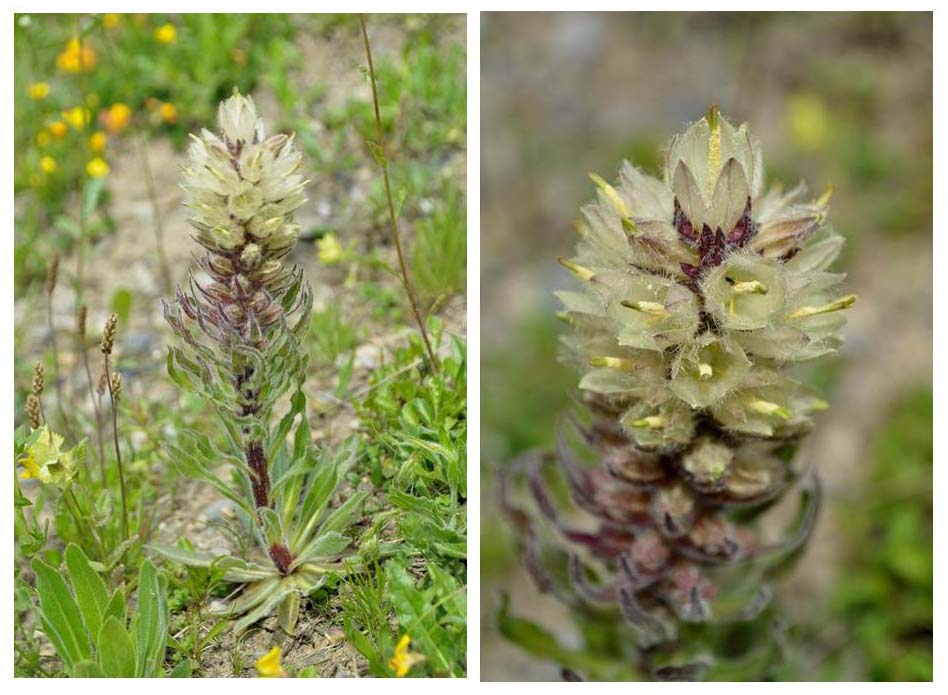 Pulsatilla alpina apiifolia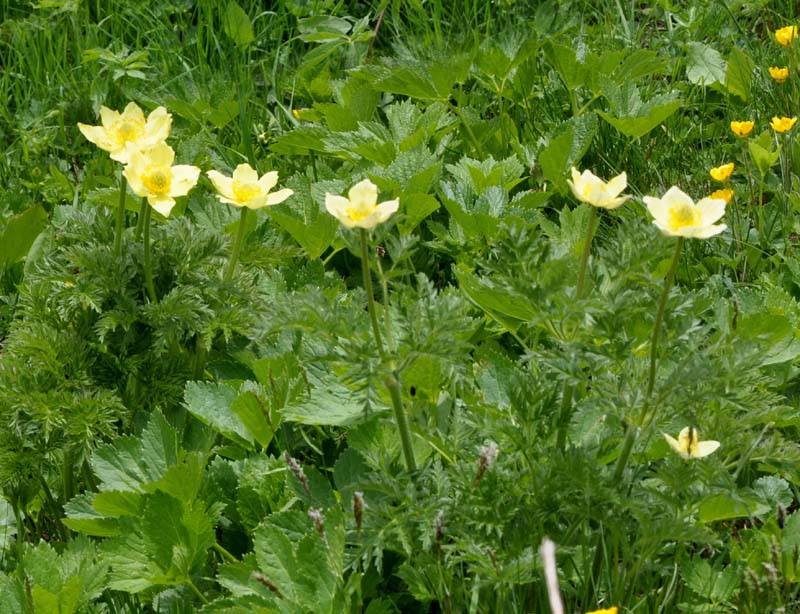 Pedicularis foliosa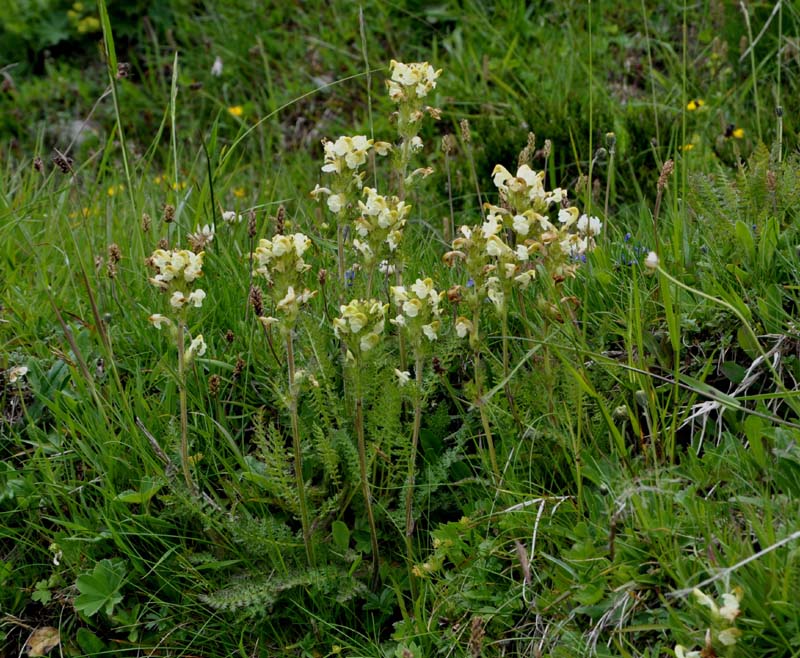 Veratrum lobelianum recently raised to species level, formerly regarded as a subspecies of Veratrum album. It has flowers which are green both inside and out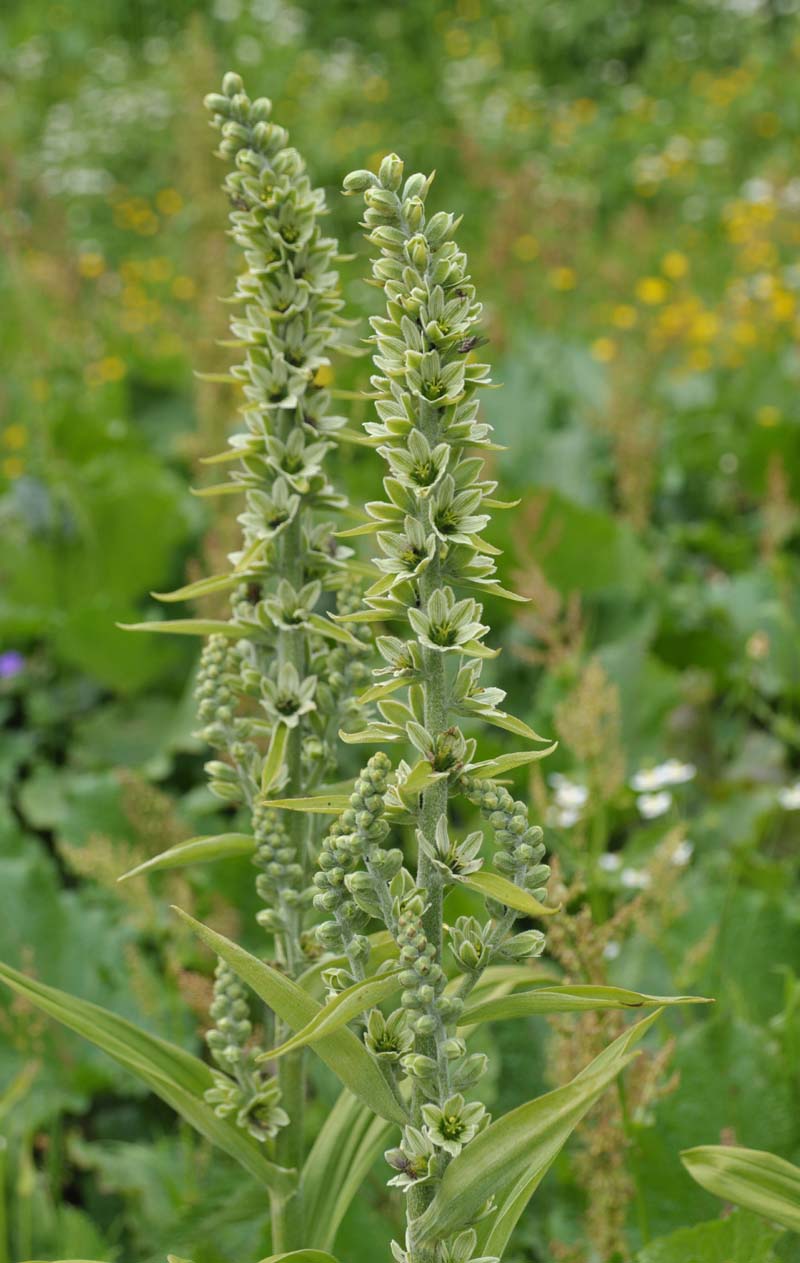 One nice aspect of Swiss alpine holidays is that there are plenty of restaurants in the mountains. This is a typical traditional restaurant, serving home made cheese and ice cream, made from the produce of their dairy herd. The large cowbells hanging up are trophies for prize winning cows at local shows, a sort of Farrer medal for cows. Here's my sister Carol, wondering which flavour of ice cream to choose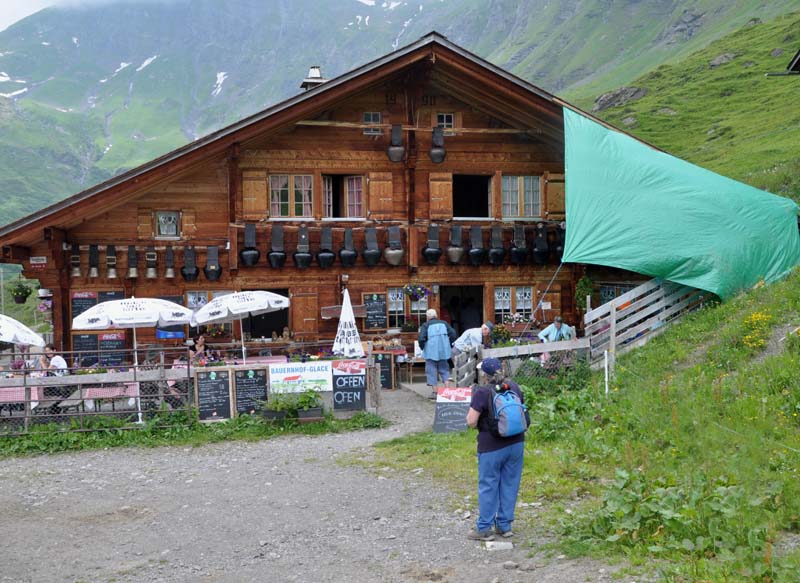 So, back to the meadows
Pusatilla alpina has wonderful seed heads, reminiscent of a bad hair day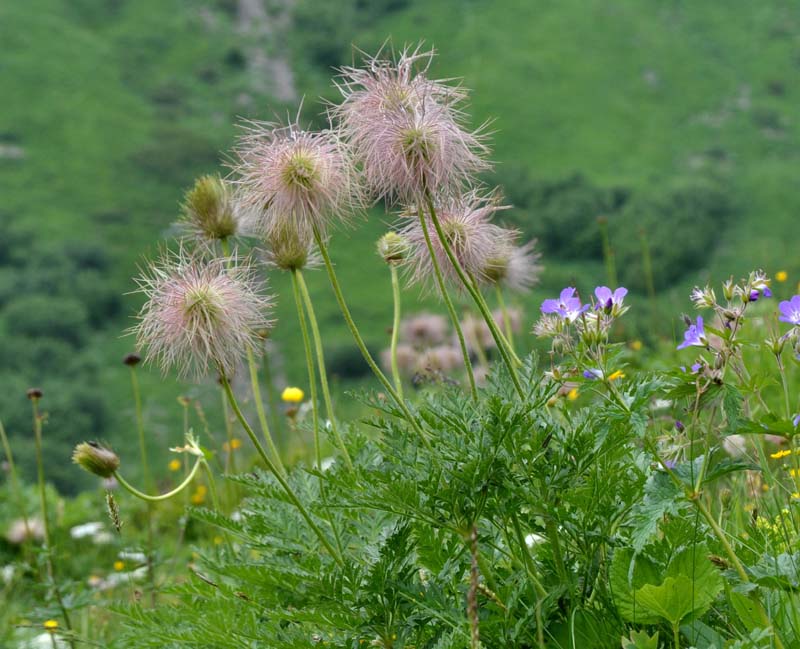 I'm always interested to see similar adaptations in plants that are not related, and Geum montanum has similar seed heads to Pulsatilla, with feathery tails which help seeds to be distributed by wind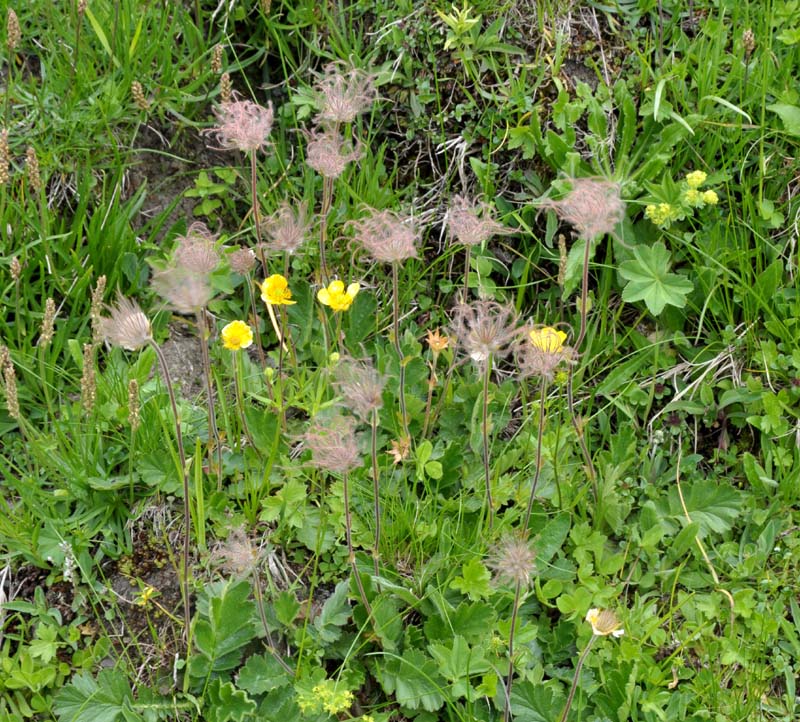 Beware of cable cars overhead! - in this case, going up to the Schilthorn, site of the famous revolving restaurant featured in the James Bond film On Her Majesty's Secret Service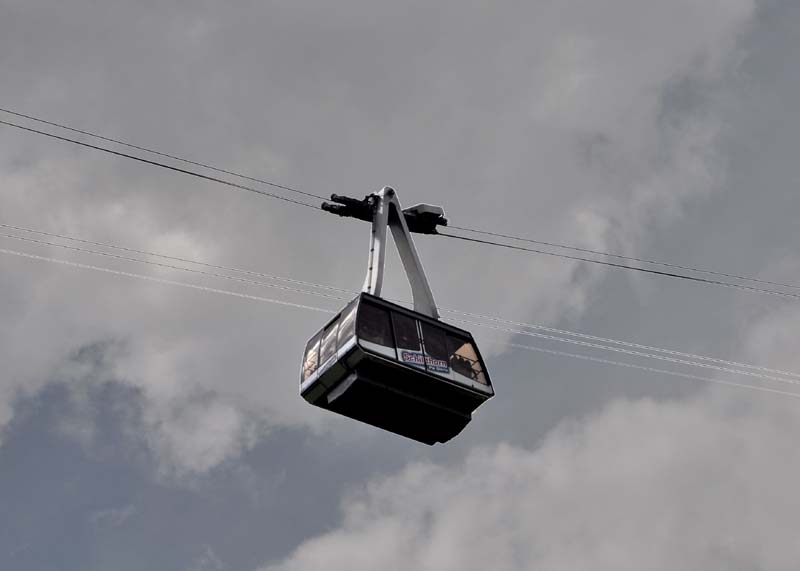 The trail we were following had information boards along the way, detailing the various routes up the mountains followed by various mountaineers. Here is one of the boards, with the Jungfrau behind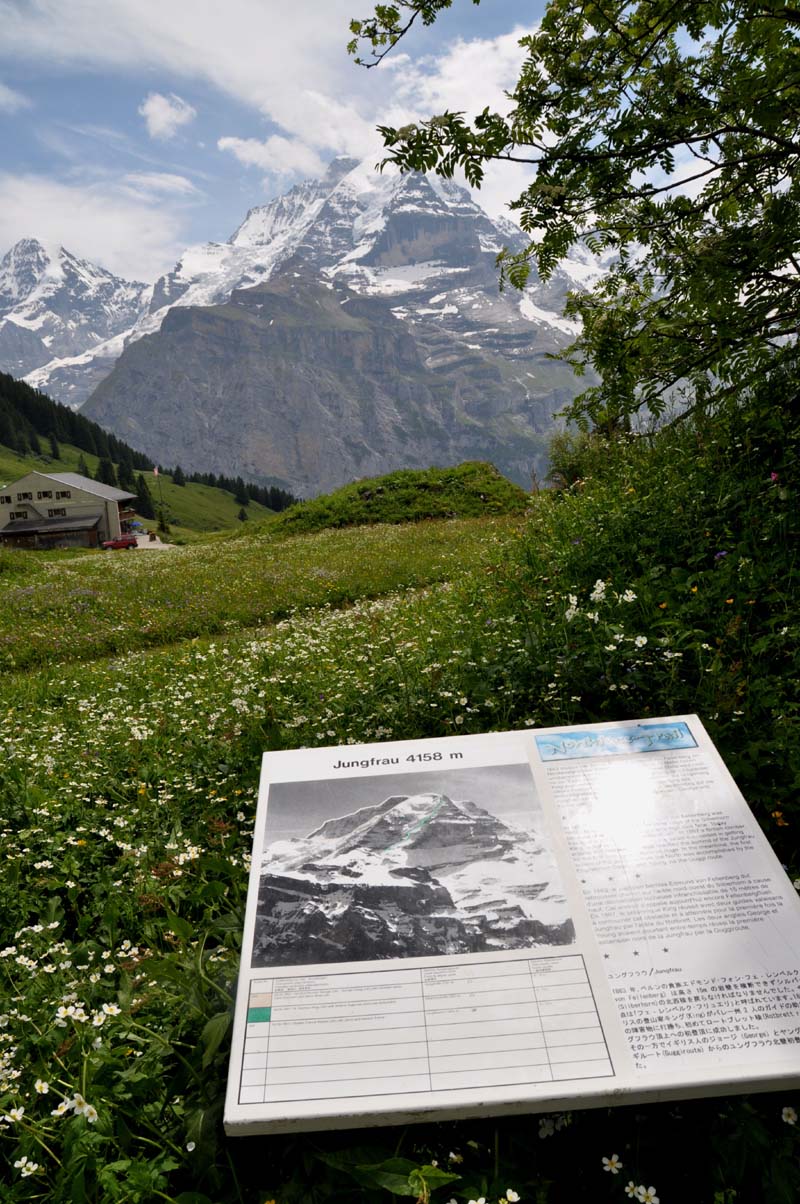 This plant had me puzzled at first, as I have never seen it in the wild, although it grows like a weed in my garden Erinus alpinus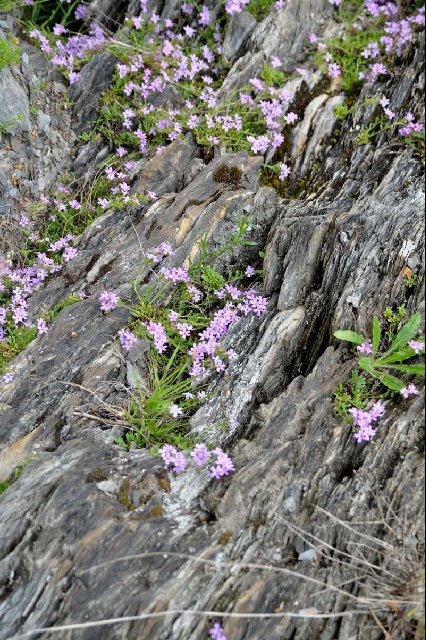 Viola lutea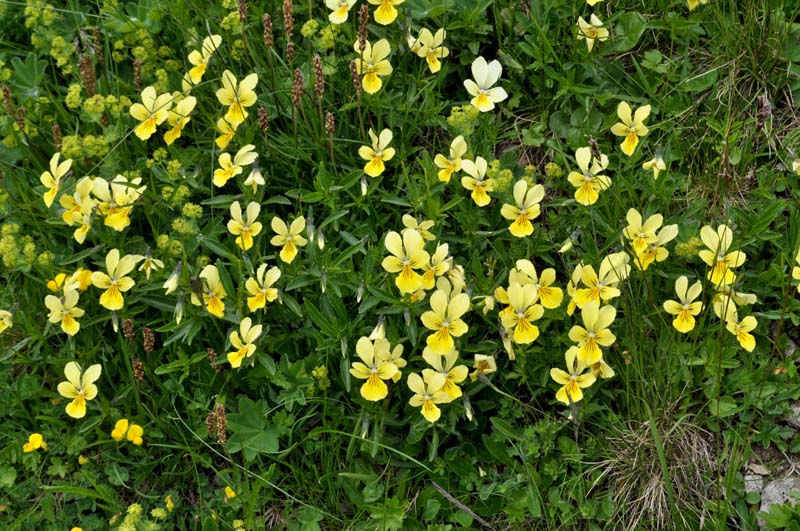 As one of the richest countries in Europe, it is surprising that they still use traditional farming methods, but they must know that it keeps the tourists happy to see the flower-filled meadows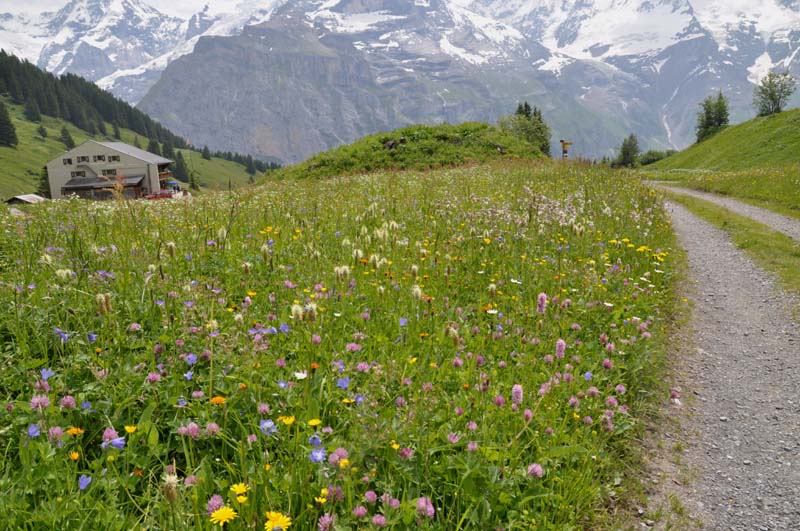 When the lie of the land is steep, the hay is still turned by hand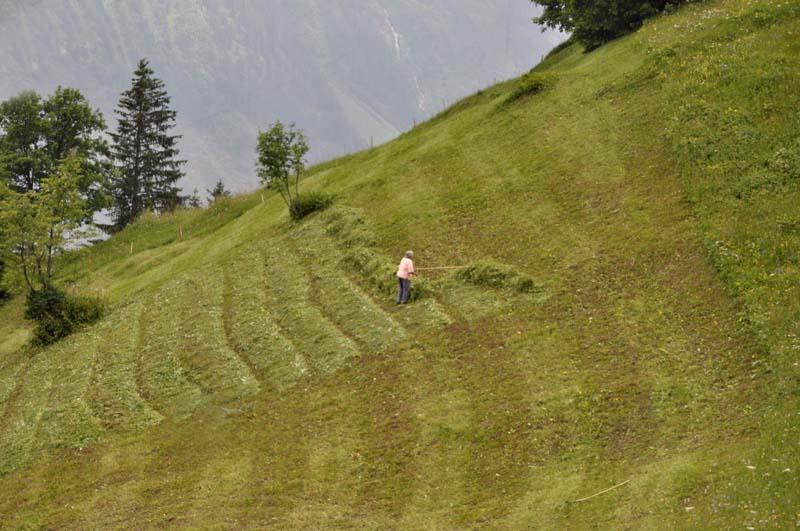 So we wend our way back down to Murren, past a good stand of Thalictrum aquilegifolium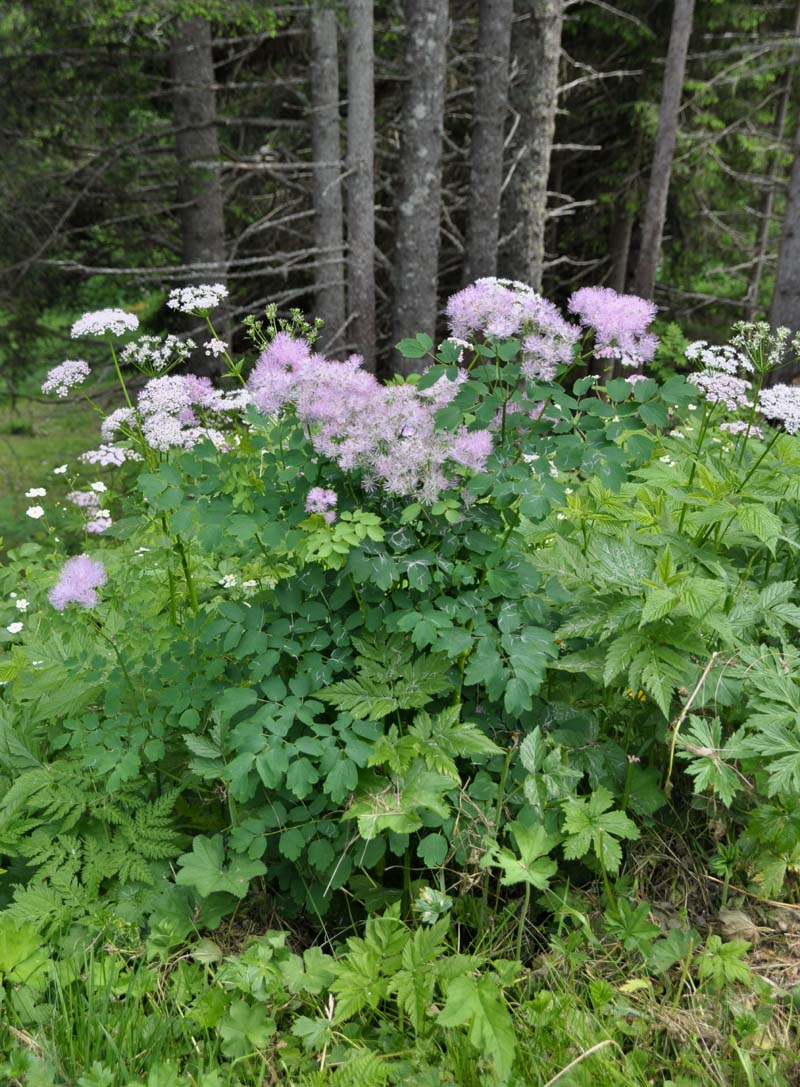 And a last look at the glorious scenery this side of the valley