Day 4 The weather forecast was not so good, so we chose a low level walk through the woods. We walked from Pontresina through the woods via Lej de Staz – a lake in a beautiful setting – then on to St Moritz. We caught the bus back to Pontresina. We were lucky as the weather actually held out and we only had a few spots of rain.
At the start of our walk, an open habitat at the edge of the woodland supported a large population of Sanguisorba officinalis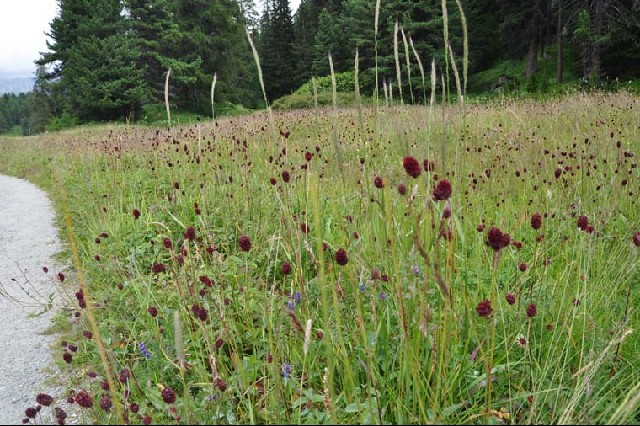 Then we walked on through mainly coniferous woodland of Arolla pine, Pinus cembra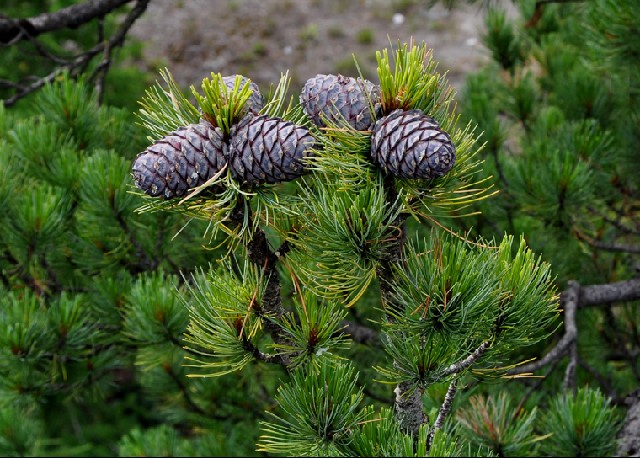 and the ubiquitous Norway spruce, Picea abies showing its characteristic long cones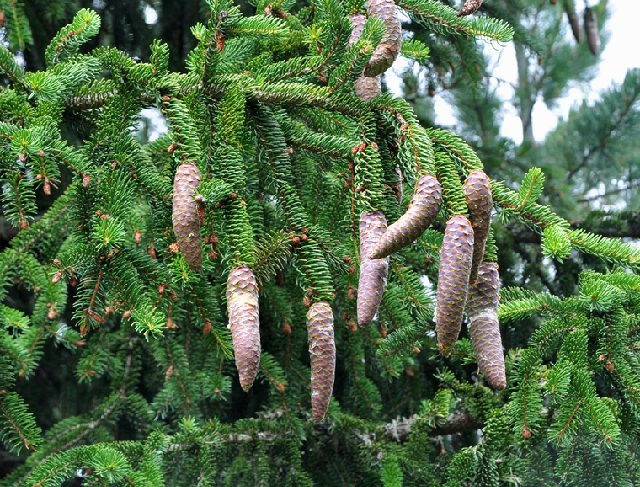 There was a rich flora underneath the trees,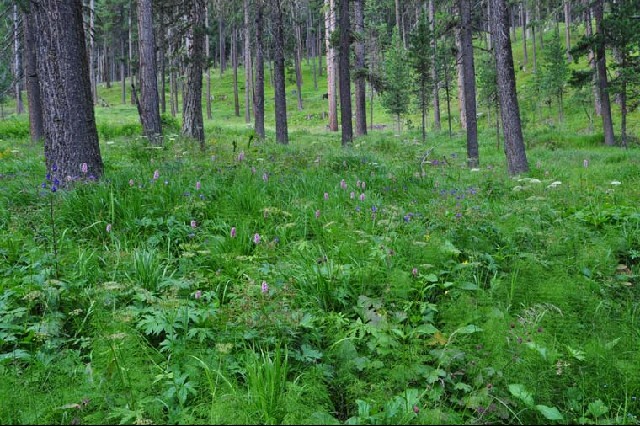 and it was nice to see some plants which were not rarities, but growing well in this habitat
Geum rivale Aconitum napellus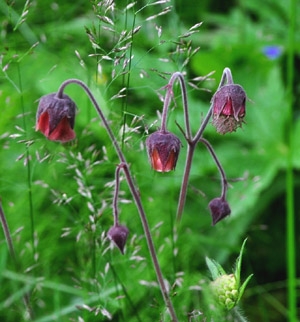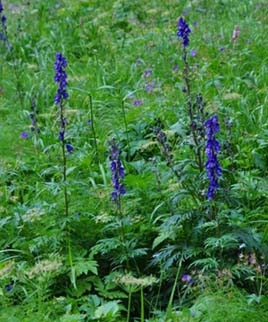 Polygonatum bistorta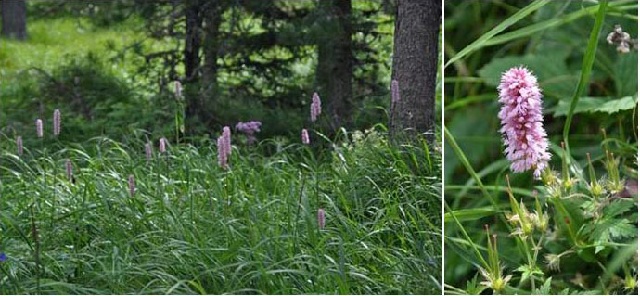 Aconitum lycoctonum vulparia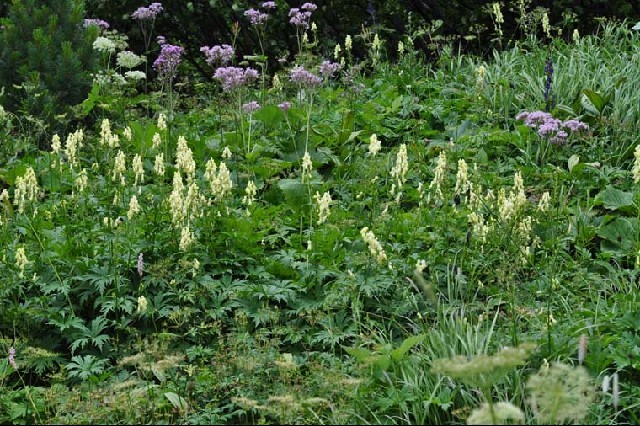 Arnica montana is superficially similar to members of the closely related genus Doronicum, but has basal leaves and the stem leaves are bract-like.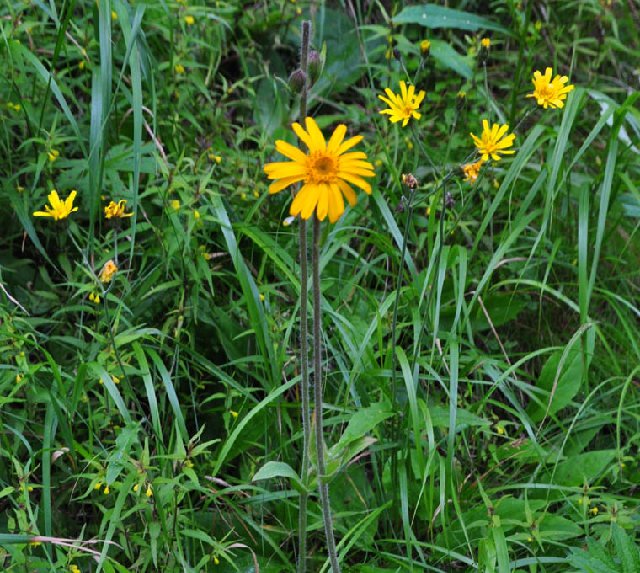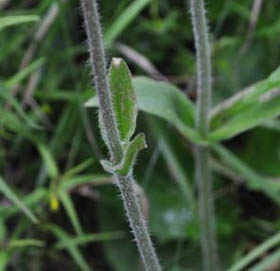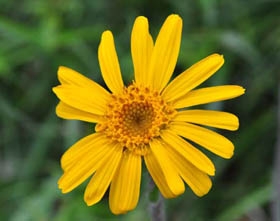 Here's one with a Scotch Argus butterfly Erebia aethiops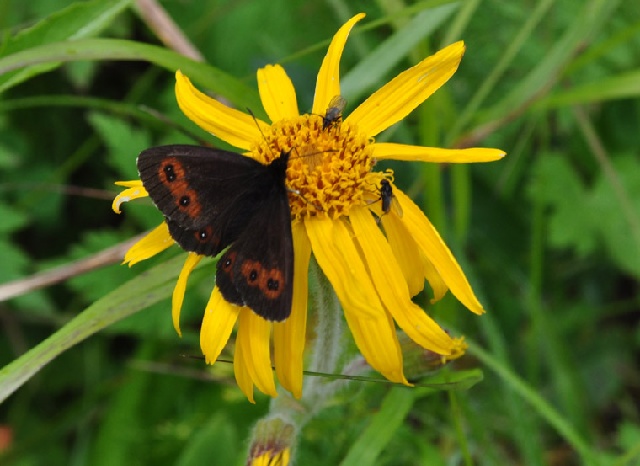 Pyrola rotundifolia growing in a damp spot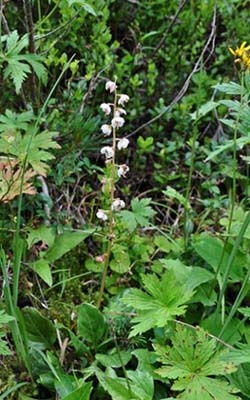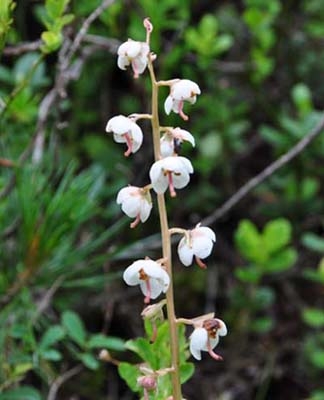 My favourite plant of the day was the delightful Linnaea borealis. It proved rather tricky to photograph, so apologies for the less than sharp pictures. The first picture shows why its common name is Twinflower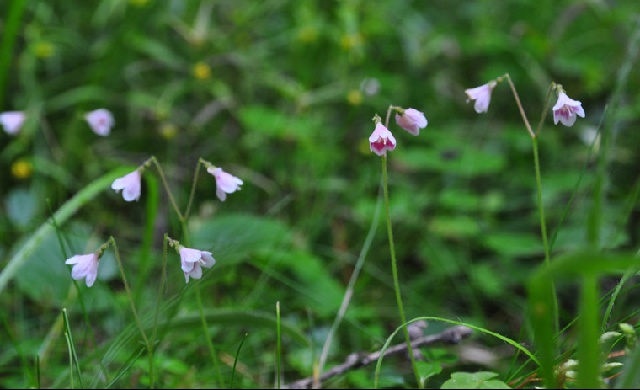 So although there were no high alpine plants today, we enjoyed a good range or plants growing in this rich woodland site.
Day 5 - In the shadow of Piz Nair

The plan was to go up to Piz Nair, a high peak at 3057m, easily accessible by a series of lifts from the valley. We started by taking the bus from Pontresina to Celerina a 1720m, then a cable car from Celerina to Marguns at 2278m. Then we walked via Lej Alv at 2525m to Corviglia at 2486m. The weather took a turn for the worse, but with nothing to lose as we had our free lift pass, we took the cable car to the top of Piz Nair at 3057m. Then back all the way down to St Moritz first by cable car to Corviglia then two funiculars via Chantarella down to the valley at St Moritz, from where we got a bus back to Pontresina.
At the top of a lift there is often a panoramic map on a board with walks marked and I usually take a photo of this as a reminder. The first picture is distorted as a result of tipping the camera to get the whole of the board. The picture shows the classic "tumbling verticals" where the perspective is distorted. Using Photoshop (and other picture editing software) it is quite easy to adjust the perspective. In Photoshop Elements, I use the "Image" menu and select Transform, then Perspective (if the picture needs correcting symmetrically) or Skew (which gives independent control of each side) – which I have used in the second picture shown below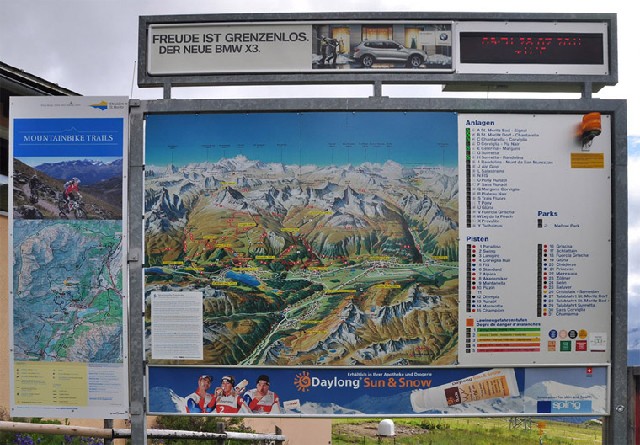 We walked at first through fairly damp meadows, the plants included:
Phyteum hemisphaericum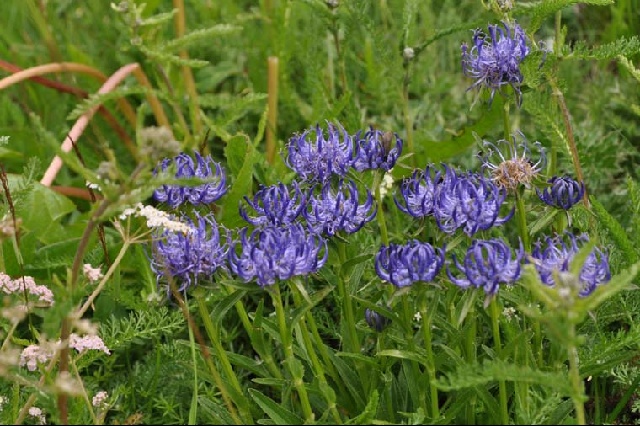 Pedicularis verticillata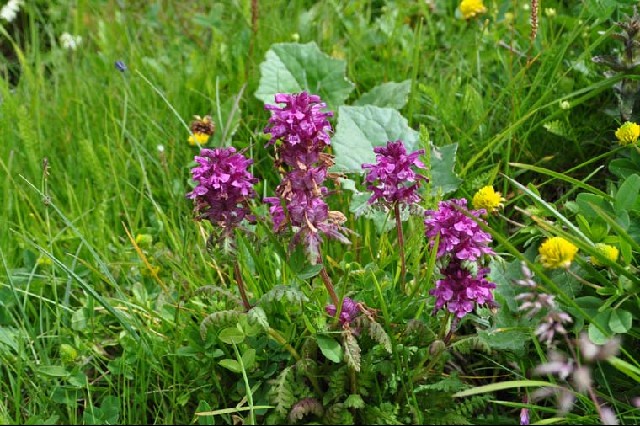 Salix reticulata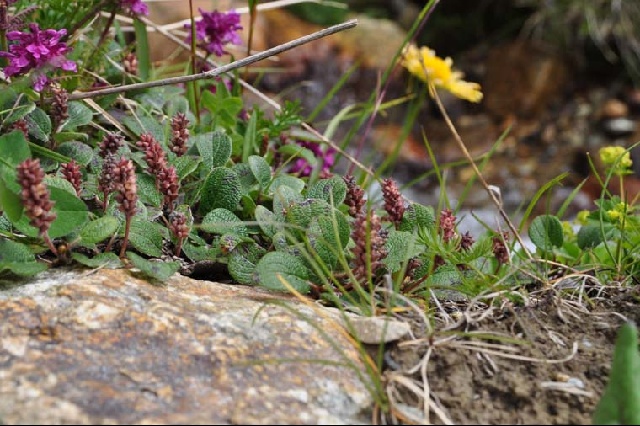 Gentiana verna was always found on the edge of streams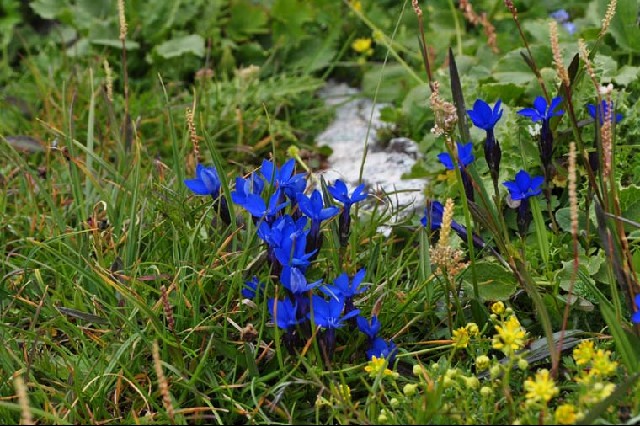 I was surprised to find chives Allium schoenoprasum growing in these wet areas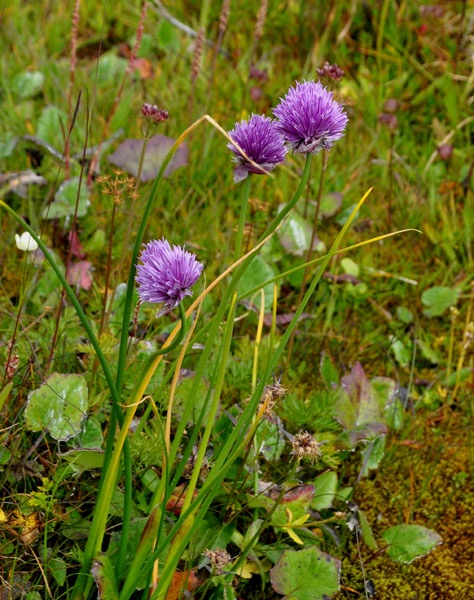 Seeing Geum and Pulsatilla in seed, I was struck by the idea of convergent evolution – two unrelated plants that have developed similar strategies for seed dispersal. In both these cases, this has been achieved by the development of a diaspore – a combination of a seed and a dispersal mechanism – in this case a feathery tail which is carried away by the wind.
Geum montanum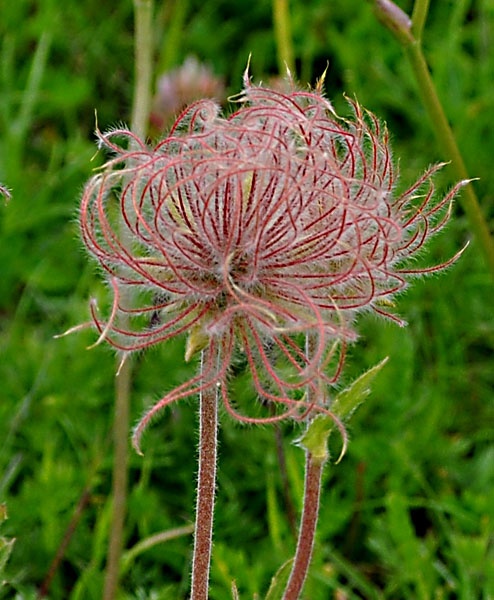 Pulsatilla alpinum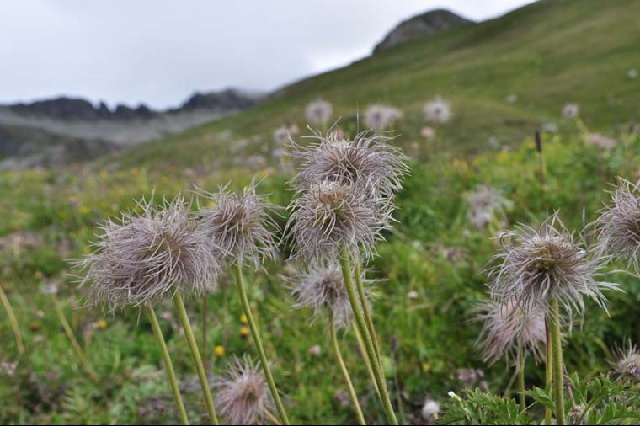 As we climbed higher the landscape changed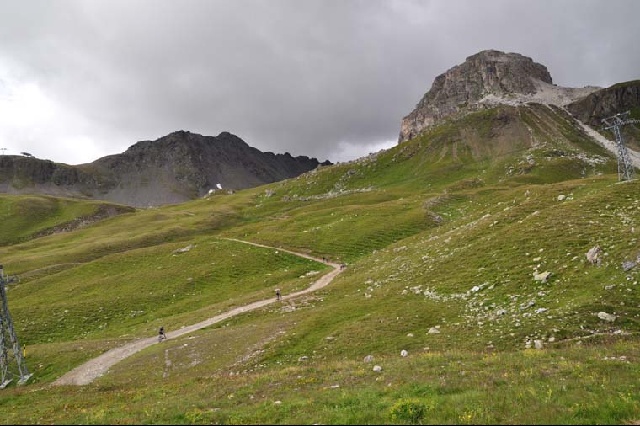 Hedysarum hedysaroides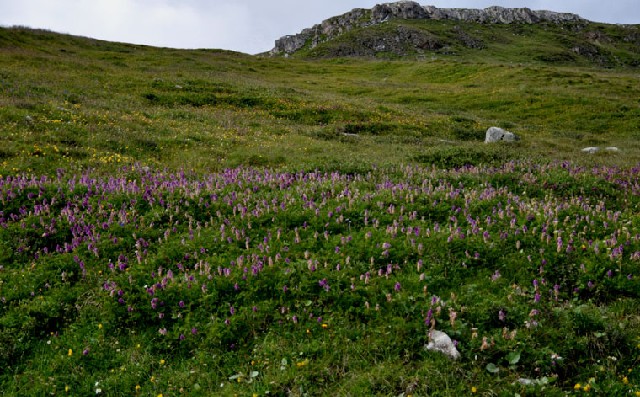 There were large patches of Cirsium spinosissimum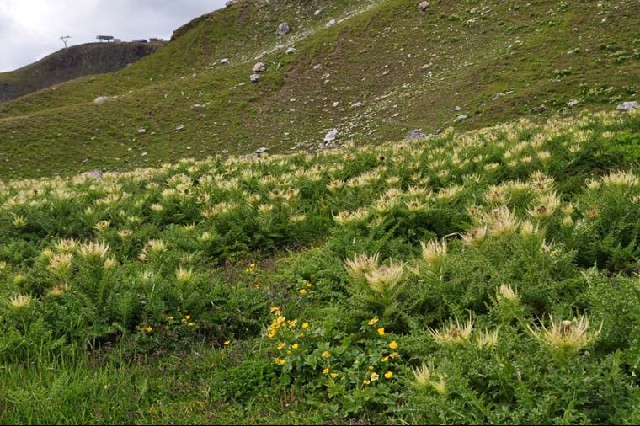 A varied range of plants were found in areas of rocks which allowed humousy areas to accumulate between them giving some shelter and a relatively rich soil
Viola calcarata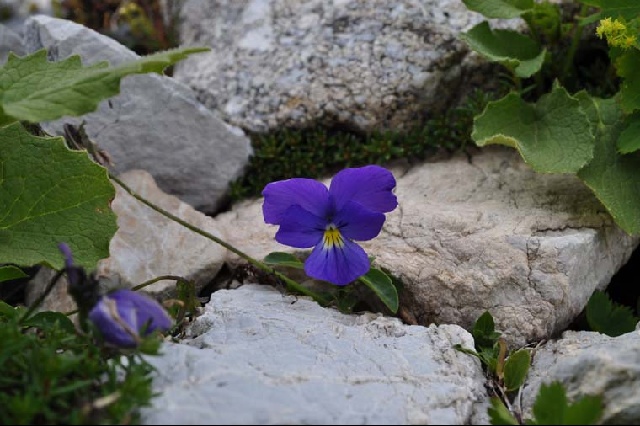 Saxifraga moschata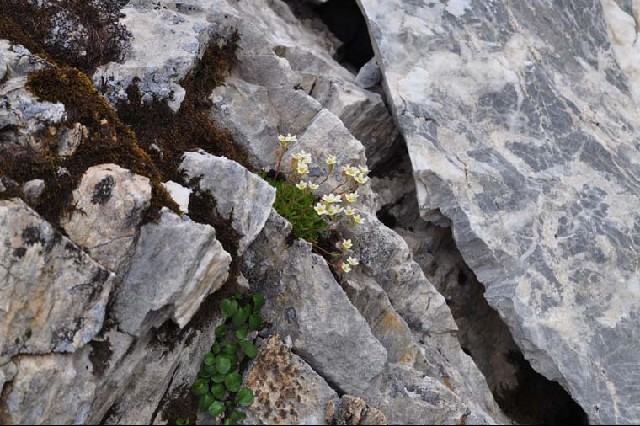 Androsace obtusiloba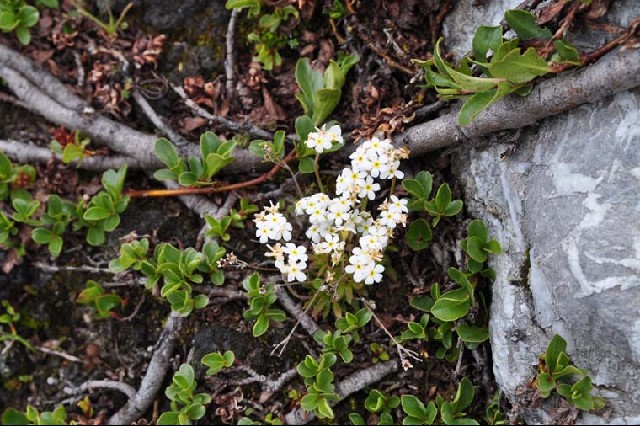 Gentianella campestris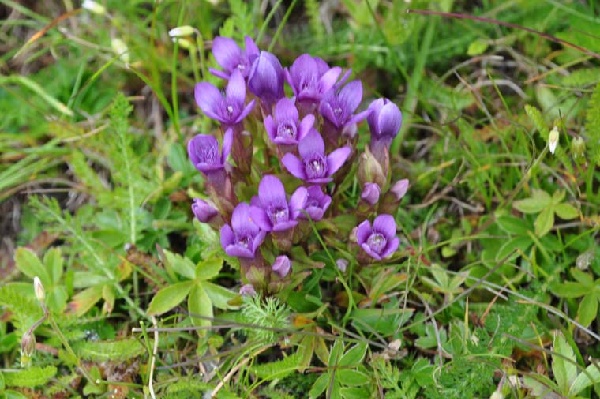 Silene acaulis with ripe seed (and no, I didn't collect any!)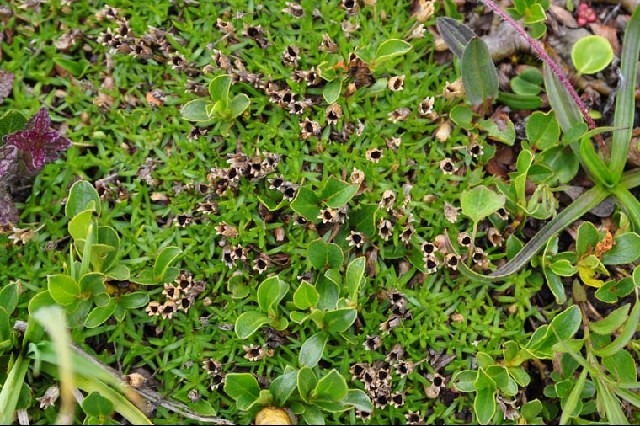 This was my best plant of the day - having previously only seen it in fruit. Loiseleuria procumbens