Still repotting cyclamen
I?m still repotting cyclamen (I have a lot!) and have this week potted on C graecum and C persicum.  Cyclamen graecum (unusually for cyclamen) has perennial taproots.  The usual advice is to keep a little moisture at the base throughout the summer, to keep the root in growth, whilst allowing the top of the tuber to be dry and warm.  The easiest way to do this is grow them in clay long toms and sit them in damp sand in the summer.   
Cyclamen graecum has thick fleshy roots which by the end of the summer are showing new white root growth
If the pots are allowed to dry, these thick roots will dry and shrivel.  The plant will survive but it will then have to expend energy growing new roots and therefore the plant will be set back.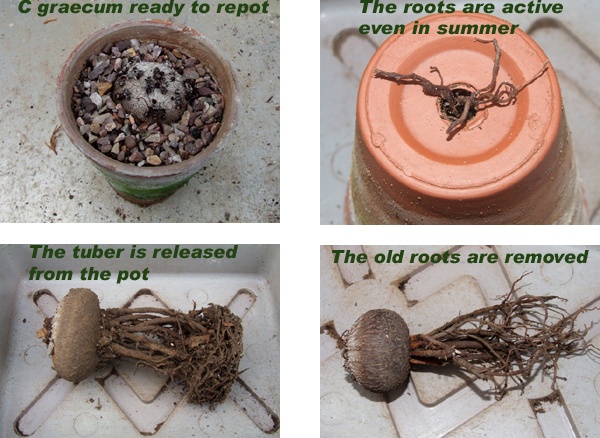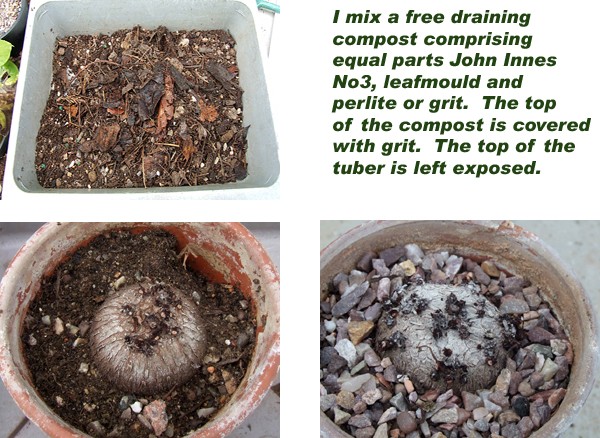 Discussion of Cyclamen persicum is usually associated with the florist?s cyclamen, which are highly developed varieties of C persicum.  These are, on the whole, not hardy, although some of the newer miniature varieties are proving to be long lasting in the garden in the autumn and through a mild winter.  I have been growing C persicum for several years from seed deriving from wild plants from different parts of the eastern Mediterranean.  The seed is one of the quickest to germinate, so I have always got lots of plants, and as such I can experiment with them.  I do keep them in a cold frame, but do not give them winter heat.  In the coldest winters, I may lose some, but often most of them come through the winter unscathed. 
Here is a pot of C persicum which proves that C persicum also has summer active roots, although not the fleshy roots of C graecum.  I find it does better if given some moisture in the summer and not allowed to completely dry out.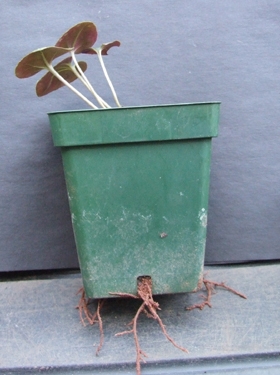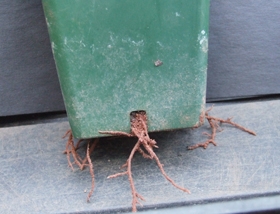 Still collecting seed
I?m still collecting and processing seed.  Some seed ripens on the plant, and the seed case splits in situe to reveal the seeds.  Frequent checking is needed or seed is lost
Androsace cylindrica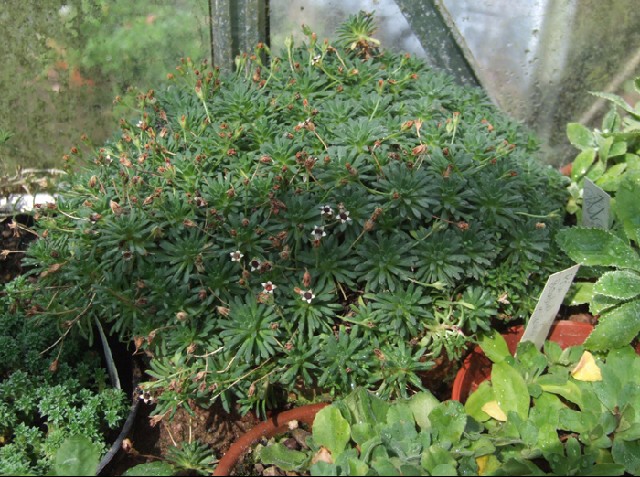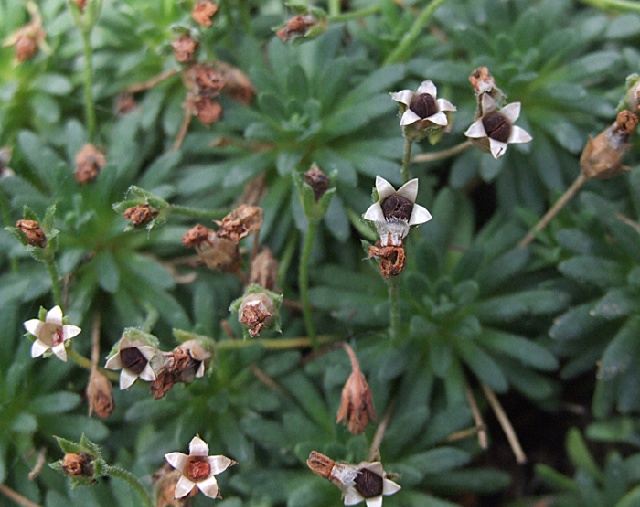 Trillium seed takes quite a long time to ripen and sometimes the seeds can get eaten before I get chance to collect them.  I find the best approach is to remove the fruits before they are completely ripe.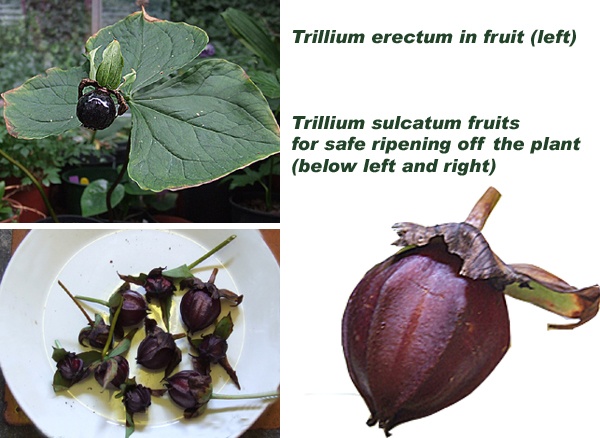 A large plant of Roscoea cautleyoides has flowered very well this year.  I try and remove the seed from the plant before it ripens if I can, because they germinate readily where the seed falls and I end up with too many plants. 
Here I have left it too late and the seed is falling into the gravel top of the bed.  Alongside are seedlings from previous years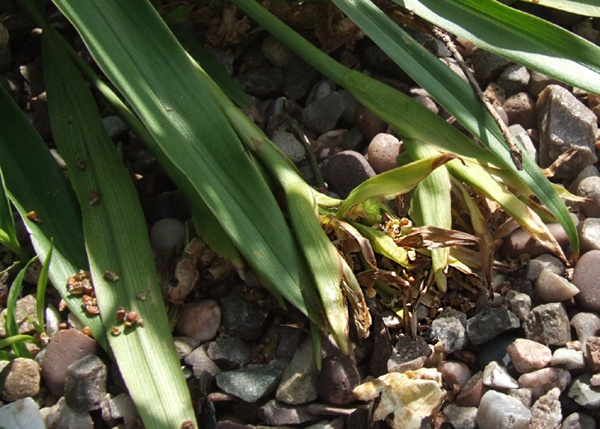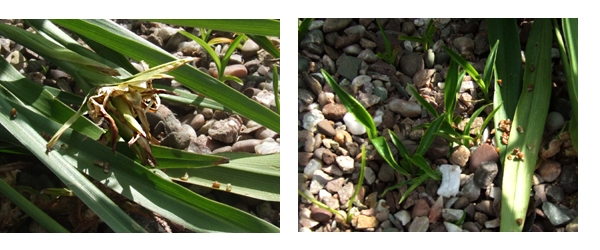 First signs of Autumn in the garden
Autumn flowering colchicums are for me, the first feeling that autumn is on its way.  I have a good clump in our front garden which I bought many years ago as Colchicum pannonicum Nancy Lindsay.  I see that C pannonicum has now been absorbed into C autumnale.  This particular plant does very well and I have split the clump several times.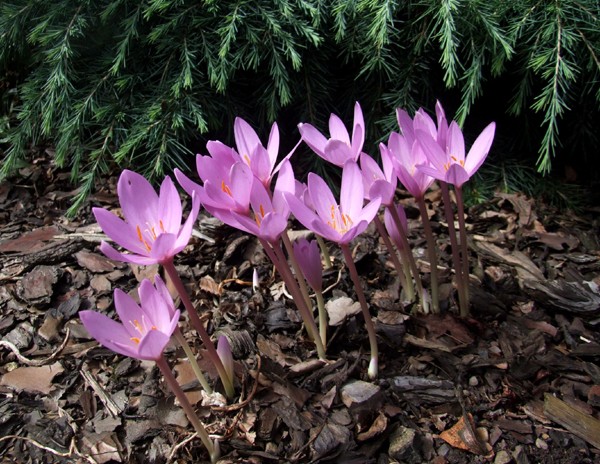 Another good doer is Colchicum byzantinum Innocence which is almost pure white, but has slightly pinkish tips to the petals.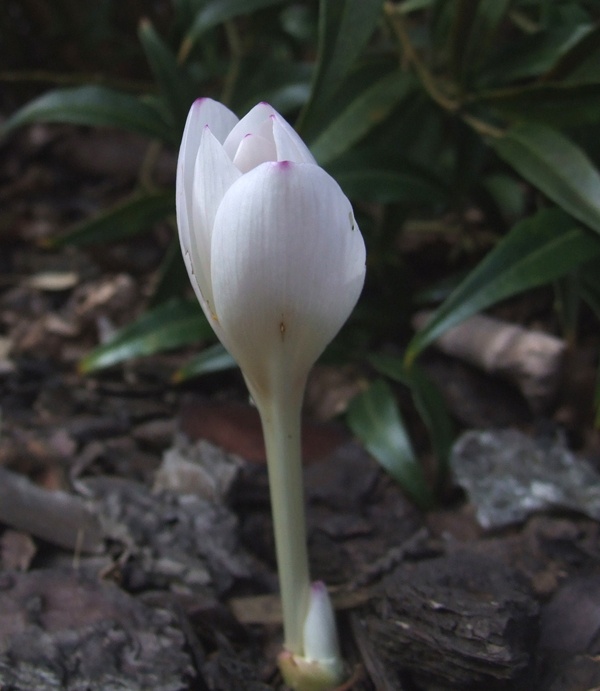 I have many many plants of Cyclamen hederifolium (and C coum) in the garden, and often try other species to see what will survive.  A couple of years ago I put out some C intaminatum which flowered, then seemed to disappear.  There were no signs of them at all last year, so I was very pleasantly surprised to see this one appearing this year.  The tuber is under a piece of sandstone which edges the bed, so the tuber is protected from extremes of temperature and wet. 
Cyclamen intaminatum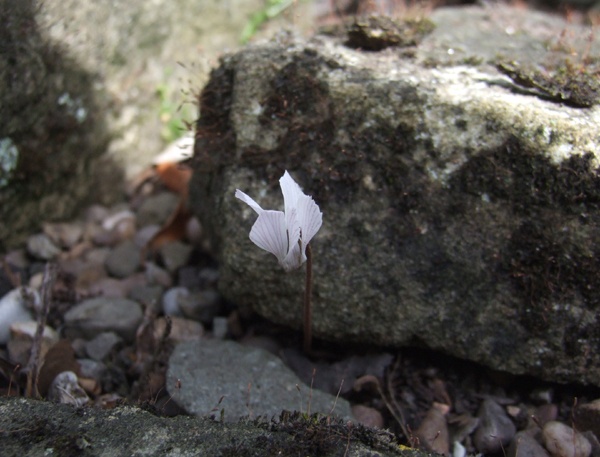 Please contribute your thoughts and ideas on this Diary entry in the Discussion forum here: http://www.alpinegardensociety.net/discussion/midland/Midland+Diary+No+The+end+of+August/288/